Ku Klux Klan Threatens 'Lethal Force' Against Ferguson Protesters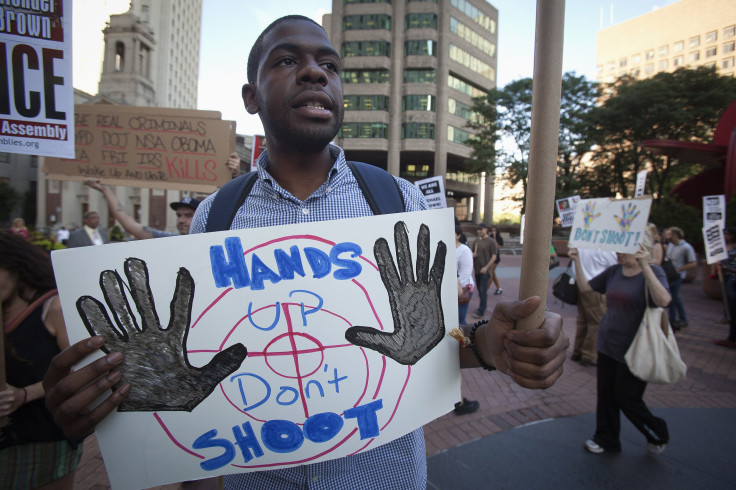 The local Ku Klux Klan chapter in Missouri has vowed to use "lethal force" against Ferguson protesters, as the town awaits the grand jury decision on whether local police officer Darren Wilson will be charged in the shooting death of Michael Brown. KKK members have been distributing fliers in the St. Louis area and on social media with an ominous message to protesters in St. Louis: "You have awakened a sleeping giant," the flier states. "You have been warned by the Ku Klux Klan! There will be consequences for your acts of violence against the peaceful, law abiding citizens of Missouri," according to VICE News.
The flier accused Ferguson protesters of acting like "terrorists" rather than "peaceful protesters," by threatening the community, daily lives and property of "the good people of St. Louis County of all races, colors, and creeds." The Traditionalist American Knights of the KKK warned: "Your right to freedom of speech does not give you the right to terrorize citizens. We will use lethal force as provided under Missouri Law to defend ourselves."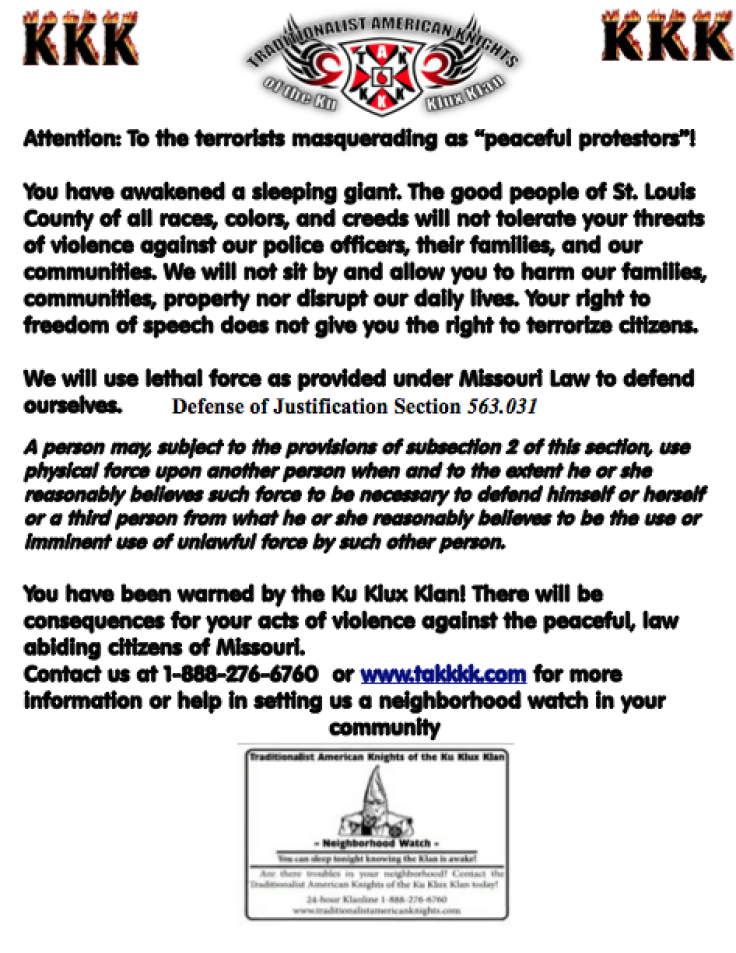 The white supremacist group has already voiced an opinion on the Ferguson protests. Over the summer, a KKK chapter in South Carolina announced it was raising money for Wilson, who shot and killed unarmed African-American teenager Michael Brown, VICE News reported. "All money will go to the cop who did his job against the negro criminal," the announcement reportedly said, referring to an alleged organized fundraiser to be held in Sullivan, a town an hour outside of Ferguson. Missouri authorities told VICE News at the time that there was no record of any known KKK members in the area or any reports of related incidents.
In recent weeks, gun sales in and around Ferguson have reportedly spiked as residents await the findings of the grand jury investigation into Brown's death last August. Local officials and clergy have called for calm when the decision is released.
© Copyright IBTimes 2023. All rights reserved.