St. Louis Churches Prepare For Ferguson Grand Jury Decision By Offering 'Safe Spaces' To Residents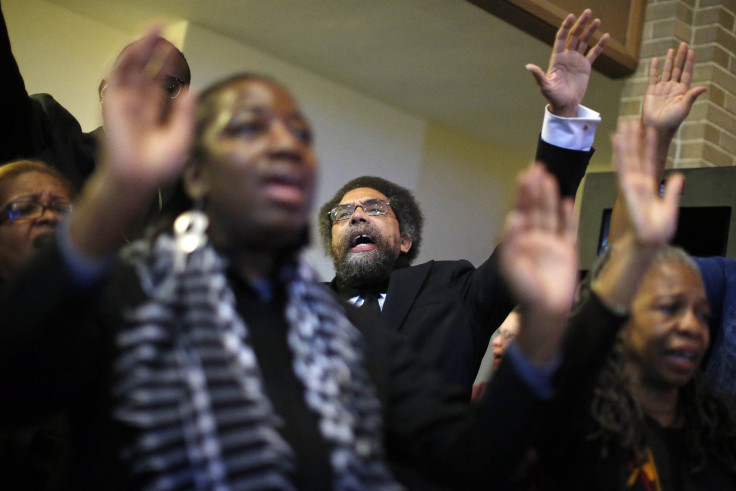 Faith communities around St. Louis are stockpiling food, recruiting volunteers and encouraging peace ahead of a grand jury's decision on whether Officer Darren Wilson, who is white, will be indicted in the killing of unarmed black teenager Michael Brown. The announcement, which is expected to be made any day, has the potential to rekindle violent riots that took place over the course of two weeks in Ferguson, Missouri, beginning Aug. 10, just after Brown was shot.
Nearly two dozen churches and one synagogue around St. Louis will be offering their facilities as safe spaces for the first 24 hours following the grand jury's decision. They will be providing food, comfort items and babysitting, as well as prayer vigils. If there should be protests, rioting and looting, schools are expected to close. Businesses have preemptively boarded up their windows. Residents have begun stockpiling food.
"When I drive around Ferguson, there's more plywood than I've ever seen before in my life," Rev. Steve Lawler of St. Stephen's Episcopal Church in Ferguson, said in a phone interview. His church has been providing food to families affected by the violence since the protests began. When parts of the neighborhood were shut down by the police, his congregation arranged "sandwich brigades" to come to apartment complexes that were isolated and in need of supplies. If the rioting returns, he expects to take up the same cause. Local groups, he said, have brought food donations, and volunteers have made a plan to quickly buy more supplies if they run out.
Since no one knows exactly when the decision will be announced, churches have banded together to make sure students and parents will be provided for. This is especially important since Ferguson's school district operates under the USDA's community eligibility program, providing free breakfast and lunch for all students. If schools are closed, faith leaders want to make sure children will receive the food they need. At least 11 churches have partnered with the local school district to offer space where students can gather and receive their meals.
Greater Grace Church in Ferguson is among the churches offering their facilities to schools, if need be. "We want to be the calm in the raging sea, if violence takes place," Bishop Larry Jones said.
In many ways, his church – which has a predominantly African-American congregation -- has already acted as a safe haven for people to speak their minds since the shooting of Michael Brown. Civil rights leader Rev. Al Sharpton took the pulpit on Aug. 17 to discuss the case. On Sept. 10, the church hosted the city's first council meeting since the shooting. More than 600 people attended. There was shouting, heckling and no time spent on answering the audience's questions, which left many infuriated, Jones said.
Jones is one of six African-American pastors in the Ferguson area. While he realizes the importance of that role, he said, the situation has challenged him as a leader. In his sermons, he tries to stick to biblical teachings as much as possible rather than contribute any commentary to the case. After services, he enjoys leading discussions with parishioners on how to provide basic needs for the community as the case continues to unfold.
"I'm cautious not to turn the pulpit into a social justice platform," Jones said. "My first job is to preach Christ."
Rev. Mike Kinman, of Christ Church Cathedral, located in downtown St. Louis, has a different approach. Days after Michael Brown's death, he marched with other faith leaders who held signs saying "We are praying with our feet" to protest the shooting of the unarmed teenager. Since then, he says there have been changes in his sermons as well.
"We didn't start preaching about race and privilege on Aug. 9, but I certainly have been preaching about it pretty much every Sunday since," Kinman said about his services. "It's not about demonizing one side or the other. It's about pointing to the pain and rage coming off the streets, asking why it is there, confronting the deep injustices and disparities in our society and then making ourselves look in the mirror at these same things in our own community and our own call to be tireless workers for reconciliation and justice."
After the grand jury announcement, Kinman's congregation will be hosting a 24-hour vigil. Prayer, reading, singing and counseling will be offered as a nonviolent approach. While he has remained outspoken about the case, he realizes not every faith leader is willing to do the same.
"I'll never judge their hearts because I sure don't want anyone judging mine," Kinman said. "I also need to remember that for some, just standing up and talking about race and privilege in their congregation is far riskier for them than me standing on West Florissant Avenue," he said, referring to the street that was the center of rioting in August.
Pastor Jeff Wells of Cross Keys Baptist Church in Florissant has a difficult position as well. His brother is a St. Louis police officer. "I try to see both sides of the coin," he told IBTimes about the case. "I love my brother and don't believe everything he has done or will do is out of racism."
For now, faith leaders say the lives of St. Louis residents are on hold until the announcement is made. Regardless of the outcome, there is a consensus on Ferguson's future.
"We can't go back to normal. That won't be possible," Wells said. "We need a new normal."
© Copyright IBTimes 2023. All rights reserved.