Kurdish Militia Turns Away Refugees Fleeing Bombings, ISIL Fight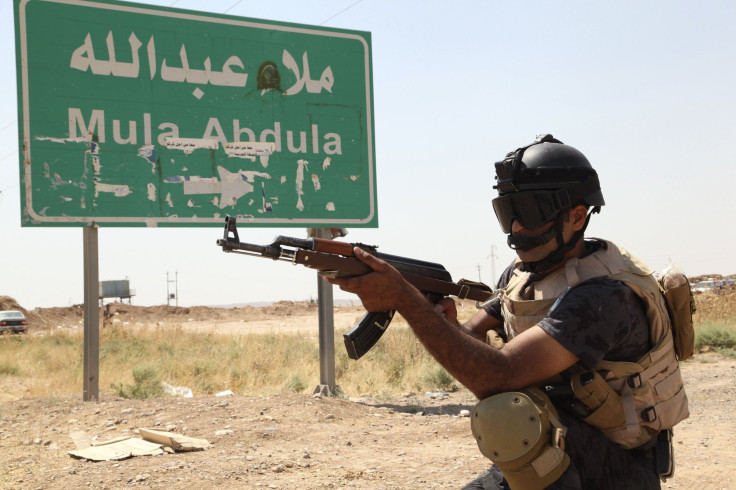 KIRKUK, Iraq -- As Prime Minister Nouri Al-Maliki's forces began new rounds of airstrikes on Fallujah and Tikrit Monday in an attempt to dislodge ISIS jihadists, thousands of Iraqis attempted to cross the border into Iraqi Kurdistan through this city -- but came up against a closed border. Kurdish militia had blocked several checkpoints throughout the day, after three car bombs exploded here.
"We don't know which of these people are terrorists," one of about two dozen soldiers of the Kurdish army, known as the peshmerga, said at a checkpoint. "We can't risk anything because we just don't know." Pieces of one of the cars were scattered on a road near the middle of the city. There were no reported injuries or deaths from the explosions, and no one claimed responsibility.
Peshmerga officers said that since last week Iraqi Kurdistan has had to increase security at its checkpoints because of the influx of Iraqi refugees entering the region, but Monday marked the first time it closed its borders, even if just temporarily. The Iraqis sitting at the border could not go home, for fear of being bombed there. So, they waited.
Tikrit, just 300 kilometers (185 miles) from Baghdad, is now under control of the Islamic State of Iraq and Syria and other Sunni militant groups. Maliki's forces began bombing the city Monday, as well as several other cities with known ISIS hideouts, residents said, forcing thousands to flee.
Although it is unknown who planned the car bombs, the explosions in Kirkuk suggest that even as ISIS moves south toward Baghdad, the conflict is still alive in the north. The struggle is not as clear-cut, though, as it seemed in the early hours of the takeover of Mosul, Iraq's second-biggest city, last week. It now encapsulates all sectarian divisions in both Arab and Kurdish Iraq, and includes small Sunni groups who have taken up arms to fight Maliki's Shia-dominated forces.
The increasingly violent clashes among sectarian parties in the country could give way to a full-blown civil war. The opposition in Iraq now consists of the world's most feared extremist organization, ISIS, and Sunni clans that do not follow the ultra-strict ISIS interpretation of Islamic Shariah law but want Maliki out of power. This division in religious ideology could cause tensions among Sunnis, causing their forces to fractionalize.
Shia communities are siding with their co-religionist Maliki, and Shia-majority Iran has sent special forces into the country to support them and fight the Sunnis. In the north, the Kurdish army is trying to keep oil-rich territory from being taken over by ISIS or the Iraqi military, while at the same time providing -- at least up to now -- a haven for those fleeing the clashes.
Many Sunnis in Iraq, disenfranchised by the Shia-led government for years, said they would support ISIS rule, even though the group has been known for months now for its extreme brutality.
"At least ISIS does not want to hurt us," one man traveling with a truck full of people from Tikrit said. "Maliki keeps bombing our town. ISIS doesn't do anything like that."
But other Sunnis do not want anything to do with the extremist group. They fear it is becoming even more brutal. Pictures released Sunday by ISIS show its soldiers shooting dead hundreds of unarmed, captive Iraqi soldiers en masse.
"We need a judge in this country. We need rules," said Arfan Nadi, a man fleeing government bombings in a village between Fallujah and Ramadi. But, he said, the U.S. should not intervene again.
"The U.S. caused this problem. They are the ones who put Maliki in power."
The threat of a failed, dissolved state overrun by jihadists in the heart of the Middle East has the international community scrambling for a strategy. The Obama administration dispatched an aircraft carrier to the Persian Gulf on Sunday, suggesting it might aid the Iraqi government with airstrikes. But more airstrikes could increase the number of Iraqis trying to leave the country.
Back on the ground, on the border near Kirkuk, the backed-up cars at the Kurdish checkpoint were stuck in a gridlocked maze with no order. Most waited for a clearance to pass, which didn't come. Some began to turn back toward Tikrit.
In a taxi, a man holding a young boy on his lap waited to pass the checkpoint. Four women sat in the back with the family's bags. They were fleeing from Fallujah. The father in the front seat said he wanted Iraq to "wipe the slate clean."
"I don't want Maliki or ISIS," he said. "We need to start something new and build it from scratch."
© Copyright IBTimes 2023. All rights reserved.