Kyiv Explosions: At Least 8 Killed As Russian Missiles Target Ukrainian Capital, Multiple Cities
KEY POINTS
The Russian missiles struck the capital during rush hour Monday
One of Kyiv's busiest intersections was blown apart and left with a crater
Apart from the 8 deaths, 24 people were injured in the explosions
At least eight people were killed in Kyiv after explosions rocked multiple cities in Ukraine on Monday morning. The city of Lviv, which has been a safe haven for those fleeing the destruction of Russian invaders, was also struck.
Ukraine's commander-in-chief Valery Zaluzhny said Russia had fired 75 missiles, according to BBC. Blasts were heard in Ternopil, Dnipro, Zhytomyr and Zaporizhzhia.
The rush hour bombings in Kyiv left several buildings damaged and cars destroyed. Commuters were seen scrambling for shelter in parking garages and Metro stations, according to Reuters. One of the busiest intersections in the city was blown apart and left with a huge crater, the vehicles nearby were damaged by shrapnel.
Apart from the eight deaths, 24 people were wounded in the shelling in Shevchenkivskyi, which is a busy district in central Kyiv, the Ukrainian Interior Ministry said, according to Anadolu Agency.
"Strikes on energy infrastructure in the Lviv region were recorded," regional governor Maxim Kozitsky said on Telegram, as per Euronews.
Residents were asked to stay in shelters as "the threat of further attacks" continues to loom, Kozitsky added.
President Volodymyr Zelenskyy said many are "dead and wounded" in light of the explosions.
"On the 229th day, they are trying to destroy us and wipe us off the face of the earth. Completely. Destroy our people who are sleeping at home in Zaporizhzhia. Kill people on their way to work in Dnipro and Kyiv," Zelenskyy wrote on his Telegram account. "The air alarm does not stop throughout Ukraine. There are missiles hitting. Unfortunately, there are dead and wounded. Please do not leave shelters."
Officials said the attack was still ongoing, at the time of writing.
Kyiv was last attacked in the month of June, and the capital saw relative calm in the last few months before the Monday morning attack.
The attack came just hours after Russian president Vladimir Putin condemned Ukraine for blasting a part of the Kerch bridge that connects Crimea to Russia.
He called the bridge attack an "act of terrorism," The Guardian reported.
While Russia has denied targeting civilians, Reuters reported there was no immediate word from Moscow on the missiles raining down on Ukraine.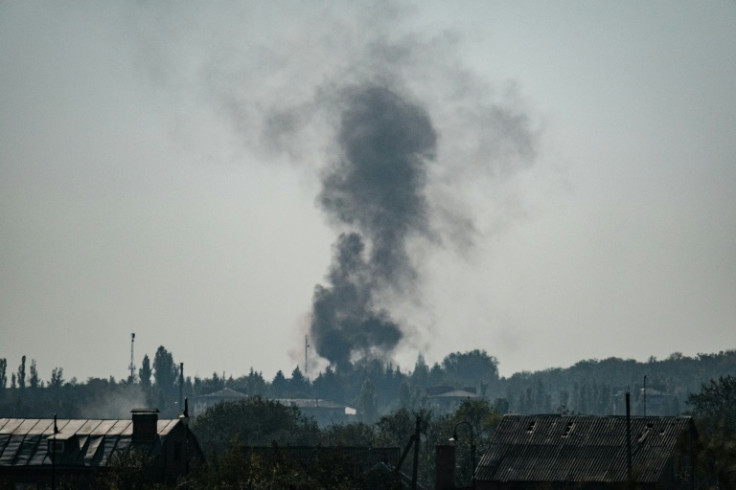 © Copyright IBTimes 2023. All rights reserved.