Laker Trade Rumors: Lamar Odom On the Block...Again?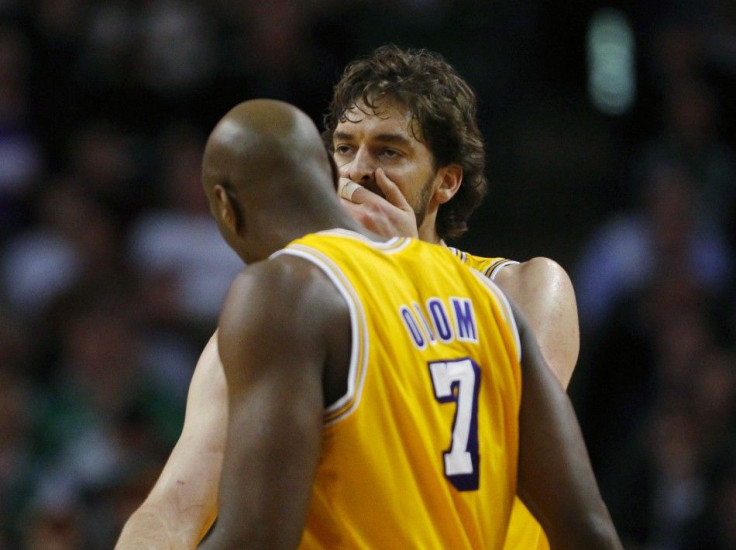 Lakers general manager Mitch Kupchak is in an odd situation.
On one hand, the Lakers are coming off a 57-win season, have one of the best players in the NBA in Kobe Bryant, have two quality big men in Andrew Bynum and Pau Gasol, have the Sixth Man of the Year in Lamar Odom, and lost in the playoffs to a team that eventually won it all.
But that's simply not enough for an organization that considers winning titles the only acceptable way to end a season. Kupchak may have to start actively shopping to strengthen an already title-contending team.
With the NBA Draft on Thursday, the Lakers have four second-round draft picks, and no bench player with any real trade value, except for the aforementioned Odom, who has been a mainstay with the organization.
Odom, 31, came to the Lakers in 2004 in the blockbuster deal in which Shaquille O'Neal forced a trade to the Miami Heat. Since then, Odom has been a major contributor for the Lakers on a squad that had been to the Finals three straight seasons.
His seven seasons with the Lakers have been somewhat rocky. Odom spent two of his first three seasons battling injuries and was the subject to multiple trade rumors, as the Lakers failed to advance to the second round of the playoffs until the arrival of Pau Gasol.
Though Odom has been well-liked by fans, he has also been criticized for poor shot selection and sometimes questionable effort. However, there are few players in the NBA who could provide their team with the skill set that Odom brings to the Lakers.
At 6'10 with long arms, Odom is among the most under-rated rebounders in the NBA, having averaged better than nine rebounds a game in his time with Los Angeles. Odom is also an athletic player with good moves to the basket for someone his size. He has the versatility to play both forward positions, and can spread the court out with his ability to knock down an outside shot.
In some ways, Odom could be considered too valuable to lose, and vital to the success of the team for next season and beyond.
But fans are demanding and want to go into next season as favorites to win another title. With Bynum and Gasol's future resting on blockbuster deals involving impending free agents at the end of the season, and Ron Artest basically impossible to trade because few teams would accept his contract, it's possible that Odom could be a part of trade in the next few days to strengthen other areas of the team.
The most glaring weakness on the Lakers is point guard. The combination of Derek Fisher and Steve Blake didn't yield the results that many were expecting, and Shannon Brown has proven to be too inconsisent to handle more minutes. Of the two players that split the most minutes, Fisher started to show his age, and Blake failed to be the sharpshooter the Lakers were expecting.
The Lakers could also use a back up for Bryant. In previous years, the Lakers had Maurice Evans, who was a very good defender and a slasher with solid outside shooting, and more recently had Sasha Vujacic, a sharpshooter who would often light up opponents with his quick release.
Should the Lakers make a deal involving either Bynum or Gasol, they would likely need a serviceable back up center. Since Gasol's arrival, the Lakers have rotated either big man at times to avoid filling a roster spot with a respectable back up.
A big question for Kupchak going into this week's draft is whether changes actually need to be made, and should he yield to pressure from perhaps over-demanding forces.
The frontcourt of Bynum, Gasol, Artest, and Odom is perhaps the best in the league. Bryant continues to be among the most feared perimeter players in the NBA. Is this really a team that needs to clean house?
Kupchak might want to pull off some deals, but might find it harder than it seems, particularly with team asking for draft picks, and the Lakers' squad consisting of players over 30 years old.
As tempting as a Bynum trade for Dwight Howard might be, the Orlando Magic would likely not want to send yet another superstar center to Los Angeles, even if it means getting more compensation than they might receive from other teams.
Gasol has been named in trade rumors for Chris Paul that would likely require draft picks, and most recently with Minnesota in a package for Kevin Love and the second pick in the draft, who is presumably 6'8 Derrick Williams. Both trades would mean the Lakers losing one of the best post players in the NBA, and not getting one in return. As valuable as Bynum is to the organization, the Lakers are very aware of his inability to play 38 minutes a night and 80 games a year. Losing Gasol might create a major hole if Bynum goes down again.
As for Odom, their have been no concrete trade rumors linking him to another team, but that can change quickly. He has been a part of trade talks since his arrival in the NBA. With point guard a major hole, Odom might be a part of a deal for Denver Nuggets' point guard Raymond Felton, or perhaps even Tony Parker or Monta Ellis, though none of those trades seem too likely. He could also be part of a more far-reaching deal.
The Lakers could explore trading Odom along with Bynum, Blake and draft picks, to Orlando for Howard and point guard Jameer Nelson, who will both be free agents at the end of next season.
Such a broad deal might be the best way for a team like Orlando to give up a franchise player in Howard, and still be immediately competitive.
It also might be the best way for the Lakers to give up Odom -- an important player on a team that expects a great deal from even their more valued players.
© Copyright IBTimes 2023. All rights reserved.