Lakers Rumors: Anthony Davis Will Opt-Out Of Contract, Stay With LeBron James In Los Angeles
Anthony Davis plans to opt-out of the final year of his contract and re-sign with the Los Angeles Lakers this offseason, The Athletic's Shams Charania reports. It's long been expected that Davis would become a free agent but stay in LA, where he just helped bring the franchise its 17th championship.
Whether or not Davis would return to the Lakers for the 2020-2021 season hasn't really been in doubt since he and agent Rich Paul forced a trade to Los Angeles last summer. The kind of contract that the 27-year-old will sign is the only mystery in terms of Davis' immediate future.
The final year of Davis' current contract is worth $28.75 million.
Davis has the option of signing a max contract that would guarantee him north of $200 million over five years. The big man might instead go with a shorter deal, offering him the flexibility to hit free agency again while still in his prime and earn a more lucrative annual salary in his 30s.
A three-year contract that includes a player option in the final season might be Davis' best bet. If next season's salary cap stays at $109.14 million, such a deal would be worth up to $106,084,080, according to Charania. Doing so would allow Davis to become a free agent in 2022 when he would have 10 years of service and be eligible to make 35% of the salary cap.
Kawhi Leonard signed a two-plus-one deal with the Los Angeles Clippers last summer. Leonard can opt-out of his deal after next season.
LeBron James has two years and $80.2 million left on his contract with the Lakers. James can opt-out of his deal after the 2020-2021 season.
James won the 2020 NBA Finals MVP award in Los Angeles' six-game victory over the Miami Heat. Davis proved to be a top-five player, giving the Lakers one of the greatest duos in league history.
Davis averaged 27.7 points, 9.7 rebounds and 3.5 assists per game in the playoffs. He shot 57.1% from the field.
The Lakers are favored to repeat as 2021 champions.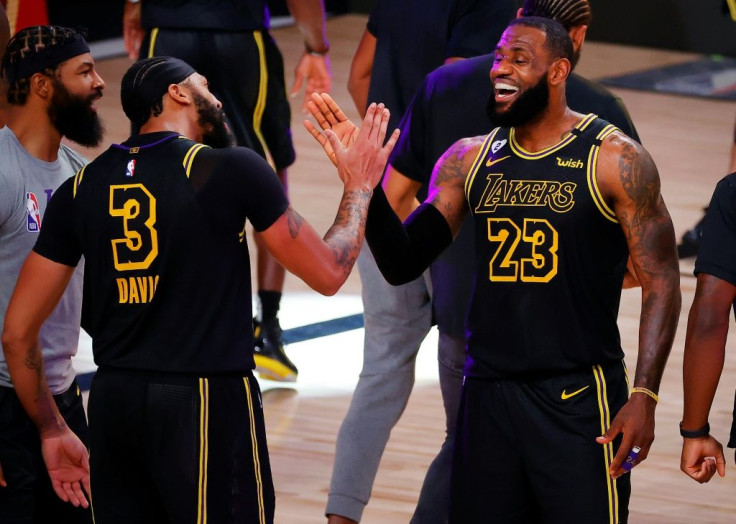 © Copyright IBTimes 2023. All rights reserved.