Lakers Schedule 2016: Final 16 Games Of Kobe Bryant's NBA Career After His Showdown With Cavs, LeBron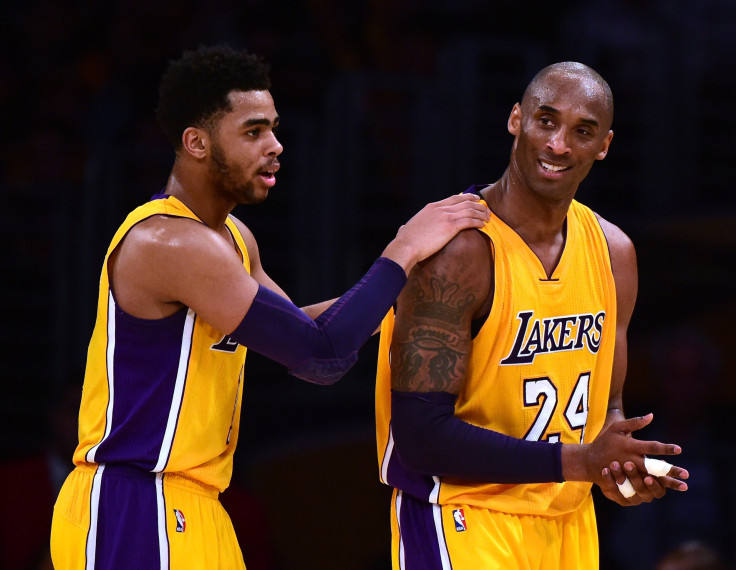 Following his vintage performance and final matchup with LeBron James and the Cleveland Cavaliers Thursday, retiring Los Angeles Lakers superstar and future Hall of Fame shooting guard Kobe Bryant enters the final stretch of his NBA career.
The 18-time All-Star enjoyed one of the best games of his farewell tour against James and the Cavs, scoring 26 points on 11-for-16 shooting with five rebounds, a block shot, and a steal is a loss to the defending Eastern Conference champs, 120-108.
Bryant's adoring Lakers' fans will now have 10 final chances to catch him at Staples Center, with L.A. having six more road games before the close of the regular season.
Unfortunately for the 14-52 Lakers, Bryant won't spend his final NBA days in the postseason, but he will face some of the league's marquee franchises and ones he's historically tortured with incredible scoring displays in this final stretch.
In fact, Lakers fans may see more of the Bryant they saw against Cleveland in the coming month. The 37-year-old will return to the court Sunday to square off against Carmelo Anthony and the New York Knicks, a team he's averaged nearly 27 points per game in his previous 33 careers games.
Bryant will later have two games against the Phoenix Suns, one at Staples on Friday, March 18, and another on the road on March 23 after L.A. wraps up its current eight-game home stand.
Bryant and the Lakers begin April with three huge matchups against the Boston Celtics and their Staples roommate, the L.A. Clippers. The Celtics come to town on April 3, and then the Lakers have a home-and-home series with the Clippers on April 5 and 6.
L.A. then hits the road for a three-game stretch that includes matchups against James Harden and the Houston Rockets on April 10, and the next night Bryant meets Kevin Durant and the Russell Westbrook of the Oklahoma City Thunder for the last time.
Finally, the former MVP and five-time NBA champion will play his final game, at home against the Utah Jazz on Wednesday, April 13.
Kobe's Next 5 Games
Sunday, March 13 vs. New York, 9:30 p.m. ET (TWC SN/ TWC D)
Tuesday, March 15 vs Sacramento, 10:30 p.m. ET (TWC SN/ TWC D)
Friday, March 18 vs. Phoenix, 10:30 p.m. ET (TWC SN/ TWC D)
Tuesday, March 22 vs. Memphis, 10:30 p.m. ET (TWC SN/ TWC D)
Wednesday, March 23 at Phoenix, 10 p.m. ET (TWC SN/ TWC D)
© Copyright IBTimes 2023. All rights reserved.