Lakers vs. Thunder: Live Stream, Watch Online, Preview for Game 3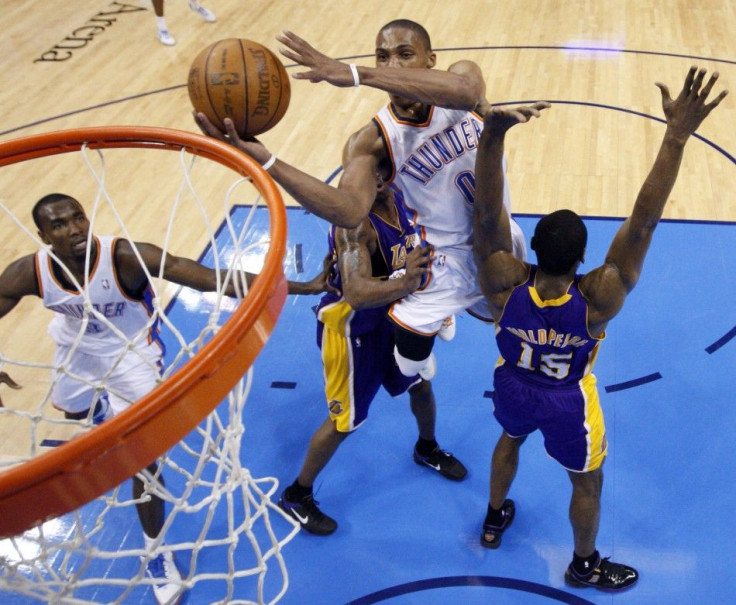 The Lakers look to avoid falling down 3-0 in their series with the Thunder as the two teams face off on Friday night.
Oklahoma City visits Los Angeles for Game 3 of the Western Conference Semifinals at Staples Center. You can watch the game on ESPN at 10:30 p.m. ET. If you can't get to a television, you can watch a live stream online here.
L.A. was blown out in the first game, and blew a seven point lead in the final two minutes of Game 2. Despite their troubles in the first few games, the Lakers are still favored in this one. Los Angeles is giving the Thunder 2.5 points according to most Las Vegas sportsbooks.
Kobe Bryant struggled in Oklahoma City. He shot just 37 percent from the field, and missed key shots in the final minutes of Wednesday night's game.
Going back to Los Angeles might just be what the Lakers need to get back in this series. They were dominant in L.A. during the regular season, going 26-7 at Staples Center. The Lakers were under .500 on the road.
Both teams struggled to score in Game 2. The Lakers registered 30 points in the second half and the Thunder only put in 29. The Lakers did a good job of containing Russell Westbrook, who gave them a lot of trouble in Game 1, but didn't take advantage of OKC's ineptitude on offense.
Oklahoma City has yet to lose a game this postseason.
© Copyright IBTimes 2023. All rights reserved.