Lakers vs. Warriors 2018: Start Time, TV Channel For LeBron James-Kevin Durant Preseason Battle
For the first time since Game 4 of the 2018 NBA Finals, LeBron James will play opposite Kevin Durant and the Golden State Warriors. The Los Angeles Lakers are set to face the defending champions Wednesday night in the first of two straight preseason games.
Both contests will take place on a neutral court. ESPN will broadcast Wednesday's game at 10:30 p.m. EDT from T-Mobile Arena in Las Vegas. The division rivals will meet again two nights later in San Jose.
The exhibition game won't have any impact on the regular season, though it's always interesting to see the NBA's two best players going head-to-head. James has made a couple of highlight plays in his limited time wearing the Lakers' purple and gold, though he's averaging 13.3 points in less than 16 minutes per game. Durant has played at least 20 minutes in all three of his preseason games, scoring a high of 26 points when he took 19 shots against the Sacramento Kings last week.
Much of the focus will be on Los Angeles' younger players. Lonzo Ball is set to make his preseason debut after recovering from surgery to repair a torn meniscus in his left knee. The second-year point guard will come off the bench, though head coach Luke Walton indicated Ball could play more than half the game.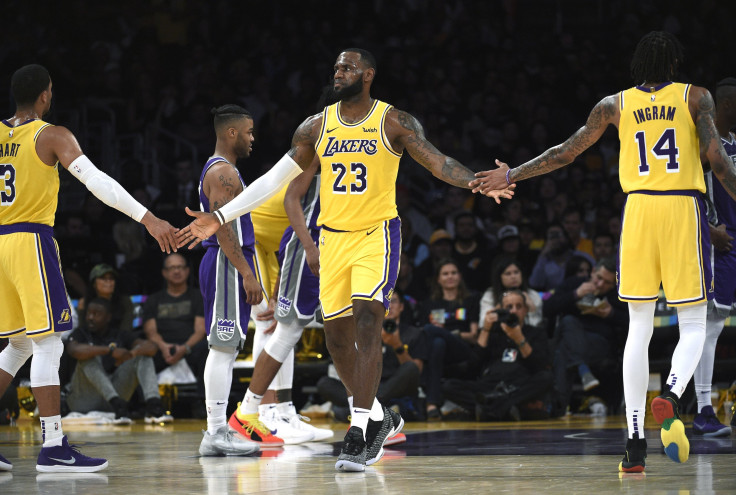 "Feels like a long time," Ball said Tuesday, via ESPN.com. "So I am very happy to get back on the floor finally, and it all starts with tomorrow.
"It's frustrating when you play basketball your whole life and then it gets taken away from you for a little bit. But I am happy to be back."
Brandon Ingram is averaging 15.3 points on 50 percent shooting in four preseason games. There are high expectations for the third-year player, whom Los Angeles refused to trade for Kawhi Leonard during the summer. The former No.2 overall draft pick averaged 16.1 points on 47 percent shooting after averaging 9.4 points per game on 40.2 percent shooting as a rookie.
Stephen Curry scored 23 points in 20 minutes Monday night against the Phoenix Suns. He hit five of his nine three-point attempts when he made his preseason debut on Sept. 29.
© Copyright IBTimes 2023. All rights reserved.