Lance Armstrong Charges: Why New Doping Allegations From USADA Are Different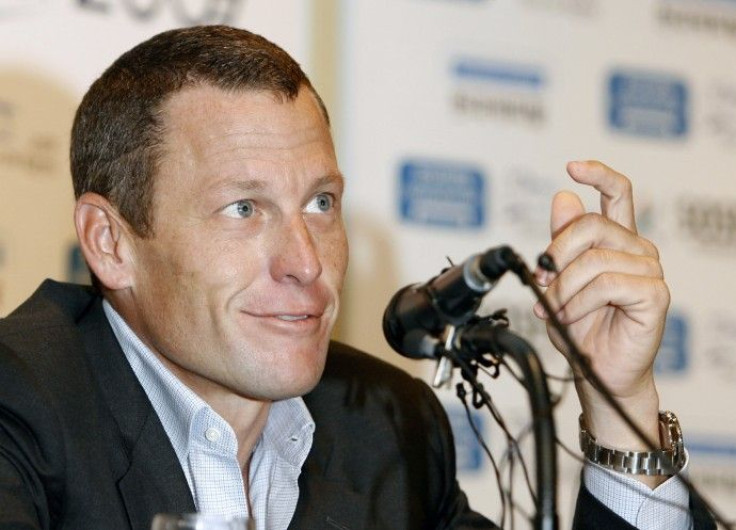 Charges of doping have long followed seven-time Tour de France winner Lance Armstrong. Now the cyclist is facing those charges again, this time from a quasi-governmental agency, the United States Anti-Doping Agency, and there are a number of reasons why the new claims are different than the others Armstrong has faced over the last decade.
For one, Armstrong, who has focused on triathlon competitions since his retirement from cycling, cannot compete in Ironman France, a triathlon set to start later this month, because of the allegations. The claims haven't even been proven, yet the 40-year-old Armstrong, who won the Tour de France seven times and is a cancer survivor, won't be able to compete.
USADA is basing its allegations on claims that blood samples it took from Armstrong in 2009 and 2010 were fully consistent with blood ma­nipu­la­tion including EPO [erythropoietin] use and/or blood transfusions, according to The Washington Post.
Armstrong, who has never been found to use performance-enhancing drugs, adamantly denied the new charges, which claim he was involved in a doping conspiracy, in a statement on his website.
I have never doped, and, unlike many of my accusers, I have competed as an endurance athlete for 25 years with no spike in performance, passed more than 500 drug tests and never failed one, Armstrong said, referring in part to U.S. cyclist Floyd Landis, whose 2006 Tour de France title was stripped after a drug test found he had unnatural, elevated levels of testosterone during Stage 17 of the race.
That USADA ignores this fundamental distinction and charges me instead of the admitted dopers says far more about USADA, its lack of fairness and this vendetta than it does about my guilt or innocence, Armstrong continued.
Armstrong claimed he was the only member of the U.S. Postal Service cycling team to be charged by USADA, although the quasi-governmental agency said that was not the case.
In response to numerous inquiries regarding the public statements made by Mr. Lance Armstrong, we can confirm that written notice of allegations of anti-doping rule violations was sent yesterday to him and to five (5) additional individuals all formerly associated with the United States Postal Service (USPS) professional cycling team, the agency said on its website. These individuals include three (3) team doctors and two (2) team officials. This formal notice letter is the first step in the multi-step legal process for alleged sport anti-doping rule violations.
A federal doping investigation targeting Armstrong began in 2010, but ended in February and the case was dropped.
While the allegations now being pursued by USADA are similar to those investigated by federal authorities, USADA doesn't have to abide by the same standards of proof that the government had to follow. USADA also has the authority to strip Armstrong of his Tour de France titles.
Robert Luskin, one of the cyclist's attorneys, says even if USADA determines Armstrong doped, it's difficult to put stock into the findings.
The charges are serious in the sense that they've got the ability to take away his title and ban him from future events, Luskin told The New York Times. Is it a process that is likely to lead to something that gives us some confidence that the allegations are true? Not for a second.
The lawyer said Armstrong met with USADA, but the agency demanded he confess to the allegations.
USADA, which was created 12 years ago, has never lost a case it has brought against an athlete.
Armstrong says the new allegations are baseless, motivated by spite and advanced through testimony bought and paid for by promises of anonymity and immunity.
USADA denied the cyclist's claims.
USADA only initiates matters supported by the evidence. We do not choose whether or not we do our job based on outside pressures, intimidation or for any reason other than the evidence, the agency said. Our duty on behalf of clean athletes and those that value the integrity of sport is to fairly and thoroughly evaluate all the evidence available and when there is credible evidence of doping, take action under the established rules.
© Copyright IBTimes 2023. All rights reserved.
FOLLOW MORE IBT NEWS ON THE BELOW CHANNELS