Lane Kiffin to Return as USC Head Coach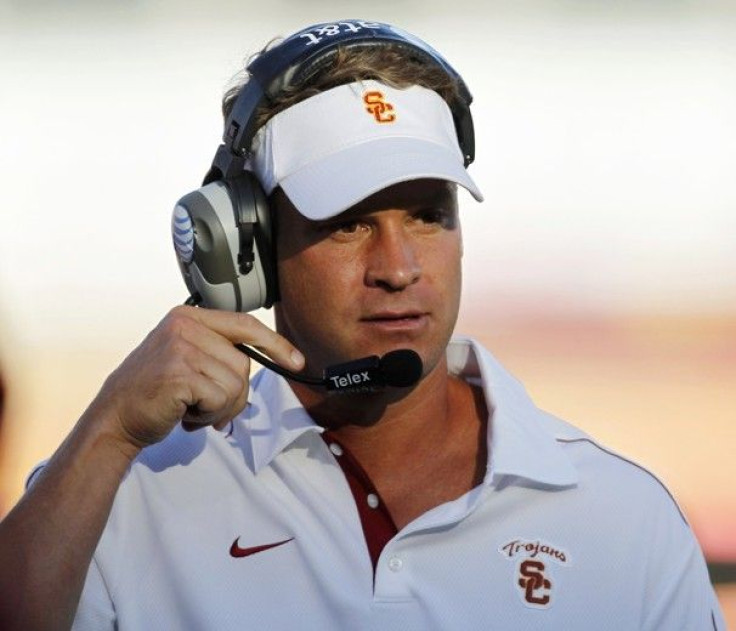 Lane Kiffin received a vote of confidence from athletic director Pat Haden on Saturday that his job is secure as head football coach at USC.
There had been speculation that USC would let go of Kiffin after a season where the Trojans were ranked No. 1 in the nation, but have suffered four losses this season. USC failed to beat local rival UCLA on Saturday, and were also dealt losses to Stanford, Arizona, and Oregon, which have eliminated the Trojans' chances of a top bowl-game invitation.
According to ESPN, Kiffin told reporters after the UCLA game that he had spoken with Haden, who assured him that his job was safe. Haden didn't speak to reporters following Saturday's loss, but later sent text message confirmation of his endorsement of Kiffin.
Kiffin has stated on more than one occasion that he accepts responsibility for the team's failure to live up to expectations.
The defense has been a major cause for concern, as the unit has struggled with tackling and forcing turnovers. The Trojans' defensive coordinator is Kiffin's father, Monte Kiffin.
Things don't get easier for the Kiffins. USC will host No. 1 Notre Dame on Saturday at the Coliseum in another high-stakes rivalry match.
USC's offense may also be without staring quarterback Matt Barkley. The senior left Saturday's game late in the fourth quarter with a shoulder injury.
© Copyright IBTimes 2023. All rights reserved.