Largest Construction Projects In The World: China Opens New Beipanjiang Bridge To Much Fanfare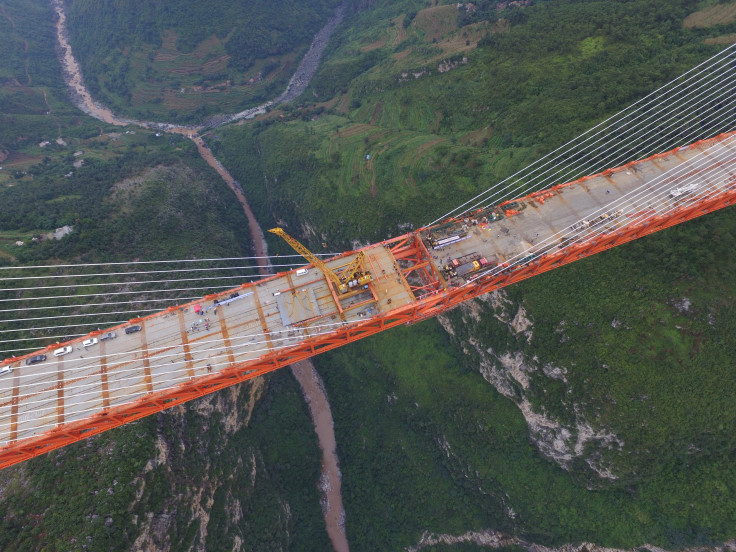 The world's highest bridge has officially opened in southern China. Following a three-year construction, the Beipanjiang Bridge, located in the southern province of Guizhou, is officially open for business, the China Central News (CCTV) reported Thursday.
Shortly after the bridge's opening, traffic engulfed the large bridge as commuters and sightseers alike sought to cross the world's highest bridge. The massive structure stands at an impressive 565 meters (or 1,854 feet) above a valley gorge, with a 1,341-meter span (around 4,400 feet) and runs with four lanes. The bridge crosses directly above the Beipanjiang valley, BBC News reported. The bridge is now the tallest bridge erected since the Sidu River Bridge, located in the Hubei province of China, which stood at 1,500 feet.
The cost of constructing such a marvel was not cheap, however. The bridge cost 1.023 billion (or around $140 million) to construct, according to the Chinese news outlet.
"In October 2013, the Minister of Transport approved the Beipanjiang Bridge and gave us 8.9 million yuan in scientific research funding," Zhou Ping, director of the Beipanjiang Project, told CCTV. "Our project provided match-funding of around 6.1 million yuan, bringing the research fund to around 15 million."
The engineering and placement of the bridge was an enormous undertaking. The gorge the bridge crosses was so deep that the structure had to be able to withstand a "strong wind field," according to a deputy chief engineer at CCCC Highway Consultants Co., LTD.
The bridge was designed to shorten the distance between Xuanwei and Shuicheng County, a journey which, by car, takes over four hours, ABS-CBN News reported. The new bridge is expected to shorten the distance to about an hour.
The province of Guizhou already boasts seven of the 10 highest bridges in China, CCTV reported.
© Copyright IBTimes 2022. All rights reserved.
FOLLOW MORE IBT NEWS ON THE BELOW CHANNELS