World's Tallest Building 2016: Dubai To Erect Burj Khalifa Rival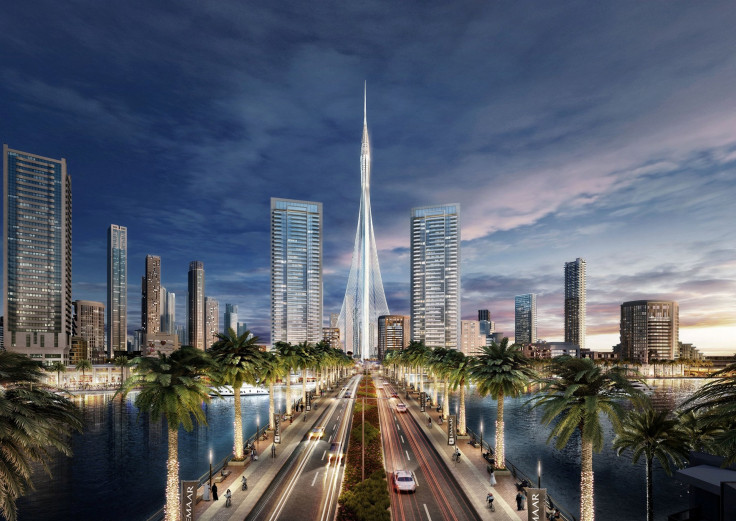 Dubai is outdoing itself by amassing the tallest tower in the world for the second time.
Construction has officially begun on the building that is on track to become the tallest building in the world, Bloomberg reported Tuesday. The Tower at Dubai Creek Harbour is set to reach completion by 2020 and is expected to outdo Burj Khalifa, currently the world's largest man-made structure, also located in Dubai.
Although the Burj Khalifa currently stands at 829.8 meters (or 2,722 feet) high, it was not revealed how high The Tower was expected to build to, nor was the cost revealed, Reuters reported.
"Years ago we launched Burj Khalifa, the tallest skyscraper in the world," Dubai's ruler, Sheikh Mohammed bin Rashid al-Maktoum said in a statement. "Today, we are celebrating the foundation of a new structure that represents another phase in our journey to be at the forefront of growth in various sectors."
The project, which was first announced in April, is a joint venture between Dubai Holding LLC and Emaar Properties PJSC, an investment vehicle of Sheikh Mohammed, according to Reuters.
The tower will be a part of the Dubai Creek Harbour real estate venture, which is sized at 3.7 square miles. The structure was designed by Santiago Calatrava, a Spanish architect who also designed New York's World Trade Center Transportation Hub and the Chicago Spire Tower.
The new tower is the United Arab Emirates' latest calling card in its immense architectural structures that include the Dubai One Tower (which is expected to be completed in 2021) and the Burj Kahlifa.
Sheik Mohammed took to Twitter Monday to tout the new architectural wonder, writing, "We strive for new achievements. A new heart for our city and global landmark. Humankind has no ceiling or border but our imagination."
© Copyright IBTimes 2023. All rights reserved.