Largest Global IPOs Of All-Time Ranked - IBT Graphics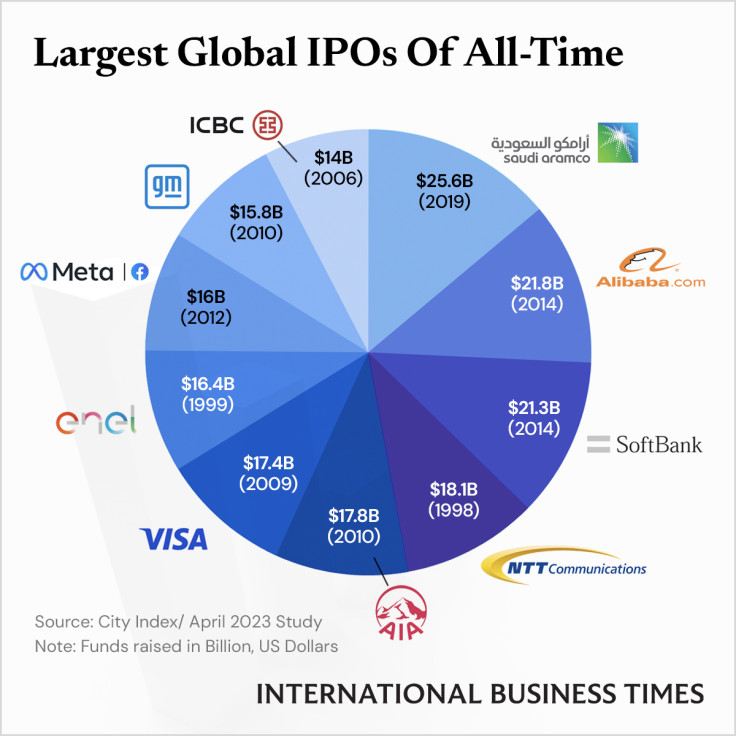 An Initial Public Offering (IPO) is when a private company offers its shares to the public through a stock exchange for the first time--one of the most crucial steps taken by the business in its lifetime. Companies, primarily, issue an IPO to "go public" and raise money.
So far, the initial public offering of Saudi Arabian multinational petroleum and natural gas company, Saudi Aramco, on the Tadawul (Saudi Stock Exchange) launched in December 2019, was the largest IPO worldwide. The company managed to raise approximately $25.6 billion through the IPO, according to a recent study by City Index.
Chinese multinational tech giant Alibaba issued the second largest IPO, after Saudi Aramco, with the Industrial and Commercial Bank of China. The company is also listed on the New York Stock Exchange and emerged as the largest IPO in the U.S. in 2014 at nearly $22 billion. The SoftBank Group, a Japanese Holding company, came to a close third with a 2018 IPO worth $21.3 billion, only $500 million less than Alibaba.
© Copyright IBTimes 2023. All rights reserved.