US Is World's Largest Producer Of Nuclear Power - IBT Graphics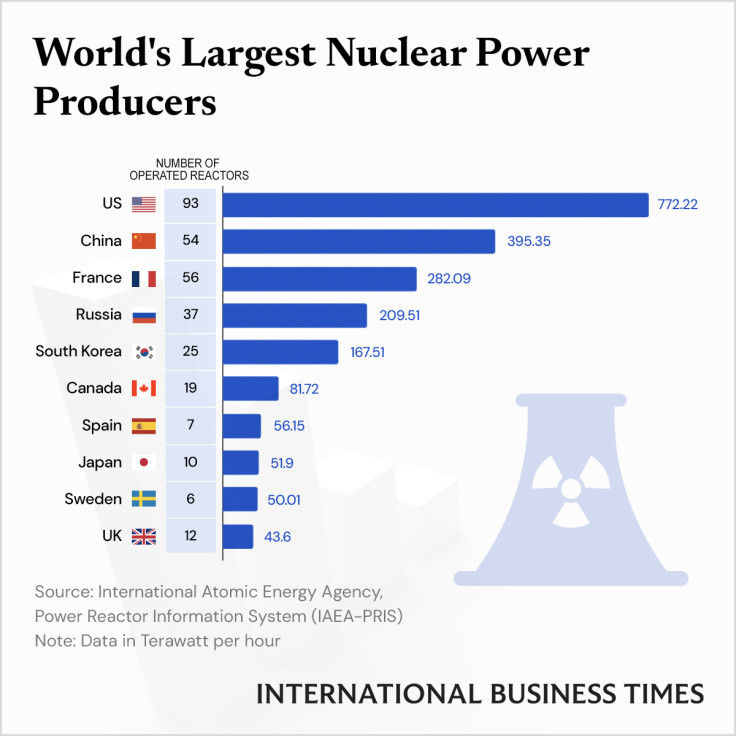 Nearly 450 nuclear reactors across the world are supplying power to several countries, which use it as a clean energy source and a substitute for fossil fuels to promote carbon-free energy sources.
The top 15 countries accounted for over 90% of the world's total nuclear power production in 2022, according to the data from the Power Reactor Information System, developed and maintained by the International Atomic Energy Agency.
The U.S. emerged as the world's biggest nuclear power producer last year, followed by China and France. The U.S. produces more than 50% of total clean electricity using nuclear power, supplied through approximately 93 of its reactors. China also continues to invest in nuclear energy with the aim of achieving its climate goals. Currently, the country has 54 operated reactors, which it plans to increase to 150 by 2035 with an investment of approximately $440 billion.
France, which uses nuclear power as its largest source of electricity, comes third with 282,093 GW.h nuclear electricity supplied last year.
© Copyright IBTimes 2023. All rights reserved.