The Last (Porno) Picture Show: Militants Attack Cinemas In Peshawar, Pakistan, Killing Dozens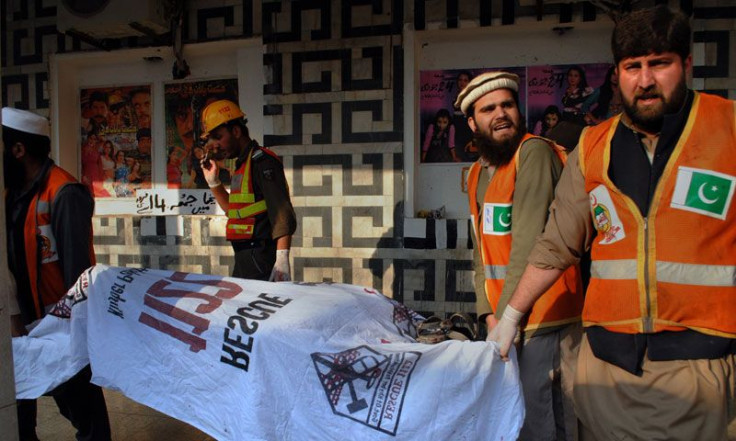 Police in Peshawar, the capital of Pakistan's Khyber Pakhtunkhwa province in the northwestern region of the country, have ordered the closing of all of the city's eight remaining cinema houses, citing a dire security threat in the wake of recent deadly bomb attacks on movie palaces.
Earlier this week, 13 people were killed and at least 19 others wounded when three back-to-back explosions were detonated inside the Shama Cinema in Peshawar. According to media reports, at least 80 -- perhaps as many as 100 people -- were in the theater at the time, Another attack -- at the Picture House Cinema -- killed at least seven people and injured more than two dozen. Police stated that in both attacks, hand grenades were used during the showing of films.
It is believed the cinemas were targeted by fundamentalist Islamic militants who proliferate in the region close to the border of Afghanistan. But Ijaz Khan, Peshawar's police chief, said no one has yet claimed responsibility for the attacks. Indeed, a spokesman for the Pakistani Taliban, Shahidullah Shahid, denied involvement and even condemned it, according to Reuters.
The Nation newspaper of Pakistan reported that the district superintendent of police, Faisal Mukhtiar, also directed theater owners to install CCTV cameras, metal and explosive detectors and to deploy security personnel at their facilities within a month to heighten security in the future once cinemas are reopened. But one cinema manager told Dawn, an English-language newspaper, that the decision to close theaters arose from police inaction. "We have closed the cinema for [an] indefinite period as police have refused to provide us with security," he said. "There are threats of terrorist attacks. The best way to handle the situation is to close cinemas." The cinema owner also said that it is difficult for small businessmen like him to provide adequate security on their own. "It is impossible for us to adopt expensive security measures on our own [due to our] low revenue. There was a time when we had full day and night shows daily, but these days, the number has reduced to one or two as the people don't come… to cinemas."
A local police official, Peshawar senior superintendent of police of operations, Najeebur Rehman, replied, "We cannot deploy police at every cinema and shop as we [would like]… despite being understaffed ... are fighting militancy and have to cover the areas bordering Khyber Agency."
A number of prominent politicians condemned the cinema attacks. The leader of the Awami National Party (ANP), Zahid Khan, characterized it as a failure of security. Interior Minister Chaudhry Nisar Ali Khan and former President Asif Ali Zardari also condemned the bombings. In addition, the Muttahida Qaumi Movement's (MQM) Altaf Hussain called for the arrest of the culprits.
The Daily Telegraph newspaper reported that one of the damaged cinemas, the Shama, was a haven of vice in a country dominated by harsh Islamic theocratic values – the theater showed pornographic films which attracted elderly men, taxi drivers and young off-duty soldiers, often smoking cannabis and enjoying nude entertainment. Even the mainstream movies the Shama exhibited featured soft-core sex and women in revealing clothes.
"This is the first time I came to see a film like this," a young soldier named Ayeen told the Telegraph, while viewing a film. "It is only because there was no good Pashto movie on at this time in the afternoon." Another customer at the Shama cinema said he saw no contradiction in watching porn in an otherwise conservative area, citing that the women on screen were not Pashtun women, but rather Punjabi.
But the very presence of such a cinema defies the norms of conservative Pakistani culture. Jehan Shah, a film director, theorized "maybe the state allowed [the porno theater] as a safety valve, a way to keep the masses busy with something that titillates them," Shah added: "This pornography is unlawful and should not be shown. But Pashto cinema -- even when it was being produced and shown and the cinemas were full of people -- it was as bad as this pornography".
Meanwhile, the government of Prime Minister Nawaz Sharif continues to negotiate for peace with militants from the Pakistan Taliban to end a seven-year insurgency that has killed tens of thousands of people.
© Copyright IBTimes 2023. All rights reserved.
FOLLOW MORE IBT NEWS ON THE BELOW CHANNELS