Peshawar Church Bombings: Christians In Pakistan Facing Bleak Future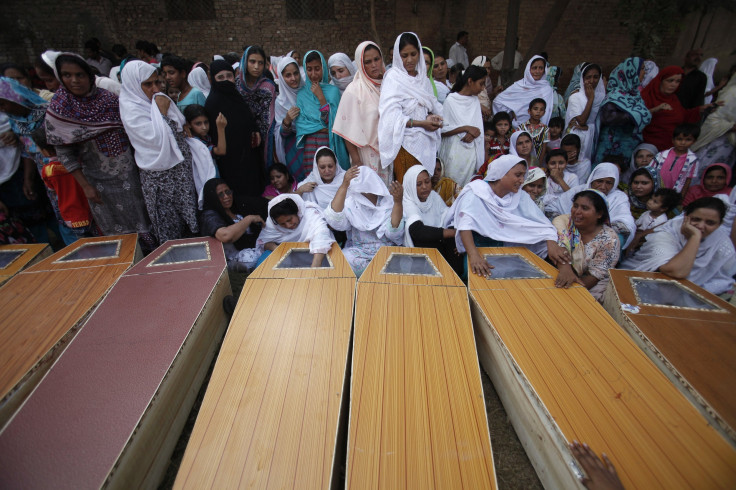 Christians demonstrated across Pakistan to protest the bombings at a church in Peshawar that killed at least 81 people over the weekend and to demand better security for the nation's minorities. On Sunday, two suicide bombers blew themselves up at the All Saints Church in the northwestern city of Peshawar, killing scores of worshippers and wounding more than 140 others. It is thought to be the deadliest attack ever perpetrated on Pakistan's Christian community.
It is unclear who actually carried out the bombings. BBC reported that groups linked to the Pakistan Taliban -- Jandullah and Junood ul-Hifsa -- claimed responsibility for the attack as a retaliation against U.S. drone strikes in Pakistan's northwest tribal belt. "We carried out the suicide bombings at Peshawar church and will continue to strike foreigners and non-Muslims until drone attacks stop," Ahmad Marwat, a spokesman for Junood ul-Hifsa, told Agence France Presse. However, Reuters said Marwat is a member of Jundullah. "[The Christians] are the enemies of Islam; therefore, we target them. We will continue our attacks on non-Muslims on Pakistani land," Marwat told Reuters. (At any rate, the Pakistan Taliban has itself condemned the attack, denying any culpability.)
Protests by Christians, some of them violent, were reported in Peshawar, Islamabad, Karachi, Lahore, Multan, Faisalabad, Gujranwala, Rahimyar Khan, Hyderabad and Quetta. In Peshawar, demonstrators placed the corpses of victims on a major road to block traffic. Relatives of the dead also attacked a hospital, which they claimed was responsible for some deaths due to lack of doctors, nurses, paramedics and beds. Pakistan's newly elected Prime Minister Nawaz Sharif condemned the attack, while Pope Francis called such violence "a bad choice of hatred and war." Pakistan's Ulema Council, an assembly of leading Muslim scholars, characterized the attack as "shameful."
Aleem Maqbool, a BBC correspondent in Peshawar, wrote of the Christian mourners in Peshawar: "Of course there is shock -- there has never been as devastating an attack as this to target Pakistan's Christians -- but there is certainly anger as well." The killings will put more pressure on Sharif to get tougher on Islamic militant groups, which have killed thousands of people over the past decade. Up until now, the government has called for peace negotiations and dialogue with insurgents, who are determined to bring down the state. ''What dialogue are we talking about? Peace with those who are killing innocent people?'' pondered Paul Bhatti, chief of the All Pakistan Minorities Alliance. "'They [militants] don't want dialogue. They don't want peace.'' Bhatti, a practicing Catholic, speaks from personal experience -- his brother, Shahbaz Bhatti, a federal minister, was murdered by an Islamic extremist in 2011. ''Our state and our intelligence agencies are so weak that anybody can kill anyone anytime. It is a shame,'' Bhatti added.
Christian groups said they will close their missionary schools for three days, while others are demanding increased protection at churches and other Christian establishments. Christians, like Hindus and Sikhs, form a tiny minority of Pakistan's 180 million population, where an estimated 96 percent are Muslim. BBC reported that Christians comprise some 1.6 percent of the populace. According to the Agence France-Presse news agency, some 200,000 Christians live in Pakistan's northwestern Khyber Pakhtunkhwa province, with 70,000 in Peshawar, the provincial capital, alone.
Radio Free Europe/Radio Liberty reported that most of Pakistan's Christian community descended from low-caste Hindus who converted in the 19th century as a result of Christian evangelism. Romana Bashir, the chief of Peace and Development Foundation, which advocates for the rights of minorities, told RFE/RL that ever since the imposition of Sharia law in Pakistan in the late 1970s/early 1980s, Christians have seen their rights gradually eroded. They are also strait- jacketed by blasphemy laws on the books, which are frequently used against them by Muslims seeking a redress of some imagined offenses or revenge. In addition, Christians – like Hindus and Sikhs – face rampant discrimination in housing, education and jobs.
As a result, many Christians live in poverty. "I think the cumulative effects of these [laws and practices] have led many people to experience fear and an inferiority complex within Pakistani society," Bashir said. "Issues like these are also the root causes of why Christians live in fear and feel insecure."
Martin Javed Miachal, chairman of the Pakistan Christian Movement, told RFE/RL that thousands of Christians are departing the country every year, primarily ending up in refugee camps in Thailand, Sri Lanka, and Malaysia. "Our future in Pakistan is very dark," he said.
© Copyright IBTimes 2023. All rights reserved.