LaVar Ball Berates Female Referee During Basketball Game, Says He Isn't Sorry
LaVar Ball refused to apologize for his controversial comments Saturday toward a female referee who issued him a technical foul during the Adidas Summer Championships tournament Friday. Ball claimed he had no issues with her, but held on to his opinion about her officiating.
When asked if he changed his controversial opinion about the female referee — a NCAA Division 1 women's official, he replied, "no." He claimed his comments had nothing to do with the referee's gender.
READ: LaVar Ball's AAU Basketball Team Draws Chaotic Crowd At Adidas Summer Championships
"You guys are trying to make it like a gender thing. It's not that," he told ESPN Saturday. He claimed she was "not in shape" and she "needs to stay in her lane" after she issued him a technical foul during last Friday's game.
"All I'm saying was, what's her name? Exactly," he continued. "The only reason you know her is she gave me and my son a tech. And that's what it is when you ref somebody who's got a high celebrity. Every coach acts like that because the intensity of the game is so high. And I'm just saying, don't have no vendettas in here."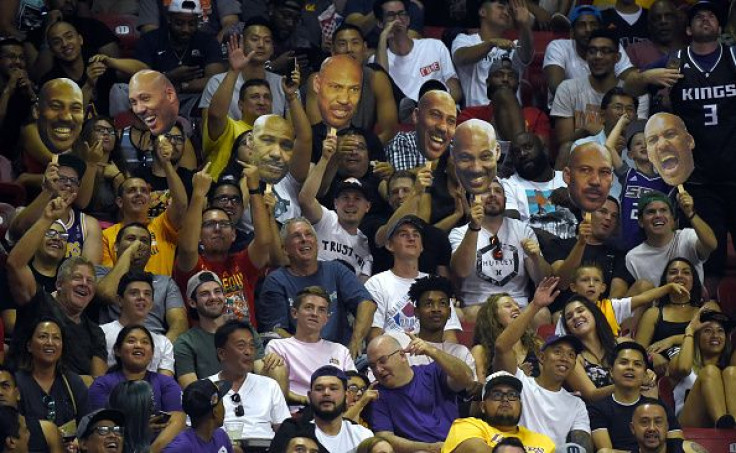 LaVar Ball picked up a technical foul last Friday morning from the same official who gave him a technical foul during last Wednesday night's game. The controversy started when LaVar Ball suggested the referee should leave Friday's game. He threatened to take his team out of the game if the tournament didn't replace her. The game continued after the tournament replaced her with another referee.
Adidas, who sponsored the event, claimed it was their choice to pull the referee from the game.
"There was some miscommunication," Chris Rivers, Adidas director of global basketball sports marketing told ESPN. "The NBA don't put certain people with certain guys, either. If there's a history or miscommunication, that happens."
READ: Los Angeles Lakers News: How Good Is Lonzo Ball? Rookie Named MVP At NBA Summer League
After the incident, LaVar Ball suggested the referee was unfit to do her job. He claimed that it wasn't an issue of gender.
"I don't care if all girls ref -- if they're good refs," Ball said. "Let's go ahead and do it. But it's not about tech-ing up and making a scene."
"It's not about me hating that lady or something like that," he added. "She just got caught in a bad place: messing with me. She's good. She's probably a great ref with the women. But this men's stuff? It's a difference between women's basketball and men's basketball. Just because we go like that and don't hit the ball don't mean it's a foul. But don't get your feelings personal. And that's why people were like, 'She's a great ref.' To you, she's a great ref. Not to me. But it's OK."
Three referees officiated Big Baller Brand's 116-95 loss to Team Lillard Saturday. LaVar Ball's son, LaMelo Ball scored 56 points during the game. He was part of a double technical foul issued late during Saturday's game.
Referring to the referee, Ball said he "wished her the best." Big Baller Brand's summer basketball schedule ended and the next time any of his sons will play organized basketball is when No. 2 draft pick Lonzo Ball takes the court with his Los Angeles Lakers for NBA preseason games this October.
© Copyright IBTimes 2023. All rights reserved.