LaVar Ball's AAU Basketball Team Draws Chaotic Crowd At Adidas Summer Championships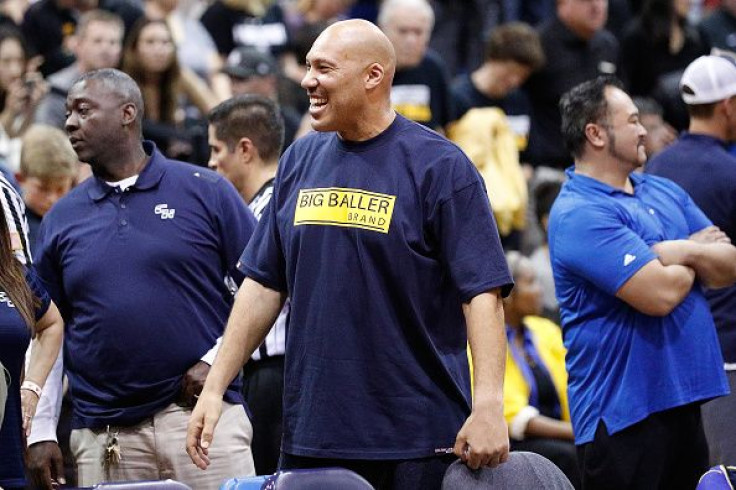 Chaos ensued during an AAU basketball game Wednesday at the Cashman Center in Las Vegas. LaVar Ball's Big Baller Brand team and SC Supreme attracted a massive audience in the Adidas Summer Championship, causing police to block doors due to fire safety concerns before tipoff.
AAU is an amateur sports organization dedicated to the promotion of amateur players and programs, often drawing very few spectators. But this matchup featured Ball's highly regarded son LaMelo Ball, who is rated among the best junior guards in the nation, and a team featuring Zion Williamson, a top-rated senior forward from South Carolina.
READ: Los Angeles Lakers Rumors: Is Lonzo Ball Good Enough To Improve The Franchise?
The game was reportedly held up by a massive crowd occupying seven rows of seating hours before tip-off. That's when event officials and law enforcement prevented more spectators from entering. Adidas estimated over 4,000 people attended the game, while about 1,500 waited to gain entry.
AAU event organizer Chris Rivers confirmed local police allowed the game to continue moments before tip-off.
"Unreal. Never seen anything like it," Kansas coach Bill Self told ESPN Wednesday.
During the game, a police officer asked for a garage door connecting a hospitality room and the gym to be closed.
"Put it down! They oversold this, way oversold," a law enforcement official told ESPN.
Despite the commotion, the AAU basketball game commenced, with SC Supreme defeating Big Baller Brand, 104-92. The confusion may have sparked improved play, as LaMelo Ball finished with 31 points, while Williamson scored 28 points.
READ: Los Angeles Lakers News: How Good Is Lonzo Ball? Rookie Named MVP At NBA Summer League
A Facebook Live video streamed the game on the internet, amassing 800,000 views. Two years ago, it seemed no one cared to watch the Big Baller Brand team play. They played games on a side court, while barely anyone attended.
Cleveland Cavaliers star LeBron James attempted to watch the game but opted to stay in his vehicle, avoiding the commotion, sources told ESPN. James appeared with several others before opting to skip the game out of security concerns. NBA stars Andrew Wiggins, Damian Lillard, Eric Gordon, Jamal Murray, Thon Maker and LaMelo's Ball's brother Lonzo Ball all attended the game.
The game also featured some on-the-court commotion. Referees issued LaVar Ball a technical foul for berating officials after a play. Last weekend, LaVar Ball was also tagged with a technical foul, while his team led by nine points. He then pulled his team off the court to talk to them.
LaVar Ball addressed the mayhem after Wednesday's game, saying that a large crowd should have been expected due to the hype surrounding the Big Baller Brand.
"They're gonna have to get a bigger venue," he told ESPN. "When the Big Baller Brand come to town, better get something big."
LaVar Ball also said he wasn't surprised James wanted to attend the AAU game. He also stated James isn't much of a concern to him.
"He's not the biggest player to me," LaVar Ball said. "The biggest players to me are my boys. I don't care about no LeBron. LeBron do his thing, I just worry about my boys. I don't worry about all that other stuff."
© Copyright IBTimes 2022. All rights reserved.
FOLLOW MORE IBT NEWS ON THE BELOW CHANNELS