Who Is LaVar Ball? The Outspoken Father Propelled Himself To Super-Stardom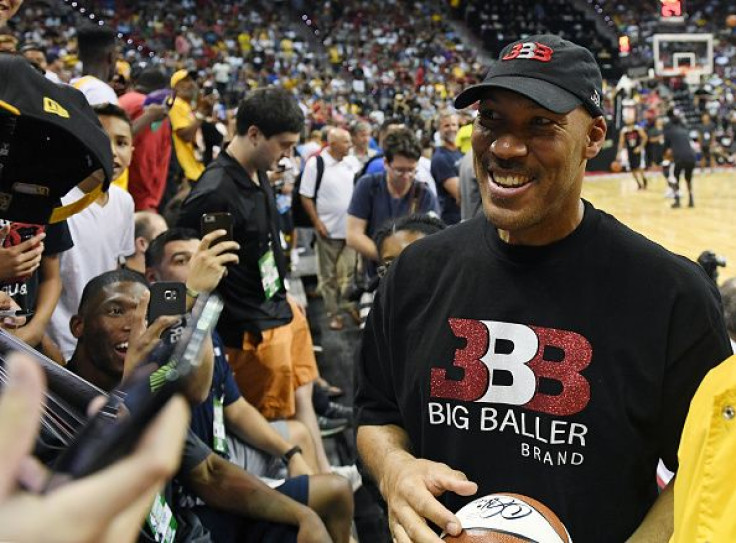 Before he won near-regular coverage from mainstream media, LaVar Ball was anything but famous. The outspoken father of three basketball players propelled himself to stardom after he claimed his young son Lonzo Ball was better than established NBA superstar Stephen Curry. But who really is LaVar Ball?
LaVar Ball, 48, is a native of South Los Angeles where he played college basketball. Lavar Ball touted sons Lonzo Ball, LiAngelo Ball and LaMelo Ball early in their basketball careers. He seemingly became a talking point overnight when he said Lonzo Ball was better than Curry in February.
"I have the utmost confidence in what my boy is doing. He's better than Steph Curry to me," he said during an interview in February. "Put Steph Curry on UCLA's team right now and put my boy on Golden State and watch what happens."
He later feuded on the sidelines with LaMelo Ball's basketball coach Stephan Gilling during a March Las Vegas game.
"That coach is hard-headed," LaVar Ball told ESPN March 20. "He wanted to do things his way, he's trying to have a little resistance towards me. And I'm like, 'Man, that's why you lost three games."
LaVar Ball told USA Today in March that he would beat basketball Hall of Famer Michael Jordan in a game, one-on-one.
"I would just back [Jordan] in and lift him off the ground and call a foul every time he fouls me when I do a jump hook to the right or the left." He continued, "He cannot stop me one-on-one. He better make every shot 'cause he can't go around me."
READ: LaVar Ball Explains Why Big Baller Brand Sneakers Are So Expensive
LaVar Ball angered Cleveland Cavaliers star LeBron James in March when he publicly stated James' young son was likely to be "not that good" at basketball.
"Keep my family out of your mouth," James responded at the time during a press conference. "This is dad to dad. It's a problem now."
LaVar Ball appeared on ESPN's First Take the same day and sparred with host Stephen A. Smith over basketball.
READ: Lonzo Ball Will Be The Michael Jordan Of Assists, Says Ex-NBA Player Jay Williams
A video of an irate LaVar Ball went viral in May. During the game, he scolded his son's entire AAU basketball team when they lost by over 50 points.
He also received backlash in May after his company Big Baller Brand sold basketball sneakers for $495. He took to Twitter and said those who complained about the price aren't wealthy enough to purchase the shoes. NBA stars like Shaquille O' Neal scoffed at him.
In a June GQ interview, LaVar Ball justified his style of parenting. He assured all his sons would make the NBA.
"They gonna get my boys, the Lakers. It's already been lined up. Like I said, I'm going to speak it into existence and guess what? It's gonna happen," he said. "You thought Michael Jackson's dad was crazy? If I'm not crazy, they're not good enough."
Since Lonzo Ball was drafted No. 2 overall by the Lakers in the NBA Draft in June, LaVar Ball and family made its reality debut on appeared on wrestling's WWE Raw. Deadline reported that Facebook partnered with the Ball family for a reality show starring LaVar Ball and his sons.
© Copyright IBTimes 2023. All rights reserved.