Law Enforcement Death Statistics: In 2014, 96 Police Officers Killed In The Line Of Duty, FBI Says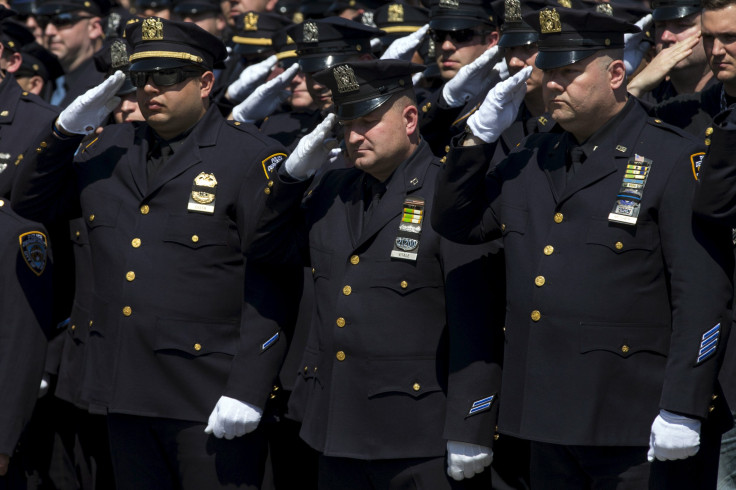 More U.S. police officers died while on the job in 2014 than in the previous year, according to a report released Monday by the FBI. The bureau's annual report, titled "Law Enforcement Officers Killed and Assaulted," revealed that 96 law enforcement agents were killed during line-of-duty incidents last year, up from 76 in 2013.
Of those deaths, 51 officers were killed as a result of a felonious act, a significant increase from the 27 killed in such acts in 2013. All of the officers were men. The number of police who died in accidents decreased to 45 from 49 in 2013, according to the report.
The number of police officers killed intentionally by criminals was still down, from 56 deaths in 2009 and 55 in 2005. Line-of-duty deaths are also tracked by national law enforcement unions and other pro-police advocacy groups around the country.
The FBI data comes near the one-year anniversary of nationwide anti-police protests sparked by officer-involved deaths in Ferguson, Missouri, and Staten Island, New York. Law enforcement advocacy groups and local leaders where officers were killed in recent months have suggested those protests were to blame for an increase in assaults against officers.
But the number of officers who were victims of line-of-duty assaults decreased to 48,315 incidents last year, from 49,851 in 2013. The newly released data is the most comprehensive account of fatal attacks and assaults, the FBI said Monday.
Some of the findings in the report include the average age of the officers feloniously killed, which was 39, and the average length of service, which was 13 years. Offenders used firearms to shoot 46 of the 51 police officers killed in 2014 -- 33 were shot with handguns, 10 with rifles and three with shotguns, according to the FBI's report.
Of the 59 suspects identified in connection with the line-of-duty deaths, 50 had prior criminal arrests, officials said. Nearly a third of the officers assaulted in the line of duty were responding to disturbance calls.
Law Enforcement Officers Feloniously Killed | FindTheData
© Copyright IBTimes 2023. All rights reserved.