At Least 100 Palestinians Killed Since Midnight As Gaza's Only Power Plant Goes Up In Flames [VIDEO and PHOTOS]
At least 100 people have been killed by Israeli bombing and shelling in the Gaza Strip since midnight local time on Tuesday, Palestinian officials said. That number is expected to rise as many bodies are feared to still be trapped under rubble. If accurate, the death toll will have surpassed 1,200 in Gaza as Israel enters the fourth week of the campaign it calls "Operation Protective Edge." Fifty-three Israelis have been killed so far.
Late Monday night the Israel Defense Forces called for around 400,000 people to evacuate their homes in Shejaiya, Zeitun, Jabaliya, Beit Lahiya and Beit Hanoun. But with the borders closed, and United Nations shelters full, there was simply no place for them to go. According to Agence-France Presse, one tenth of Gaza's 1.8 million residents have sought shelter with the U.N.
What followed the evacuation notice was what the Associated Press called "the heaviest bombardment in the fighting so far," resulting in the near-destruction of Gaza's only power plant, and killing five entire families.
"Gaza's sole power plant has stopped working due to Israeli shelling last night, which damaged the steam generator and later hit the fuel tanks which set them on fire," the deputy director of the energy authority, Fathi al-Sheikh Khalil, told AFP.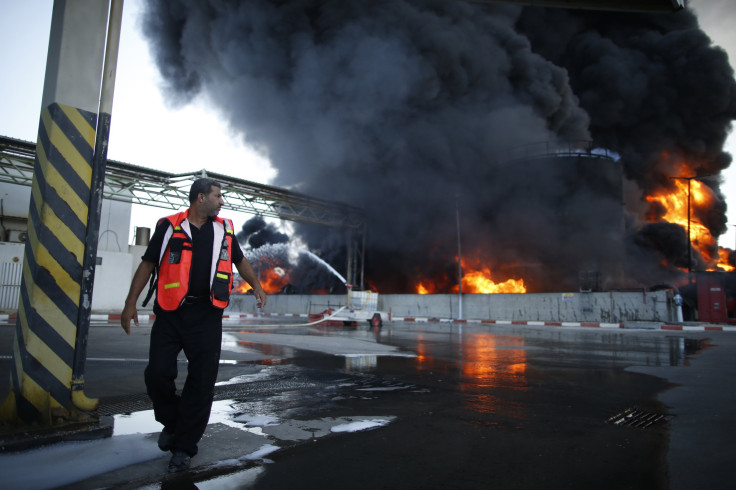 The power plant went up in flames after two Israeli shells hit a fuel tank. A previous attack had partially incapacitated the plant last week, giving residents in Gaza only a few hours of electricity a day, but after this attack they have been plunged into near-darkness.
In Rafah, an Israeli airstrike killed seven members of one family, and seven members of another family were killed when tank shells hit their home. In the past 24 hours, five families were almost completed wiped out in Rafah and Khan Younis, the Israeli newspaper Haaretz reported.
The IDF hit Hamas leader Ismail Haniyeh's home twice on Tuesday. No one was hurt but the building was reduced to rubble. He was undeterred. "Destroying stones will not break our determination," he said in a statement after the attack on Tuesday.
The need for a cease-fire has never been more urgent, yet Israel and Gaza could not seem further from a truce. Still, international voices continue to plead for an end to the deadly clashes.
On Monday, U.N. Secretary General Ban Ki-moon said, "In the name of humanity, the violence must stop."
© Copyright IBTimes 2023. All rights reserved.