Lebanon's Syrian Refugees Take To Social Media Fundraising, Private Donations To Fill UN, Government Aid Void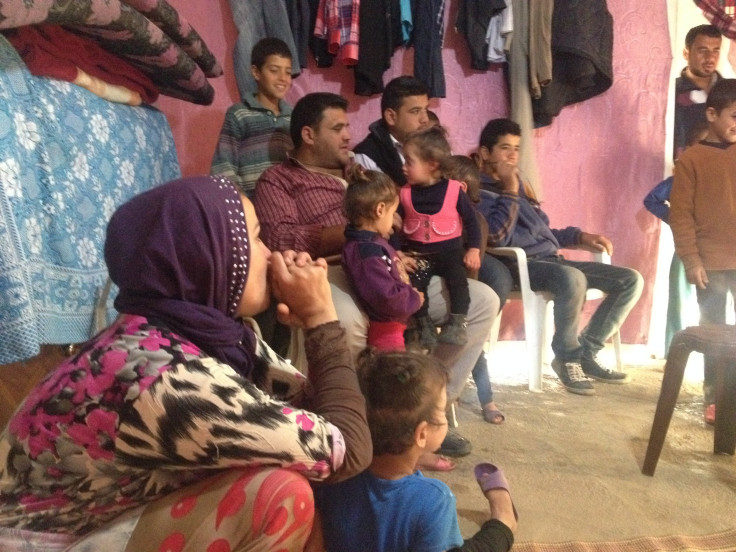 BEIRUT -- It was too dark in the apartment building for 13-year-old Ahmed to see the hole in the floor. He was making a delivery that morning for the supermarket in Beirut's outskirts where he worked, when he took one wrong step and fell down an elevator shaft. His parents, Syrian refugees, were not receiving any aid from the U.N., and even with Ahmed's contribution to the family's income, could not afford the cost of surgery and medical care. But Ahmed was also from al-Karak, a town in Syria's Daraa province where the revolution began in 2011, and that meant he was part of a network of refugees from the city who raise money to fund the needs of their fellow Syrians.
The group raised $12,000 for Ahmed's medical costs and hospital stay though donations on instant messaging application Whatsapp, but the doctors were still unable to save him. Ahmed died from injuries sustained at a job he should have never had in the first place.
His story is emblematic of the neglect Syrian refugees face in Lebanon, a plight that can turn lethal.
A recent Lebanese government crackdown on Syrians, in an attempt to stem a flow of people that the state cannot deal with, means that many of Lebanon's estimated 2 million Syrian refugees receive no aid at all. The government is overwhelmed by an influx equal to almost 50 percent of the Lebanese population and is also wary of infiltration by Syrian extremists. Meanwhile, the United Nations refugee organization is at the end of its rope, without enough money to cover its budget for refugees in Lebanon.
Nearly half of the refugees live below the Lebanese poverty line of $4 per day. But as the Syrian civil war enters its fifth year, many refugees in Lebanon have come up with a novel arrangement: raise their own money. The methods they have created to help each other range from fundraising through social media to opening privately-owned refugee camps, many of which have ties to governments in the Gulf region.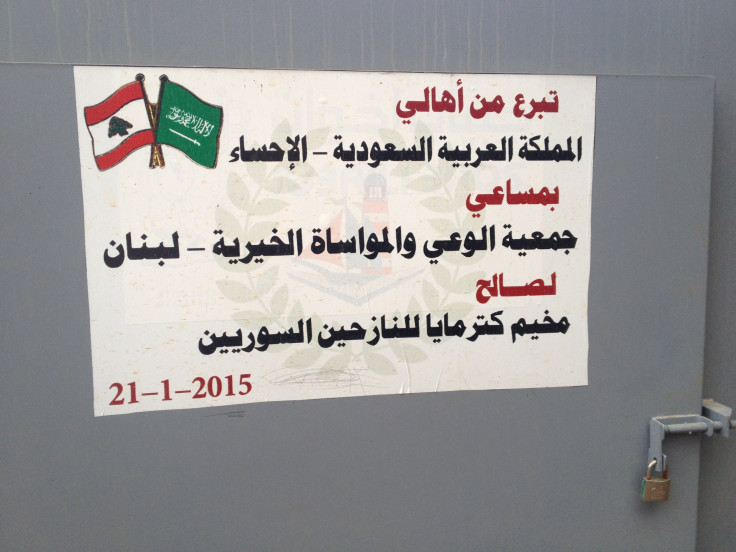 Mohammad, whose name has been changed for security reasons, started a group on Whatsapp for fellow Syrians from al-Karak now dispersed across Lebanon and the Gulf states. If anyone in Lebanon originally from the town is in need of assistance, like Ahmed the day he fell down the elevator shaft, he asks the groups' members for donations.
"We do this because there is no one to help us," Mohammad said, sitting on a cardboard box in a room lined with cans of chickpeas, olive oil and clarified butter in the Beirut convenience store he manages.
Sometimes he asks for donations as many as three times a week, from any of the 12 groups he's a member of for people from al-Karak. When all donations have been recorded, one of the group's wealthier members will make a wire transfer to the person in need and then collect from the others at a later date.
Lebanon has taken in the highest per capita number of refugees from the Syrian crisis, a situation that is "unprecedented" in Lebanon's long history of hosting displaced populations, Social Affairs Minister Rashid Derbas said earlier this month. The influx of refugees, he added, is the "most dangerous" threat to the country, which is mired in a political and financial crisis. Lebanon has not been able to elect a president for one year now and has not approved a budget for a decade.
Yet, "Lebanon should be commended for hosting the Syrian refugees," said an International Monetary Fund report last month, which stated "the Syria crisis...dominates Lebanon's short-term outlook and longer-term prospects" and the country "will need ongoing and sizable international assistance as it alone cannot shoulder the related costs."
That international assistance is not coming from the United Nations.
There are roughly 1.2 million Syrians registered with the United Nations High Commissioner For Refugees (UNHCR), the primary international body in charge of Lebanon's refugees. Last year UNHCR could only raise $700 million of its $1.7 billion Lebanon budget.
Some refugees do receive aid, but it is simply not enough. One Syrian from Idlib, Faris, lives in a refugee camp in Lebanon's Bekaa valley in a double tent which houses two televisions, two wives, and soon-to-be 15 children. Faris, who did not want his last name published for security reasons, has 16 mouths to feed and receives only $26 a month in food vouchers from the U.N.'s World Food Programme. Dressed in a white robe and broken sandals and sitting on a dirty, overturned bucket, he asked if his guests would like a cup of tea, the universal sign of welcome in the Middle East -- even though he has next to nothing.
"The assistance is very weak," he said. "Sometimes we go 25 days without fuel."
Aid from UNHCR is only available for refugees who are registered with the organization. But registration is a long process that involves showing proof of a housing commitment, proof that the landlord actually owns that property and proof of financial stability, in addition to paying a $200 registration fee that's too steep for many. If children are born in Lebanon, parents must pay to have them registered by the authorities in addition to paying the equivalent of approximately $130 to have them registered as Syrian citizens at the embassy.
Lebanese laws passed recently require that the UNHCR share all identifying information on refugees with the government, which has discouraged many Syrians from registering altogether. In 2014, registrations fell by 75 percent from the previous year, amid growing fears of a tougher climate for refugees. Anyone who arrives now will likely be unregistered as a matter of survival because, as of last month, Lebanon has banned all refugees from entering the country.
Those who are already in Lebanon are not able to work legally, so many work under the table at low-level jobs. They are generally paid a monthly salary that is an average of 40 percent lower than the minimum wage for Lebanese citizens in the same position. People tend to view them as competition for lower-end jobs, a problem exacerbated by rising unemployment, which has increased from 11 percent at the start of the Syrian conflict in 2011 to 25 percent now.
Those who do still arrive will have to rely on nothing but an informal network of people willing to help and on illegal work paid under the table.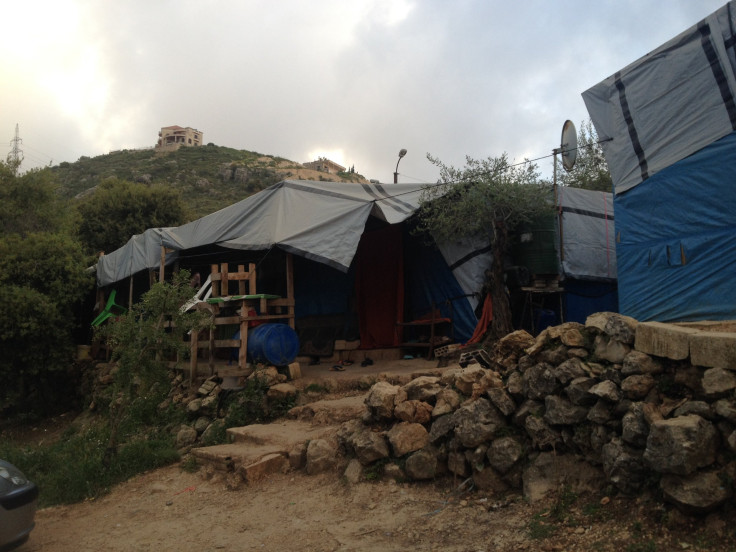 One Lebanese man, known only as Ali, decided to start his own camp for Syrian refugees who could not register with UNHCR. Ali had met several refugees in a school where he worked, and when the government began to crack down, he bought a piece of land next to his home and built tents.
The camp now hosts 51 families, around 300 people, with some tents housing up to 11 people. The refugees say Ali receives donations from private funders and unspecified "Islamic organizations." At the entrance of the camp, a sign depicts the green and white Saudi Arabian flag on a generator that the kingdom recently donated.
"Ali chased the UNHRC away because when people need them they're not there," said Abu Anas, a Syrian refugee who used to work as a hairdresser in Damascus and has lived in the camp for two years.
Ali provides bread to the refugees and runs a water pipe to the camp from his own home. The Red Cross used to drop off one bag of food per month for the camp, but refugees there haven't received help from any organization in at least four months, Anas said.
"Without Ali here we'd be starving and dying," said Basil, an ex-Free Syrian Army fighter from Yarmouk, near Damascus.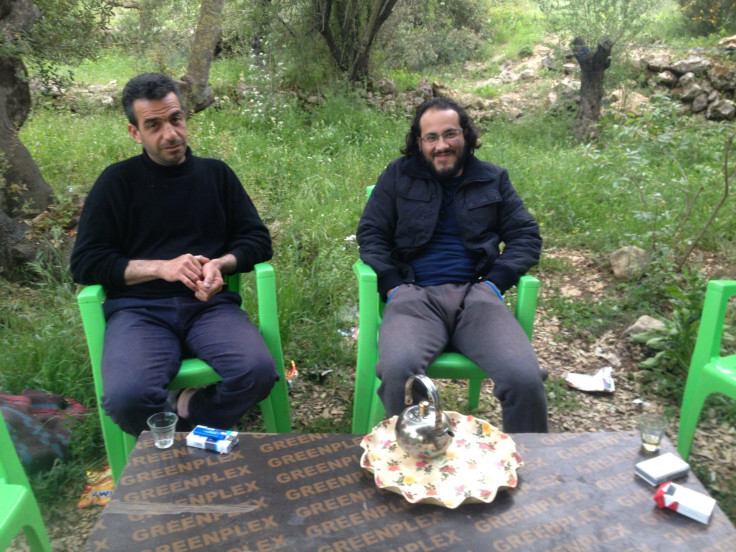 The camp is located in a remote part of the Bekaa valley and is not easily accessible by car. There is only one convenience store at a walkable distance where residents can buy basic household necessities. But there is a serious lack of medical services, medicines and non-food items such as hygiene products, according to Abu Ahmad, a refugee who's been living in the camp for more than two years.
"We used to hear about certain diseases, now we face them," Ahmad said. His two-year-old son has a heart condition, but he has not been able to get him to a doctor.
The cost of medical assistance for such extensive procedures is far beyond the means of most Syrian refugees in Lebanon. And the patients who most often need such procedures are children, many of whom are injured while working illegally to help make ends meet for their families.
Some medical help is available through organizations such as the refugee-run Syrian Refugees Coordination (SRC), which operates health and education centers -- including a fully-equipped hospital for Syrian refugees in Tripoli on Lebanon's Mediterranean coast -- and that's drawing the government's attention to the group.
The hospital was founded by a Syrian, Azzam Rifai, who was killed fighting the Syrian regime last year. His involvement with the Syrian opposition made the government suspicious that the hospital was a front for infiltrating extremist militants from Jabhat al Nusra, the Syrian branch of al Qaeda, or the Islamic State group.
The hospital is funded entirely by private donors, mostly from the Gulf states, according to SRC spokesman Safwan al-Khatib, a refugee from Homs. The doctors are mainly Syrian refugees themselves, meaning they are working illegally, without a permit. They also work for free. "Syrian doctors are doing a lot of work even though they're not allowed to operate in Lebanon," Khatib said.
The hospital receives no aid from UNHCR, and the government has tried to close it down before. Now, in a development that exemplifies how badly Syrian refugees are faring in Lebanon, it harasses the people who run it. Although he is registered as a refugee, Khatib had his ID seized last year because of his involvement with the organization. Authorities have not returned his documents, and he is required to go into an office every week for questioning. But that won't stop him, he said, from helping his fellow Syrians.
"All Syrian refugees are seeing on TV the aid they're supposed to be getting, but they're not getting anything," Khatib said. "We were here before UNHCR started with the Syrian refugees. We're still here, and we don't depend on them."
© Copyright IBTimes 2023. All rights reserved.