LeBron 'Couldn't Do It': Paul George Defends Players Moving To Super Teams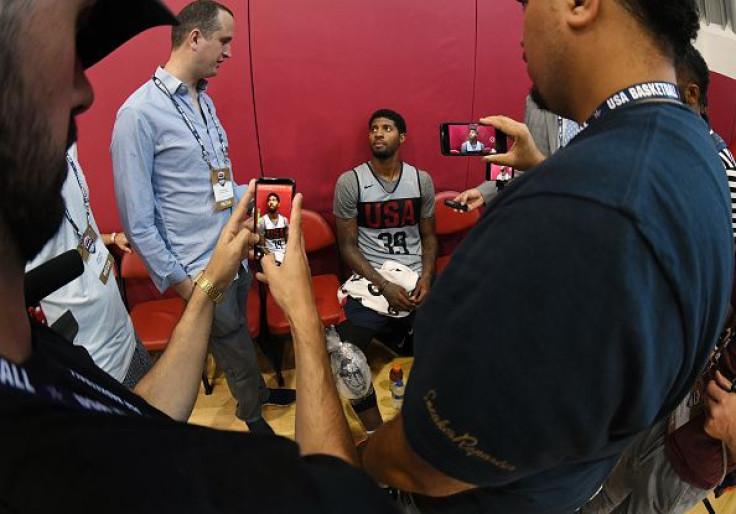 Oklahoma City Thunder forward Paul George is baffled by the criticism today's players are receiving for moving to or creating super teams.
LeBron James was the talk of the summer when he moved to the Los Angeles Lakers on a four-year deal after opting out of his Cleveland Cavaliers contract.
The 33-year-old willed a poor Cavs team to a fourth consecutive NBA Finals earlier this summer, but was unable to make the series a competitive one as the Golden State Warriors would sweep Cleveland for a third championship in four years.
He eventually signed on with the Lakers, with initial reports of George and Kawhi Leonard joining him there with the hopes of creating a new super team capable of challenging the Warriors.
While it didn't work out with George opting to stay with the Thunder after becoming a free agent, the seemingly common theme for players and franchises in the NBA today is to create a super team in order to win a championship.
After missing out on George and seemingly deciding to wait a year until Leonard is a free agent, the Lakers went on to sign a number of NBA veterans on one-year deals so they can capitalize on the free agency pool next year and then build their super team.
Other teams are preparing for the free agency pool in 2019 as well as they plan their cap space to attract one or two top players.
Players from the past have repeatedly criticized this and believe today's players are cut from a different cloth. However, George does not see the rationale behind the criticism, especially as teams in the last two decades have always required at least two star players to win a championship.
"No team has won [a title] where one single guy was the lone star and it was their team. It's not that era," George said, as per the Washington Post. "I'm not sure how the veterans, the legends, don't understand that part. It's a different game now. For those guys to chime in and say we're not built the same … I never understood that, because who would we be fooling if we went out alone and tried to go up against the Warriors?"
"The best guy in our league right now couldn't do it. [LeBron James] got swept [in the 2018 Finals]. So that just goes to show you at this point what it takes to win. Because you need guys that are alike talent-wise and skill set-wise to win championships."
Compared to the NBA legends and veterans, today's players have much more control over their futures and aren't stuck with a single team.
The increasing trend of one-plus-one contracts helps with this, particularly in Warriors forward Kevin Durant's case, and George views it as a positive.
"Back in the day, guys were stuck on teams," George added. "It was up to the front office to build around that one guy, and that one guy was going to bring championships to them... It's not the same now … [players] understand that, and we know what it takes."
© Copyright IBTimes 2023. All rights reserved.