LeBron James To Sixers? Ben Simmons Tried 'Reaching Out' To Lakers Star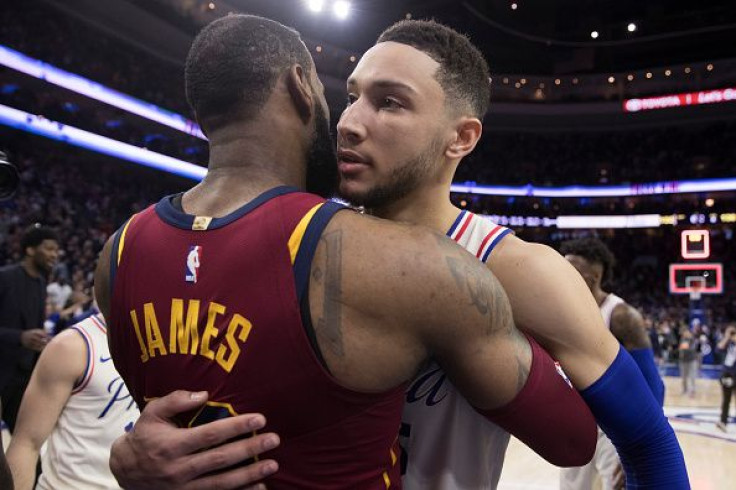 Philadelphia 76ers guard Ben Simmons was disappointed not to have teamed up with LeBron James but understands the three-time NBA champion's decision to join the Los Angeles Lakers.
James became an unrestricted free agent in July and was linked with a number of teams, the Sixers included, although the Lakers were seen as the big favorites throughout. In the end, he signed on with the 16-time champions and Simmons claimed he spoke to him before the decision, adding he felt James had already made up his mind as the former tried to reach out to him.
"I spoke to him before he actually decided, but I just had a feeling that he'd already picked so it was kinda funny," Simmons told NBA Australia, according to the Daily Express. "I was reaching out to him but I already knew."
In a separate interview with the Daily Telegraph, the Rookie of the Year expressed his disappointment at not teaming up with James.
"A little bit," Simmons said when asked if he was disappointed, according to CBS Sports. "At the same time, he did the right thing for him and his family. But it would've been great to learn from him, him being on the team and obviously competing for a championship. But we have pieces to get there."
While James moving to Los Angeles seemed inevitable, he was seriously considering the Sixers. The Philly franchise has one of the most exciting, young rosters in the league and notably finished above the James-led Cleveland Cavaliers last season in the Eastern Conference.
And Sixers managing partner Josh Harris believes the fact that James took a meeting with them just further highlights it.
"I think they considered us very strongly," Harris said last month. "I think he -- I would be speculating on how he makes his decisions, and I don't want to do that -- but I think that they were really serious [about Philadelphia]. The fact that they took the meeting with us was something that they didn't view lightly, so I think that they were very serious about it."
James would later come out and state the same, adding how he was more intrigued by the prospect of bringing the glory days back to the Lakers.
"I definitely thought long and hard about the possibilities of lining up alongside Ben [Simmons] and [Joel] Embiid [at Philadelphia], or lining up alongside [James] Harden and Chris [Paul] [at Houston]," James explained late July. "I just felt like at this point in my career, the ultimate for me -- just like when I went to Miami, everyone kind of looks at me joining a superteam, but if people look at it, I think Miami was [47-35] the year before I joined that team and you can look at the Lakers' record -- so I like the challenge of being able to help a team get to some place they haven't been in quite a while."
© Copyright IBTimes 2023. All rights reserved.