Lee Kuan Yew Death: China's Leaders, Media Avoid Sensitive Topics In Mourning Singapore Leader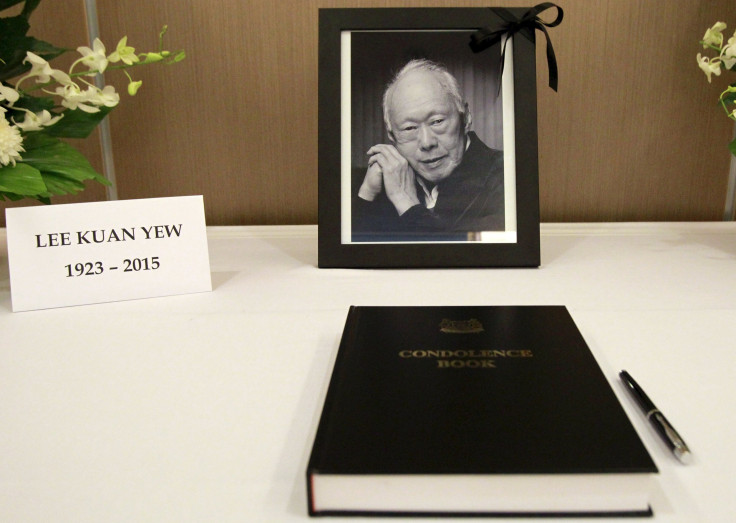 SHANGHAI -- China's reaction to Lee Kuan Yew's death is a reminder that in East Asia, and the People's Republic of China in particular, Singapore's founding father exerted an influence disproportionate to the size of his tiny city state. No fewer than five of China's top leaders, including the president, premier, deputy premier and foreign minister, sent personal messages of condolence to their Singaporean counterparts. Each of these was read out on Chinese state television by news readers dressed in somber black suits.
President Xi Jinping set the tone, describing Lee as the "founder" of relations between the two states, and an "old friend of the Chinese people." His passing, he said, was a loss not only to Singapore but "to the international community," adding that Lee was respected worldwide as both a "strategist and a statesman."
Chinese TV news also added a note of personal warmth to its coverage -- showing mourners on the streets of Singapore offering weeping tributes to Lee, and broadcast part of a speech in Mandarin by Lee's son, Singapore's current Prime Minister Lee Hsien Loong, in which he seemed to be struggling to hold back tears as he paid tribute to his father.
Lee's influence in China stemmed partly from the fact that he was one of the first international leaders to engage with China's leadership, visiting the country for the first time in 1976, when he met Mao Zedong. Two years later, Mao's successor Deng Xiaoping visited Singapore shortly before consolidating his position as China's top leader, and though the two states did not formally establish diplomatic relations until 1990, Lee became something of an unofficial mentor to Deng and the Chinese leadership, as the country embarked on economic reforms in the 1980s.
Lee and his state offered an appealing model to China: not only did Lee have the advantage of speaking Mandarin and, as one Chinese newspaper put it on Monday, of "understanding China quite well," he had also turned a once-poor state into a successful modern economy. Singapore helped set up one of China's first industrial parks for high-tech development, in the city of Suzhou; the two sides later had differences of opinion over the project, though the China Daily newspaper described it diplomatically on Monday as a "role model for China's economic cooperation with foreign countries." Many Chinese officials also visited Singapore, to study its economic and welfare systems; the China Daily suggested that the city was a "de facto inspirational training centre" for visiting Chinese officials, as a result of Lee's willingness to share "his country's inspiring philosophy of governance with China."
Lee also appealed to China's leaders because of his insistence on combining the city-state's election-based political system with an uncompromising line on dissent. Indeed, Chinese TV's obituary of Lee stressed his role in developing the theory of "Asian values" as an alternative to Western-style liberal democracy, noting: "He said that Asian countries didn't need to completely follow western values, and felt that western democracy could not be forced on Asian people." It's a message that retains its appeal for China's current leadership, which is waging a campaign against Western values and what it describes as 'hostile foreign forces.'
Chinese media also hailed Lee's role in calling for greater understanding of China in the international community, emphasizing that he said frequently that China's rise "could not be halted." Reports also highlighted the fact that he expressed the view that reunification between mainland China and Taiwan -- another key policy for China's leaders -- was "just a matter of time." In 1993, Singapore had played host to groundbreaking talks between officials from Beijing and Taipei.
State TV news also noted that Lee "stressed efficient and clean government" -- something that also chimes with the Chinese government's current anti-corruption campaign. The Southern Metropolis News quoted Lee's observation that "as a public servant, you must maintain a spirit of honesty and self-sacrifice. If you want to earn money then go into business – anyone who doesn't heed the warning will be punished."
Shanghai news website thepaper.cn, run by the city's official newspaper group, reflected China's interest in Lee by running rolling updates on local and international reactions to his death. It quoted one Chinese academic as saying that while Lee was irreplaceable, the People's Action Party, which he founded, was in good shape to carry on the work he had begun, because it was "regarded as not corrupt, and maintained good social order." However, the website did hint at possible alternative scenarios, quoting another academic as saying that "while some people may hope [his death] is a chance for more democratization, there won't be fundamental change, at least for time being."
Liberal news magazine Caixin, on the other hand, appeared to imply that there was potential for evolution in Singapore's system: it interviewed former U.S. Secretary of State Henry Kissinger, who noted that Lee had built Singapore "with discipline perhaps considered excessive by western countries," but added, "I think it will gradually evolve into a more participatory country."
The Southern Metropolis News, meanwhile, emphasized Lee's insistence on what he called a 'balanced' or non-aligned foreign policy. However, it did provide one of the few hints in Chinese reports that Lee, who could sometimes be highly critical of aspects of China's communist system, retained reservations about China's growing influence: it noted that he had expressed the hope that the "US would be able to continue to act as a counter-balance to China," adding, "he also warned countries like Japan and India to remain vigilant over China's rise."
FOR FREE to continue reading
✔️ Unlock the full content of International Business Times UK for free
offer available for a limited time only
✔️ Easily manage your Newsletters subscriptions and save your favourite articles
✔️ No payment method required
Already have an account? Log in
© Copyright IBTimes 2023. All rights reserved.