Lee to raise North Korean nuclear program issue with 5 allies at G20 Seoul summit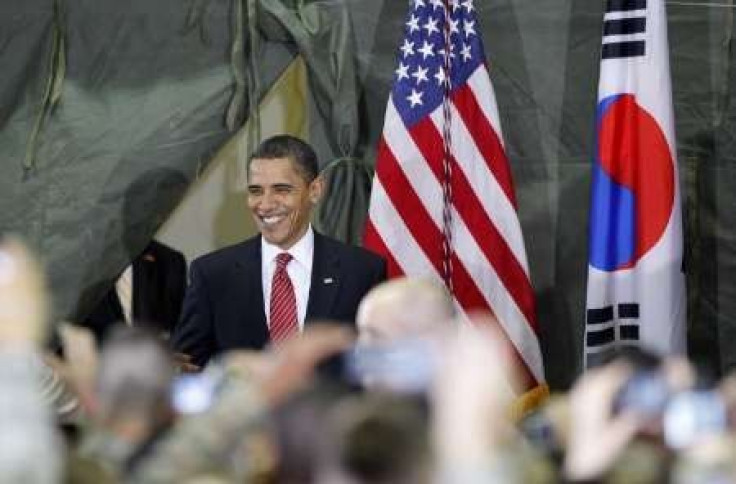 South Korea will raise the North Korean nuclear program when President Lee Myung-bak holds bilateral talks with the heads of six nations which are party to the Six-Nation Talks, on the sidelines of the G20 Seoul summit.
Seoul hopes the G20 summit will send a message to the North that it can no longer make progress in isolation. North Korea can benefit from the development models by making right kind of decisions, Lee said.
South Korea's stand is important in view of the recent North Korean proposal that it was willing to return to the long-pending Six-Party Talks on its nuclear program.
South Korea is apprehensive that it was one of the delaying tactics used by Pyongyang. North Korea has to first demonstrate a commitment to denuclearization through actions, not words alone, Lee said. If the North's genuine willingness to abandon its nuclear program is verified, the five other countries at the six-party talks would implement the grand bargain encompassing concrete action plans and a comprehensive roadmap.
On the Korean unification, Lee was confident that the G20 summit would send a strong message to Pyongyang to resolve key inter-Korean issues. Lee said, the key to holding yet another summit is Pyongyang's determination to completely dismantle its nuclear programs and its responsible attitude over the alleged sinking of the South Korean vessel Cheonan in March, which Pyongyang denied.
South Korea is sensitive to the geopolitical risk from the North, a major element in the so-called Korea discount theory that exonomists say weakens valuation of Seoul's financial assets compared to other nations.
The G20 Seoul Summit to be held on Wednesday and Thursday will be attended by 32 heads of developed and emerging nations will focus on ways to address global financial imbalances and the exchange rate issue besides taking up the reform of the IMF and the establishment of financial safety net.
© Copyright IBTimes 2023. All rights reserved.
FOLLOW MORE IBT NEWS ON THE BELOW CHANNELS