Legalized Sports Gambling? Americans To Bet $95 Billion On NFL, College Football This Season, Mostly Illegally, Group Says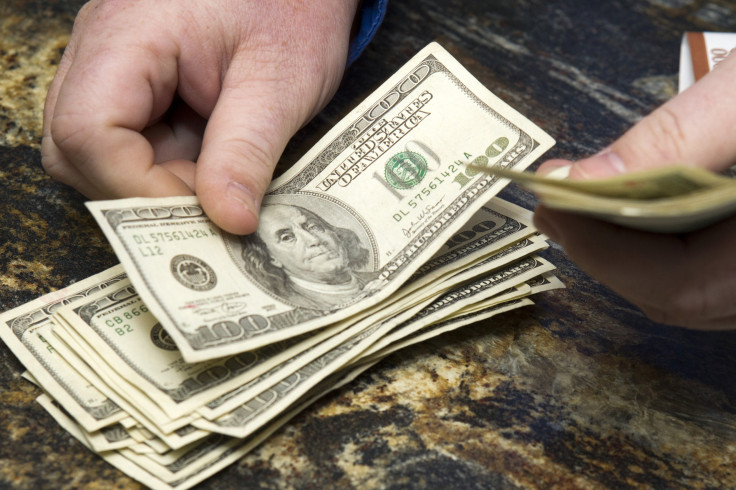 The overwhelming majority of money that Americans will spend gambling on the National Football League and college football games this season will be bet illegally, according to figures compiled by a Washington, D.C., national trade group. The group's findings were announced amid increased calls for an end to federal statutes against sports gambling.
Of the projected $95 billion that will be gambled on football throughout the 2015 season, nearly $93 billion will be gambled illegally, the American Gaming Association said in a news release. Last season's Super Bowl alone purportedly produced nearly $4 billion in illegal wagers.
"Illegal sports betting is reaching new heights of popularity in America," American Gaming Association President and CEO Geoff Freeman said in a press release. "It's clear that a federal ban on traditional sports betting outside of Nevada is failing."
Sportsbooks were outlawed in most states in 1992 under the Professional and Amateur Sports Protection Act, which established a federal ban on legalized sports gambling in every state except Nevada, Montana, Oregon and Delaware. Of those states, Nevada most aggressively utilizes the rights of its casinos to take wagers on sporting events. Nevada sportsbooks accepted $24.9 billion in legal bets on football from 1989 to 2014, according to the University of Las Vegas-Nevada's Center for Gaming Research.
Some estimates suggest a national legalization of sports betting could place the United States at the top of the world's sports gambling industry. GamblingCompliance, a gaming research firm, projects legalized sports gambling would generate $12.4 billion in annual revenue, ESPN reported. If true, that number would dwarf revenue amassed by the NFL itself, which split more than $7 billion between its 32 teams last year.
New Jersey, New York, Texas, South Carolina, Minnesota and Indiana have mulled legislation this year that would seek statewide legalization of sports betting. New Jersey voters went as far in 2011 as legalizing a Gov. Chris Christie-backed bill to legalize sports gambling, only to see the bill struck down in federal court. Earlier this month, Christie asked the U.S. Third Circuit Court of Appeals to revisit the measure, NJ.com reported.
Though the NFL, NBA, MLB and NHL all challenged in court New Jersey's effort to legalize sports gambling, NBA Commissioner Adam Silver established his personal support in 2014 for an end to federal bans, as long as certain national standards were upheld in a legalized industry.
"These requirements would include: mandatory monitoring and reporting of unusual betting-line movements; a licensing protocol to ensure betting operators are legitimate; minimum-age verification measures; geo-blocking technology to ensure betting is available only where it's legal; mechanisms to identify and exclude people with gambling problems; and education about responsible gaming," Silver wrote in a New York Times op-ed last November.
© Copyright IBTimes 2023. All rights reserved.
FOLLOW MORE IBT NEWS ON THE BELOW CHANNELS