Les Miles LSU Decision: Are The Tigers Better Or Worse Off Without The Famed Head Coach?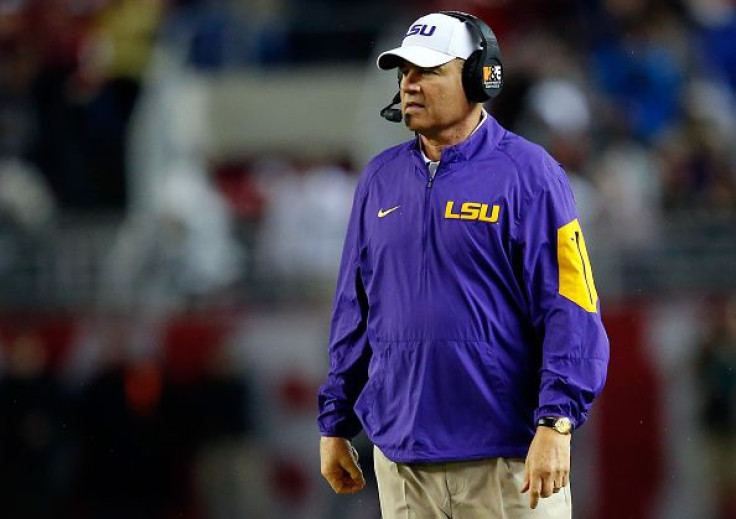 Although a final decision won't be announced until LSU (7-3, 4-3) finishes up its regular season slate on Saturday, there is an ever-growing sentiment that Les Miles is on his way out of Baton Rouge after 11 seasons.
A report from the New Orleans-Time Picayune said Miles insinuated that Saturday's game against Texas A&M would be his last on the sidelines for the Tigers. A source close to the situation also told ESPN that Miles is "very likely" to be let go soon, with Florida State coach Jimbo Fisher in LSU's sights.
Miles later denied the reports but has been on the hottest of seats in recent weeks due to a late-season collapse that's left a sour taste in mouths all over the Bayou. After starting 8-0 and being ranked No. 2 with hopeful eyes on the College Football Playoff, the Tigers are in the midst of a three-game conference losing streak that started with a 30-16 loss to rival Alabama before a 17-point defeat at the hands of Arkansas and culminated with a convincing 21-point defeat against Ole Miss.
Is LSU better or worse off without Miles? There are arguments to be made on both sides.
If you're LSU, there could be a risk of losing stability and impacting your consistent winning history. Win or lose on Saturday, the Tigers will have averaged 10 wins each year under the 62-year old Miles and his teams have won double-digit games seven times in 11 seasons.
No LSU coach in the last century has won quite like Miles, whose record at the school is 110-32 since he took over in 2005. His winning percentage as Tigers coach (77.5) is higher than legendary coach Charlie McClendon (69.2) and even Nick Saban (75.0). Miles' resume at LSU includes a BCS national championship (2007), an appearance in a second championship game (2011) and three SEC West titles (2005, 2007, and 2011).
It is also worth noting that LSU has perhaps the best recruiting class for 2016, Miles' fifth class inside the top 10 since 2011. How would firing Miles affect the soon-to-be incoming class, if at all?
On the other side, programs turning over a new leaf with a fresh face could generate excitement from fans and revenue from boosters. Especially when the results, although continuously good, haven't been what a program of LSU's stature expects over the past few years.
The first seven seasons Miles spent at LSU harbors many of the accolades attached to his tenure. The division titles, the championship games and the national title all came between 2005 and 2011.
Since beating the Crimson Tide in the 2011 regular season, the Tigers have lost five straight games against their chief rival, including the national championship game that season. Conference play results have dipped in general since the end of 2011. The Tigers won 41 of 56 conference games over Miles' first seven seasons (73.2 percent) but enter Saturday's game 19-12 (61.3 percent) in the conference since 2012, the season in which Miles was offered a contract extension through 2019.
This season has added to the notion of program declination under Miles, namely on offense. LSU has the fewest pass attempts, completions and yardage of any team in the conference and often seems one-dimensional with leading rusher Leonard Fournette. The Tigers have also stumbled as a result of self-inflicted wounds such as 13 penalties and five turnovers against Ole Miss last week.
The 38-17 loss signified the first time the program has lost three in a row since 1999. LSU gave up at least 30 points in each of the three losses, the first time that has happened since 1948. With LSU leadership "heavily in favor" of a change, it appears certain that athletic director Joe Avella and his board are prepared to buy out the longtime coach and move in a new direction.
Would moving on from the Les Miles era be a knee-jerk reaction to a bad month or a move that needs to be made for the betterment of the program long-term? The answer doesn't appear black or white but any way it's sliced, Miles left a proud legacy in Baton Rouge, and his replacement has big shoes to fill.
© Copyright IBTimes 2023. All rights reserved.