'Let's Win Together': Ukraine Kills 300 Russian Soldiers, Destroys Pantsir-S1 Anti-Aircraft Missile
KEY POINTS
Ukrainian aircraft struck a concentration of Russian military personnel near Snihurivka
Rebel forces loyal to Kyiv are eliminating several pro-Moscow officials
Russia has lost a total of 42,600 military personnel since Feb. 24
The Ukrainian Armed Forces have killed 300 soldiers and destroyed a Russian Pantsir-S1 anti-aircraft missile, gun system and a T-72 tank, among many other damages in several regions occupied by Moscow.
"The enemy has lost 23 Ruscists [Russian soldiers - ed.], another Pantsir-S1 anti-aircraft missile and gun system, a T-72 tank, a Msta-C self-propelled howitzer, and five vehicles, including armored vehicles," the Operational Command Pivden (South) wrote on Facebook.
The statement said Ukrainian aircraft struck a concentration of Russian military personnel, weapons and equipment near Snihurivka. The exact losses from the airstrikes are yet to be confirmed.
Operational Command Pivden (South) also said "the situation is tense but stable" in the region.
Meanwhile, in another update, the General Staff of the Armed Forces of Ukraine wrote on Facebook that 300 Russian soldiers were killed Monday. Russia has reportedly lost a total of 42,600 military personnel since it launched a full-scale military invasion in Ukraine on Feb. 24.
"Let's win together! Our strength is in the truth!" the General Staff of the Armed Forces wrote on Facebook.
Ukraine has been challenging Russia's grip on occupied areas of southeastern Ukraine. Rebel forces loyal to Kyiv are reportedly eliminating several pro-Moscow officials, and bombing bridges and trains. They are also helping Kyiv identify targets.
"Our goal is to make life unbearable for the Russian occupiers and use any means to derail their plans," said Andriy, a 32-year-old coordinator of the armed movement in the southern Kherson region, according to Al Jazeera.
The resistance group he is affiliated with is called Zhovta Strichka or "Yellow Ribbon."
Ukrainian troops also captured the town of Dovhenke from Russian forces around Kharkiv in the northeast. They also began advancing toward Izyum, Ukrainian presidential adviser Oleksiy Arestovych said in a video posted on YouTube.
"The situation is very interesting. Ukraine's forces are moving very successfully. Attempts by Russia to regain lost ground were not successful. Ukraine may end up encircling them," Arestovych said.
As Ukraine continues to fight Russian forces, Moscow is focusing on reinforcing its defenses in southern Ukraine, Britain said. It is also maintaining attacks on Kyiv's positions in the Donetsk region in the east.
"In other Donbas sectors where Russia was attempting to break through, its forces have not gained more than 3km during this 30 day period; almost certainly significantly less than planned," the update said.
International Business Times could not independently verify claims of battlefield gains.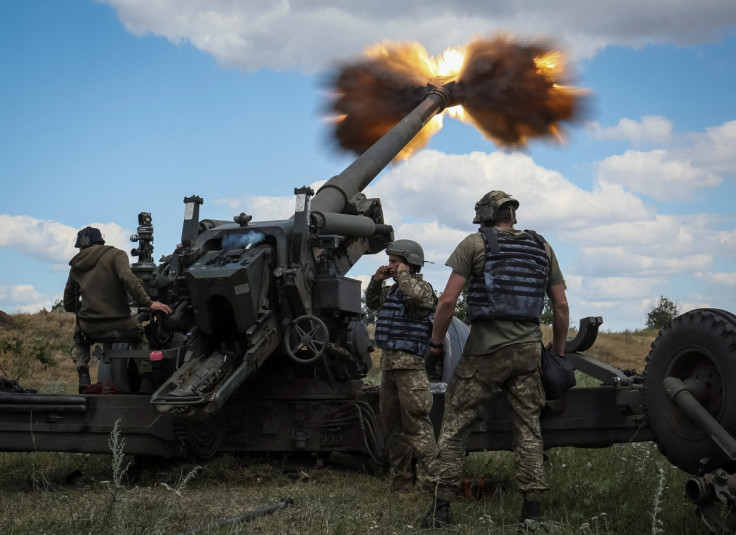 © Copyright IBTimes 2023. All rights reserved.