Ukraine's First Grain Cargo Ship Since Russian Invasion Refused By Buyer In Lebanon
KEY POINTS
About 10 vessels have departed so far in total
It was the first ship from Ukraine since the Russian invasion
The U.N. had brokered a deal to address the worldwide grain crisis
The first grain shipment to leave Ukraine since Russia invaded it in February is now afloat in the Mediterranean Sea, and looking for a new destination after losing its buyer.
As the intended Lebanese client declined delivery, claiming a more than five-month delay, the Razoni, the first ship to leave Ukraine under a U.N.-brokered contract, is scrambling for another port to empty its grain cargo, the Ukrainian Embassy in Lebanon said Monday, according to Reuters.
According to data from the ship tracker, it was originally scheduled to arrive Sunday in Lebanon, but instead changed its course to the port of Mersin in Turkey. It is currently anchored off Turkey's southern coast.
After a recent agreement was reached to resume exports, it was the first agricultural ship to depart the nation's major Black Sea ports since Russia's invasion. It was carrying around 26,500 tonnes of grain, and departed Odesa on Aug. 1.
The hardships that persist for Ukrainian grain exports to reestablish normal operations as the war rages on was highlighted by the turbulence in their search for a customer, according to Time.
The shipment was headed for the private sector, according to a spokesman for Lebanon's economics ministry, who told Time the government was not entrusted with its responsibility.
In the meantime, Ukraine's infrastructure ministry reported a smaller grain ship made its final port call in Turkey on Monday, becoming the first of its kind to do so. Another two ships, carrying people, had departed in the same caravan, and were expected to reach their ports in approximately a week. Approximately ten ships have already left in total.
A joint civilian inspection team had spent three hours inspecting the crew and cargo of the Sierra Leone-flagged ship Razoni, before it departed from the Ukrainian seas, according to a U.N. statement, CBS News reported.
As Russia's war against its neighbor lingers on, representatives from Ukraine, Russia, Turkey, and the United Nations inked agreements last month to establish secure Black Sea shipping lanes for exporting Ukraine's urgently needed agricultural exports.
The war had prevented the majority of exports from Ukraine, a significant supplier of grains to the world, and that's why the July 22 agreement was made to improve food security worldwide. Global food prices have been skyrocketing in a prolonged predicament that has been attributed to COVID-19, supply chain issues, and the war.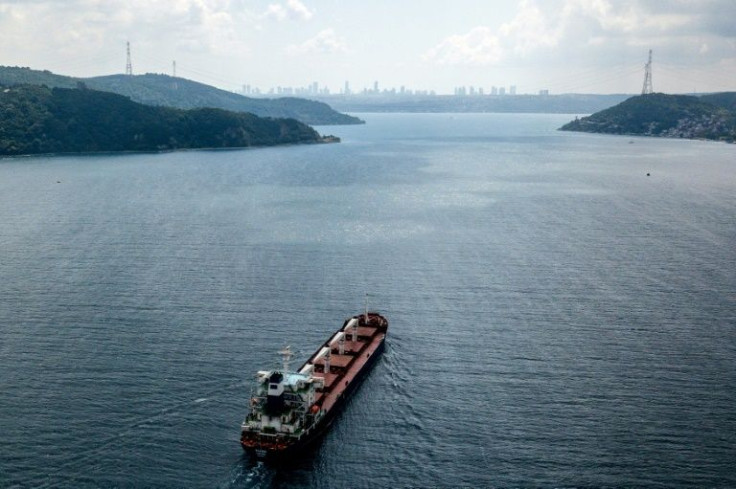 © Copyright IBTimes 2022. All rights reserved.
FOLLOW MORE IBT NEWS ON THE BELOW CHANNELS