Bright Red Vladimir Putin Sculpture Erected In Central Park Playground
KEY POINTS
French artist James Colomina installed the sculpture of Vladimir Putin in a playground in New York City's Central Park last week
The piece depicted Putin sitting on top of a miniature tank
Identical sculptures appeared in locations in France and Spain
Russian President Vladimir Putin appeared in a playground in New York City's Central Park last week in the form of a bright red sculpture.
The bust of the Russian head of state, which was erected on Aug. 1, was the work of French artist James Colomina, CNN reported.
Identical sculptures also appeared in locations in France and Spain, photos Colomina shared on his Instagram showed.
The sculpture depicted Putin sitting on top of what appeared to be a miniaturized version of a T-34, the mass-produced medium tank that contributed greatly to the Soviet Union's victory against Nazi Germany back in World War II.
"This sculpture aims at denouncing the absurdity of war and at highlighting children's courage when faced with violent, [catastrophic] situations triggered by others," Colomina wrote on Instagram alongside a photo of his sculpture in New York City, adding the hashtag "#stopthewar."
Putin approved Russia's invasion of Ukraine, which sought the "demilitarization and denazification" of his country's western neighbor. The Russian government still refers to the ongoing conflict as a "special military operation."
Despite calls for peace from the international community, including from Russia's known ally China, Russian forces continue to assault and occupy Ukrainian territories.
At least 5,401 civilians in Ukraine, including 355 children, have died between the start of Russia's invasion on Feb. 24 and Sunday, the Office of the United Nations High Commissioner for Human Rights (OHCHR) said in its most recent casualty report.
Another 7,466 civilians were left injured, according to the agency.
The figures may be "considerably higher" due to the delay in the receipt of information as well as the need for reports to be verified, the OHCHR said.
Colomina is reportedly known for his bright-red sculptures, which are often installed in public locations without any prior warning.
Prior to his Putin piece, Colomina set up another sculpture with an anti-war message in his home country of France back in April. This work depicted a child soldier carrying what appeared to be a Russian AK-47 rifle with a flower at the end of the barrel that was all painted in Colomina's signature bright red.
Colomina created two more red sculptures last year as commentary on the 32nd anniversary of the fall of the Berlin Wall, according to French-owned gallery group Galeries Bartoux.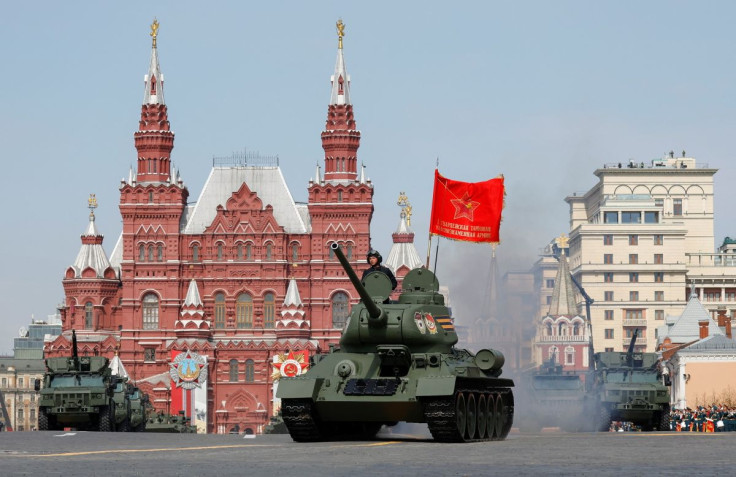 © Copyright IBTimes 2023. All rights reserved.