L.I. Eye: Long Island Village Board Foils Chicken Coup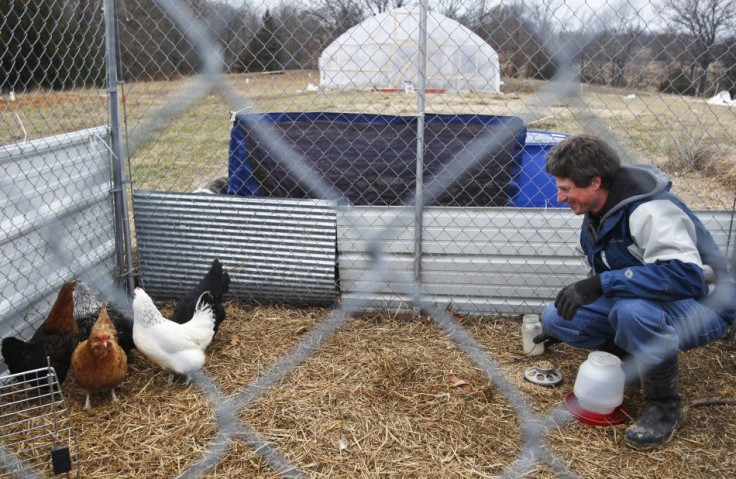 The end was inevitable: sometime last year, Alfred and Stella Bassal, Iranian immigrants, built a chicken coop for themselves and three children in the backyard of their house on Surrey Lane in Great Neck, N.Y.
They put two chickens there who delivered the Bassals four eggs every morning and were like family members, Stella Bassal testified. There was no noise, no thoughts of disease or even getting sick.
I never, ever worried about getting sick, Stella told the Village Board of Great Neck, population 9,989, on Tuesday night. My friends brought their children over to see the chickens, to touch them, to pet them,
Trouble is, the village code specifically bars residents from keeping chickens as well as most animals aside from dogs and cats. The Bassal neighbors complained and cited the family for code violations. The Bassals asked the board to consider changing the law.
Putting chicken coops in Great Neck back yards has been the biggest local controversy since last September, when Samuel Eshaghoff, 19, the son of the then-president of the Great Neck Library, was arrested for masterminding a cheating ring for the SAT exams in the local high schools.
On Tuesday night, Mayor Ralph Kreitzman, 67, and the four village trustees, all homeowners who belong to the long-ruling Better Government Party, heard testimony from 17 witnesses, most of whom favored chickens.
Among them, long-time activist Jean Pierce, who recalled taking her young sons to visit cows in another section of town, as well as when we had horses and sheep. Of course, the sons are now well into middle age. Great Neck, one of Nassau County's most expensive communities, is much more urban now.
Another long-time activist, Elizabeth Allen, daughter of a village trustee decades ago, complained there was more noise from a very large Iranian synagogue a few doors down from her home than from two cooing chickens. As well, her property, like many in the area, is visited by racoons and dogs at night.
Amy Reiss, a physician, said there's nothing wrong with chickens that are well-tended, provided their owners wash their hands scrupulously. As for noise, I wake up every morning to the sound of woodpeckers. Would you ban them?'
After the animal lovers came the neighbors and pragmatists. You know the story already.
MitchelL Lenchin, who lives next door, raised an encyclopedia of complaints ranging from sanitation, lack of controls, noise, possibility of disease contraction, etc. From down the block, Hedda Damsky said as one who receives chemotherapy, she's afraid of any kind of disease that could be transmitted.
Another witness testified she saw a chicken in her backyard and didn't like it. Stuart Feigenblatt, a mechanical engineer, said directly, Chickens don't belong in a residential property.
In the end, money talked. Mayor Kreitzman said while he was sympathetic and had taken his granddaughter to see chickens at the Queens Farm Museum as part of his research, the village budget of around $10.8 millon has no provision for animal control, no animal inspectors and no more money.
Indeed, the board has already said the new budget, due for adoption by April 30, will bust Gov. Andrew Cuomo's 2 percent property tax cap voted by law last year.
The other trustees chimed in. The last, Mitchell Beckerman, addressed the Bassals directly: You did all the research about how to keep chickens but you forgot to research if it was legal to keep them. That was the wrong way to do it. Don't fly in the face of the law. Don't look for the law to bail you out.
After the decision, the Bassals declined to be interviewed. They were asked if they'd had chickens back home in Iran, but brushed a questioner away as they fought tears.
© Copyright IBTimes 2023. All rights reserved.