Liberia Ebola Crisis: West Point Residents, Police Clash Over Quarantine In Monrovia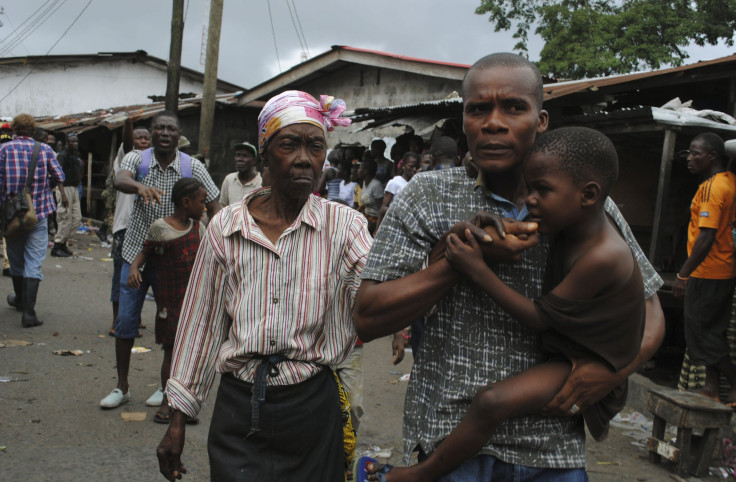 The Liberian government's efforts to quarantine a neighborhood at the epicenter of its Ebola outbreak ended in violence on Wednesday as hundreds of angry residents attempted to break out of a slum in the nation's capital city. Crowds of protesters attempted to surge through barricades in West Point, a Monrovia slum, the Associated Press reports. Liberian soldiers reportedly fired ammunition into the air to subdue the crowd, which responded by throwing rocks and any other projectiles that could be found.
Liberian officials reportedly blocked the roads and waterways surrounding West Point on Wednesday morning. In one incident, crowds confronted a local government official who had returned to her home to bring her family members out of the quarantine zone.
Clashes between rioters and local police led to injuries on both sides, the New York Times reports. A 15-year-old teenager purportedly suffered a gunshot wound, while Lieut. Col. Abraham Kromah, the head of operations for Liberia's national police, blamed the violence on criminal elements within the crowd.
"This is messed up. They injured one of my police officers," Kromah said. "That's not cool. It's a group of criminals that did this. Look at this child. God in heaven help us." He confirmed that police had managed to quell the riots, but had yet to confirm if bullets were fired during the incident.
Home to at least 50,000 people, the West Point slum is at the center of both Liberia's devastating Ebola outbreak and subsequent reaction from local residents. Citizens rushed into a disease screening center last weekend amid concerns that the Liberian government was transporting individuals from other areas of Monrovia who were stricken by Ebola into West Point.
The West Point quarantine is Liberian President Ellen Johnson Sirleaf's latest attempt to slow the spread of Ebola, which has killed at least 1,229 people in Guinea, Liberia, Nigeria and Sierra Leone since December, according to the World Health Organization. "We have been unable to control the spread [of Ebola]," Sirleaf said while addressing the nation on Tuesday.
© Copyright IBTimes 2023. All rights reserved.