Libya: NTC Forces Move on Sirte; No Word on Gadhafi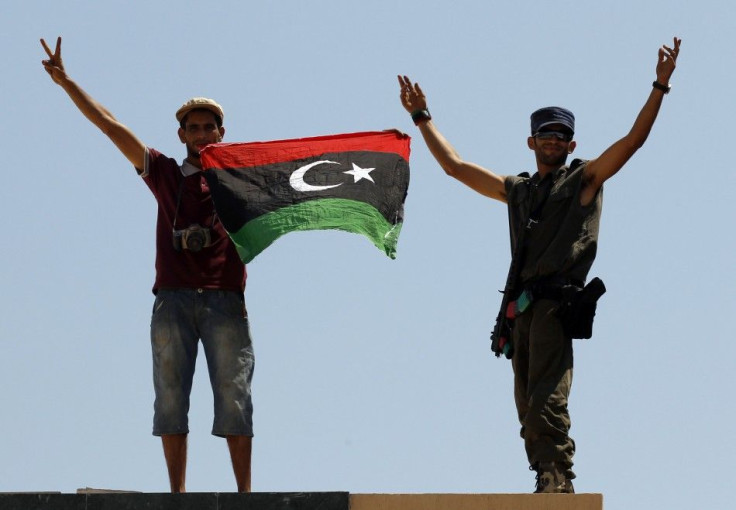 Libyan rebel forces were converging on Moammar Gadhafi's hometown of Sirte Monday morning, hoping to deliver the coup de grace of their revolution but uncertain if the fallen strongman was holed up there.
The fugitive dictator's exact whereabouts where still not known and it was possible he was still in hiding in Tripoli, five days after it fell to rebel forces and his 42-year-old reign collapsed.
NATO war planes struck at Sirte, on the Mediterranean coast, for a third day Sunday, a spokesman for the multi-national alliance said in Brussels.
We're paying close attention to what's happening in Sirte because we know that there are remnants of the regime that are there, the spokesman said.
On the ground, rebel forces also closed in and said they would seize Sirte by force if negotiations for its surrender failed.
Gaddafi was born near Sirte, 450 km (300 miles) east of Tripoli, in 1942 and after he seized power in 1969 he built it up from a sleepy fishing village into an important city and power center of 100,000 people.
He still retains support and sympathy there, so whether or not he has chosen to retreat to the city to make a last stand, its capture will still be strategically and symbolically important to the rebels as they consolidate their victory.
One rebel commander said his forces were within 100 km (60 miles) of Sirte from the east and others were advancing from the west.
On the coastal highway east of Tripoli, tank transporters were carrying Soviet-designed T-55 tanks in the direction of Sirte. Rebels said the tanks were seized from an abandoned military base in Zlitan.
SKIRMISHES
Jamal Tunally, a rebel military commander in Misrata, told Reuters: The front line is 30 km from Sirte. We think the Sirte situation will be resolved peacefully, God willing.
Now we just need to find Gadhafi. I think he is still hiding underneath Bab al-Aziziyah like a rat, said Tunally, referring to Gaddafi's compound in Tripoli, which rebels overran on Tuesday.
In the east, rebel fighters pushed 7 km (4 miles) past the village of Bin Jawad and secured the Nawfaliyah junction, a rebel spokesman said.
We're going slowly, spokesman Mohammad Zawawi told Reuters. We want to give more time for negotiations, to give a chance for those people trying to persuade the people inside Sirte to surrender and open their city.
In Tripoli, the rebel leadership sought to establish control after days of confusion and sporadic skirmishing with the remnants of Gadhafi's forces. Several explosions and intermittent gunfire were heard Sunday night.
The stench of rotting bodies and burning garbage still hung over the city and food, water and other supplies were running short, indications that despite the euphoria of victory, plenty of challenges lay ahead.
Gadhafi, 69, is on the run and the fear among his foes is that he intends to lead an insurgency against them. National Transitional Council officials rejected any idea of talks with him, saying he was a criminal who must be brought to justice.
We did not negotiate when we were weak, and we won't negotiate now that we have liberated all of Libya, NTC information minister Mahmoud Shammam told a news conference.
The Associated Press earlier quoted Gadhafi's spokesman, Moussa Ibrahim, as saying Gadhafi was still in Libya and wanted to discuss forming a transitional government with the NTC.
NTC officials say Gadhafi, his son Saif al-Islam and his spy chief should be tried in Libya, although they are wanted by the International Criminal Court for crimes against humanity.
The NTC and its Western backers are acutely aware of the need to prevent Libya collapsing into the kind of chaos that plagued Iraq for years after the U.S.-led invasion of 2003.
The de facto government, whose leaders plan to move to Tripoli from Benghazi this week, is trying to impose security, restore basic services and revive the energy--based economy.
But in the aftermath of victory, many corpses have been found, some of slain Gadhafi soldiers, others the victims of killings in cold blood.
A Libyan official said 75 bodies had been found at the Abu Salim hospital, which was caught up in heavy fighting, and another 35 corpses were found at the Yurmuk hospital.
The possibility that rebel fighters executed captured Gadhafi soldiers would pose an image problem for the NTC.
Rebel military spokesman Col. Ahmed Bani said there was concern for the fate of 40,000 prisoners who he said had been detained by Gaddafi's forces and who were still unaccounted for. It was possible some were being held in underground bunkers in Tripoli that rebels had been unable to locate, he said.
GOOD OMENS
In good omens for economic recovery, officials said a vital gas export pipeline to Europe had been repaired and Libya's biggest refinery had survived the war intact.
In the west, Tunisian authorities reopened the main border crossing into Libya, restoring a supply route for Tripoli, after Gaddafi forces were driven out on Friday.
That should help relieve a looming humanitarian crisis in the city, where food, drinking water and medicines are scarce.
Trucks loaded with food and other goods were already moving across the Ras Jdir crossing toward Tripoli, about two hours' drive away.
Tripoli residents queued for bread or scoured grocery shops for food. Many took a stoical view of their plight.
This is a tax we pay for our freedom, said Sanusi Idhan, a layer waiting to buy food.
The NTC issued messages urging electricity workers to get back to work and efforts to pay the salaries of public sector workers were underway.
(Reporting by Maria Golovnina, Mohammed Abbas and Samia Nakhoul in Tripoli, Robert Birsel, Alex Dziadosz and Emma Farge in Benghazi; Writing by Angus MacSwan)
© Copyright Thomson Reuters 2023. All rights reserved.