Libya To Seize North Korean Oil Tanker At Rebel-Held Port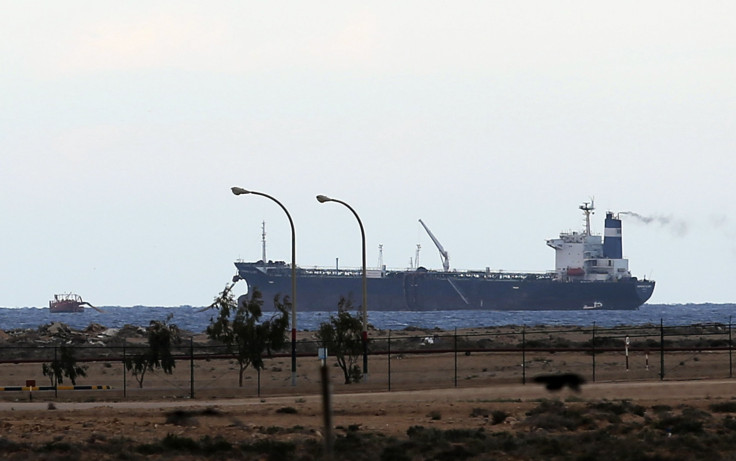 The Libyan government has authorized a force to seize a North Korean-flagged oil tanker that has docked since Friday evening in an eastern rebel-held port, despite a warning by Libya's leader that the ship may be bombed, CNN reported Monday.
Armed Libyan protesters had traded threats with the Libyan government on Sunday over the illegal sale of oil from a rebel-held port. The rebels said any attack on the tanker, named Morning Glory, would be "a declaration of war."
The Libyan force consists of naval officers and former rebels now paid by the government, two Libyan ministers told reporters Sunday. The force has permission "to stop, seize or even strike [the oil tanker] with force if it does not comply with the orders issued for it," Culture Minister Habibi al-Amin said.
"The aim is to receive this tanker, according to the law, without causing any casualties or damage," Justice Minister Salah al-Marghani said. "We hope this happens."
The ship's captain was warned by phone to comply with the Libyan government's orders not to take the $36 million of crude oil and not leave the port yet, or else, if the 40,000-ton ship tries to leave, the military will bomb it, Prime Minister Ali Zeidan said Saturday. But Zeidan and al-Amin expressed concern that a bombing could result in an oil spill.
The Libyan government has failed to calm fighters who in 2011 helped oust the Arab world's longest-ruling leader in recent history, Muammar Gaddafi, and continue to defy state authority.
Those protesting Sunday included former soldiers and ex-oil guards led by a former anti-Gaddafi commander, Ibrahim Jathran. Jathran has been entrusted by the Libyan government to guard crucial oil ports but last July, he seized at least three eastern ports, blocked oil exports and demanded more autonomy and shared revenues for the eastern region.
Abb-Rabbo al-Barassi, the self-declared prime minister of the rebels, warned against harming the tanker or "sending navy ships into the waters of Cyrenaica," according to a statement. Cyrenaica is a reference to the historic name of eastern Libya under King Idris, the leader Gaddafi threw out in a 1969 coup. Under Idris, oil revenues were shared between Libya's regions.
If the tanker is harmed, "the response from Cyrenaica's defense forces, oil guards and revolutionaries will be decisive. Such a move would be a declaration of war," the statement said.
It's unusual to see a North Korean tanker in the Mediterranean, shippers working in the region told Reuters.
The U.S. State Department responded to the turmoil Sunday through spokeswoman Jen Psaki.
She expressed concern about Morning Glory "loading cargo of illicitly obtained oil" and said "this action is counter to law and amounts to theft from the Libyan people."
The oil at stake belongs to Libya's National Oil Corporation and its partners, including several U.S. companies. Libya is also a member of OPEC.
"Any oil sales without authorization from these parties places purchasers at risk of exposure to civil liability, penalties and other possible sanctions," Psaki said.
© Copyright IBTimes 2023. All rights reserved.
FOLLOW MORE IBT NEWS ON THE BELOW CHANNELS