Libyan Air Force Acquires New Russian Jets As Bombing Continues Near Sirte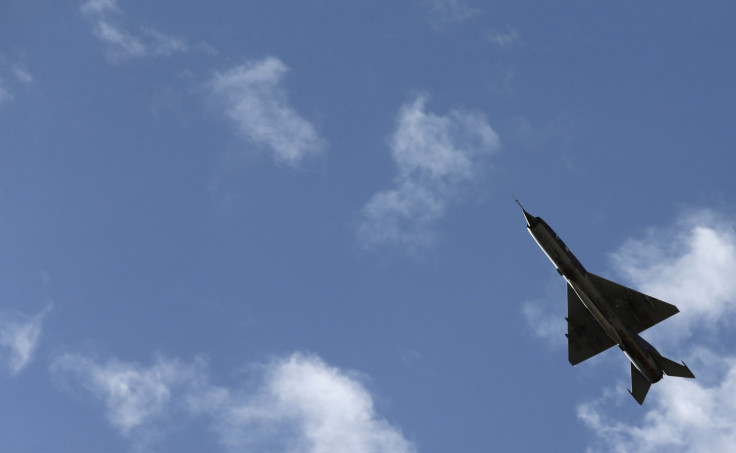 The Libyan air force has acquired new Russian fighter jets in the midst of increased aerial bombardments around the city of Sirte. Over the past several weeks planes thought to be linked to the internationally recognized Libyan government have bombarded areas in the northern part of the country, killing several civilians, and evidence suggests the new Russian jets could have been used during the attacks.
A Libyan official was quoted in local media as saying that the Libyan National Army confirmed on Monday four new Sukhoi fighter jets had joined the Libyan air force. Libya is not listed as an official buyer of the Sukhoi Su-27 and it may have acquired secondhand or refurbished fighters from other countries, Airforce Technology reported.
The newly acquired aircraft are similar to the U.S. F-15 planes but can cover a distance of more than 2,100 miles and can stay in the air longer. They also are known to operate well over hostile territory.
The Libyan National Army, the entity accused of launching airstrikes in Sirte, is led by Gen. Khalifa Hifter, a former rogue military leader who has been fighting Islamists in Libya and is now working with Libya's government.
It is not clear if Hifter (whose name is sometimes transliterated as Haftar, among other spellings) is in control of the Libyan air force, but his forces are said to own heavy weaponry and aircraft that help the government fight Islamist militias in the country. Hifter has recruited pro-government forces into his army, and Libya's House of Representatives declared a formal alliance with his forces in October.
For months, Libya has been embroiled in the deadliest fighting since 2011. Intense clashes are taking place in Misrata, Benghazi, Tripoli and Tobruk, the city where the internationally recognized government is based. An Islamist group known as Libya Dawn took control of Tripoli in August and set up a rival government, forcing the internationally recognized government to flee.
Over the past week, planes, some unidentified, have launched attacks on areas in the north. An unidentified warplane bombed a Greek-owned tanker ship Monday at the eastern Libyan port of Derna, killing two crew members. The plane was later identified and belongs to the internationally recognized government, Reuters reported.
Islamist factions allied with the Islamic State group are thought to be stationed in Derna. Libyan fighters who pledged allegiance to the Islamic State group, also known as ISIS or ISIL, consolidated their power in Derna in September and hundreds of others joined in October. Derna was the first city outside of Iraq and Syria to have a recognized ISIS presence.
In late December, two Libyan doctors who worked in field hospitals near Sirte were killed when the Libyan National Army targeted the medical facilities in a series of airstrikes, according to activist messages on Twitter and local media reports. The airstrikes marked the first time that forces loyal to Libya's internationally recognized government launched attacks on medical personnel and humanitarian workers, a crime punishable under international law.
The two doctors, both killed Dec. 28, were working in a field hospital about 15 miles from ground battle, currently held by Libya Dawn, when the airstrikes occurred. The hospital was targeted three times in just a few days, sources on the ground said.
In addition, the Libyan National Army said last week that it attacked the Gardabiya airbase about 9 miles south of Sirte in retaliation for an airstrike launched by Libya Dawn near the port of Sidra.
Since then, communities near Sirte have experienced more bombardments. It is still unclear who is responsible.
© Copyright IBTimes 2023. All rights reserved.