Unidentified Libyan Plane Bombs Derna Oil Port, Killing Two Amid Government Crackdown On Rival Militias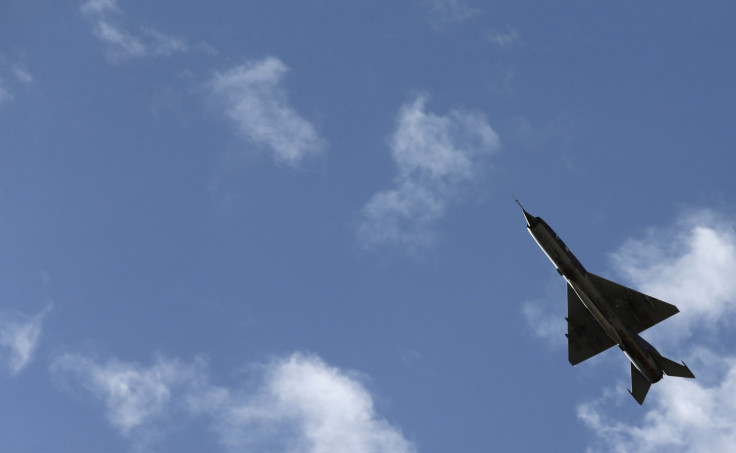 An unidentified warplane bombed a Greek-owned tanker ship Monday at the eastern Libyan port of Derna, killing two crew members. The plane was later identified and belongs to the internationally recognized government, which has for the past week bombed several targets held by rival militias, Reuters reported.
The bomb targeted an oil port in the eastern city of Derna, where Islamist factions allied with the Islamic State group are thought to be stationed. Libyan fighters who pledged allegiance to the Islamic State group, also known as ISIS or ISIL, consolidated their power in Derna in September and hundreds of others joined in October. Derna was the first city outside of Iraq and Syria to have a recognized ISIS presence.
The Greek ship damaged during the airstrike was carrying 12,600 tons of crude oil. Reuters reported that military officials aligned with the internationally recognized government warned crew members on the vessel not to enter the port. It claimed the vessel was carrying Islamist militants to Derna. According to the Associated Press, the vessel's crew consisted of 21 Filipinos, three Greeks and two Romanians.
For months, Libya has been embroiled in the deadliest fighting since 2011. Intense clashes are taking place in Misrata, Benghazi, Tripoli and Tobruk, the city where the internationally recognized government is based. An Islamist group known as the Libya Dawn took control of Tripoli in August and set up a rival government, forcing the internationally recognized government to flee.
Despite condemnation from the U.S. and other Western countries, the internationally recognized government has aligned itself with a rogue ex-military general who has vowed to rid the country of Islamist extremists.
Gen. Khalifa Hifter, who is originally from the eastern part of the country, supported the late Libyan president Moammar Gadhafi but turned against him in the 1980s during the war with Chad. Earlier this year, he garnered support from certain tribes and communities in his home area before formally aligning himself with Libya's House of Representatives in October.
Hifter now leads the Libyan National Army, the entity accused of launching airstrikes last week on a hospital near Sirte, which killed two doctors. It's not known how many troops Hifter leads, but his forces are said to own heavy weaponry and aircraft that could help the government fight Islamist militias.
Recent clashes in Libya have been concentrated around oil terminals, underscoring the desperation of the government and rival militias to gain control of the country's most lucrative asset. Libya, Africa's largest oil producer, is an OPEC member. Any entity that controls the majority of the country's oil hasn't only power of the country but also can gain international support.
The Libyan National Army said last week that it attacked the Gardabiya airbase about nine miles south of Sirte in retaliation for an airstrike launched by Libya Dawn near the port of al-Sidra. That port and the one at Ras Lanuf -- both located just east of Sirte and under control of the internationally recognized government -- are experiencing active clashes. Two oil tanks at the port in al-Sidra were set on fire last week because of clashes, and Reuters reported that at least 1.2 million barrels of oil had been destroyed. The Wall Street Journal reported last week that the country's oil production stood at 315,000 barrels a day, down from 900,000 barrels in September.
The internationally recognized government is trying to ramp up its access to oil revenue by setting up an alternative payment system that bypasses Tripoli -- the city where Libya Dawn operates. Libya Dawn has been acting as a de-facto second government since it seized the city this summer.
Prime Minister Abdullah al-Thinni said earlier this month that his government, the one that is recognized by the international community, wants to stop all oil payments that flow through Tripoli by closing accounts there that are linked to the central bank.
FOR FREE to continue reading
✔️ Unlock the full content of International Business Times UK for free
offer available for a limited time only
✔️ Easily manage your Newsletters subscriptions and save your favourite articles
✔️ No payment method required
Already have an account?
Log in
© Copyright IBTimes 2023. All rights reserved.