Libyan Leaders Threatened With Sanctions Amid Escalating Violence in Benghazi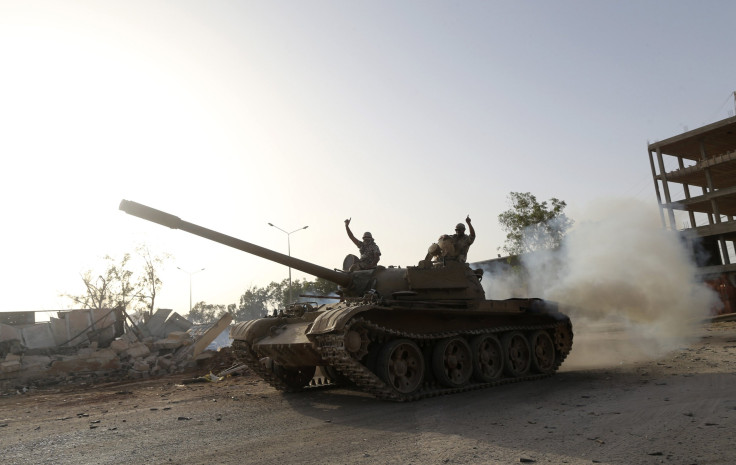 Following days of fierce clashes in Benghazi between Libyan government forces and Islamist militias, Western nations are considering sanctions on individuals in Libya. The sanctions would impose travel restrictions and asset freezes on those "who threaten the peace, stability or security of Libya or obstruct or undermine the political process," according to a joint statement by the governments of France, Italy, Germany, the United Kingdom, and the United States.
The statement does not say who might be hit by the sanctions, but does "condemn the crimes of Ansar al-Sharia entities," referring to jihadist militias, and says the governments are "concerned by Khalifa Hifter's attacks in Benghazi." Hifter, though, is not a radical Islamist: He is a former army general who has assembled a militia fighting extremists and has recently allied himself with the Libyan government.
Sanctions were first approved by the United Nations in August during a period of increased violence in Tripoli. The U.S., Germany, France, Italy and the U.K. all signed on to implementing them, but so far no sanctions have been put in place.
Now, Libya is entrenched in what is quickly turning into a full-fledged civil war. The international community, which conducted an air bombing campaign in 2011 to help rebels oust 42-year dictator Moammar Gadhafi, is showing signs of increasing worry that Libya may turn into a jihadist haven on the doorstep of the European Union.
European Union officials said at a meeting of the EU's Foreign Affairs Council this week in Luxembourg that they were ready to implement the sanctions "in order to address threats to Libya's peace and stability."
On Wednesday, 11 people were killed in Benghazi clashes, raising the death toll in that city to 110 since Hifter and the government's army launched an offensive on Islamist militias there. Libya's House of Representatives declared a formal alliance with Hifter's forces Tuesday and launched an offensive not only in Benghazi, but in Tripoli as well. Islamist militias gained control of the capital in August, forcing government institutions to relocate to Tobruk near the Egyptian border.
Since then, the international community, including the U.S. and EU countries, have publicly condemned the militia leaders in Libya for inciting violence, and urged other countries to refrain from intervening militarily.
But Egypt and the United Arab Emirates have already begun coordinating efforts to stop Islamist militias from gaining more ground. The UAE bombed Islamist fighters in Tripoli in August. Last week, Egyptian warplanes began bombing Islamist militias in Benghazi. It was the first time in decades that the most populous Arab nation has intervened militarily abroad. Egypt claimed the planes were flown by Libyan pilots, a claim that was disputed by aviation experts.
© Copyright IBTimes 2023. All rights reserved.