Libyan Renegade General, Now Threatening Tripoli With An Increasingly Large Force, Linked to US Training Operation in 90s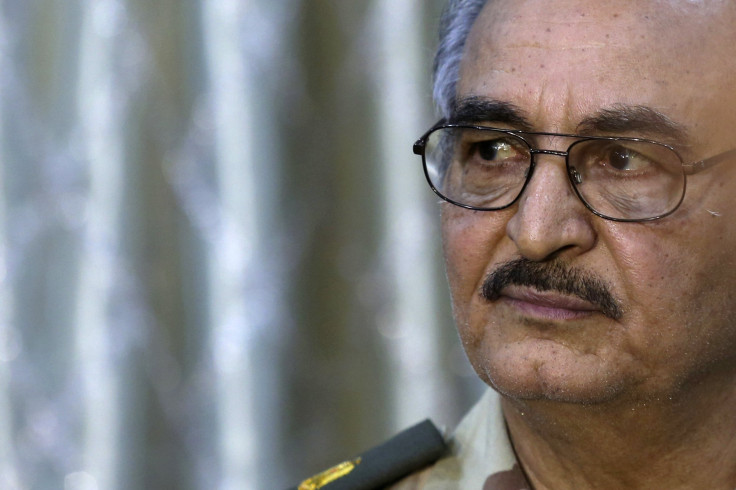 Traveling by moonlight, dozens of four-wheel Toyota pickups mounted with machine guns roared through the northern valleys of Chad toward the Maatan al-Sarra airbase 60 miles across the Libyan border. It was an unprecedented attack on one of southern Libya's biggest bases, equipped with three runways and more than 100 planes.
That night nearly 30 years ago marked the first time Chad invaded Libya. The attack left more than 1,700 Libyans dead and 300 captured as prisoners of war. Among those captured was Abdoulgassim Khalifa Hifter — the former Libyan colonel who is now launching attacks against the current Libyan government. It was during his captivity in Chad that Hifter's loyalty changed and he began a long-term fight to oust Col. Muammar Gadhafi and take power.
Hifter, along with 300 other men, was captured at the Battle of Maatan al-Sarra on Sept. 5, 1987, by Chadian military forces. Following the capture of those Libyan solidiers, Gadhafi refused to admit that there were Libyans being held captive in Chad. Many of those capitives formed an anti-Gadhafi insurgent group while in captivity and named Hifter as the leader.
According to media reports from that time, prisoners who volunteered for the anti-Gadhafi group were moved to a camp and given AK-47 rifless before being transported to Zaire, known today as the Democratic Republic of the Congo, and then on to Kenya by U.S. Air Force units. The POWs were flown to New York in May of 1991 for resettlement. According to the U.S. Office of Refugee Resettlement, 344 Libyans were resettled during 1991.
While there is no known official government documentation, several newspapers as well as Human Rights Watch documents from the early 90s link Hifter and his group of men to the U.S. in a partnership that began under the Reagan administration.
The Moscow Pullman Daily News reported on Dec. 9, 1990, that the U.S. embassy in N'Djamena, Chad, said it was helping Libyan prisoners of war in the country who did not want to return home. It declined to comment on an earlier Agence France Press report that hundreds were trained to operate as anti-Libyan commandos. AFP reported that 22 Libyan POWs were evacuated from N'Djamena aboard a U.S. Air Force plane. It said that as many as 700 of the 2,000 Libyan POWs captured during the war had received training from U.S. military advisers.
According to a New York Times report from May 17, 1991, U.S. intelligence officials mobilized the group of Libyans to overthrow Gadhafi. Hifter was said to have moved to Richmond, Virginia, and joined the CIA payroll. The CIA declined to comment on the matter.
A 1996 Congressional Research Service document named Heftir as the head of the National Front for the Salvation of Libya (NFSL), a political opposition group active during the Gadhafi regime. The document said Heftir joined the exile group and began "preparing an army march to Libya." The NFSL, the CSR said, is in exile "with many of its members in the United States."
Fast forward 20 years to 2011. Hifter moved back to Libya during the uprising against Gadhafi but was unable to make his way into the opposition's lead position. He is now commanding troops in eastern Libya in an attempt to overthrow the government. Since Monday Hifter has garnered the support of more than 10 groups, including the Libyan special forces. According to a report in the Arab daily Asharq al-Awsat, Hifter said he has been planning these attacks for more than two years.
The Libyan government is scrambling to avert Hifter's forces as he continues to gain momentum. It is unclear how much support he has garnered over the past several days and whether that support will make for an effective military offensive. The parliament met in secret Tuesday despite demands from Hifter that the legislature disbands.
The Islamist-led parliament met to consider approving a new prime minister. Local Libyan television stations announced Tuesday that parliamentary had called for elections for June 25.
As the country seems to spiral into what seems like the beginning of a civil war, the U.S. has been largely silent on the issue. In a January press release, the Defense Security Cooperation Agency said it notified Congress of a possible foreign military sale to Libya for "General Purpose Force Training" and associated equipment, parts, training and logistical support worth $600 million.
According to the document, Libya requested training for a general purpose force between 6,000 and 8,000 persons. The training would include services for up to eight years of training, facilities sustainment, personnel training and equipment, 637 M4A4 carbines and small arms ammunition, as well as other government technical and logistic support services.
A State Department official who spoke on condition of anonymity because of the sensitivity of the situation in Libya said that the agreement for the training has not been signed by the Libyan defense military because the U.S. and Libya were still working out the details. The source said that even if the central government changes hands in Libya, the deal could still go through.
© Copyright IBTimes 2023. All rights reserved.