Libya's Black Market Foreign Currency Exchange: From Healthcare To What's On The Table, When The Exchange Rate Dictates Every Area Of Your Life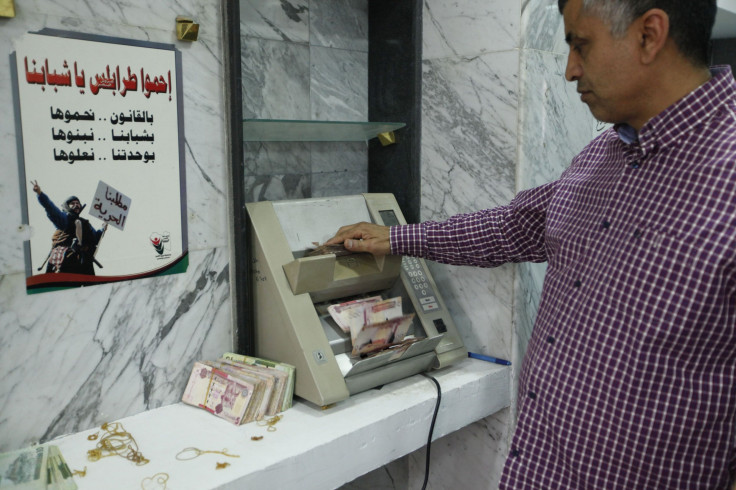 BEIRUT—It took Amin Mneina three years before he had saved up enough money to support himself through a Master's degree in Canada. After celebrating his birthday, the 28-year-old engineer, a native of Benghazi, Libya, looked forward to a promising academic future in North America. But Mneina had not counted on a plunging exchange rate on the black market -- now the only available source of foreign currency for most Libyans -- that saw the Libyan dinar fall 15 percent against the dollar in the last week. The collapse of Libya's currency has pushed the country, and its residents, closer to complete economic meltdown.
Libyan citizens are hugely dependent on foreign currency to purchase basic foodstuffs and medical care. For the most part, the Libyan dinar cannot be exchanged outside the country, so even wire transfers have to be made in foreign currency. But the explosion of corruption, fraud and crime that ensued in the power vacuum following the fall of Libyan dictator Muammar Gadhafi, and the strict regulations imposed by banks on foreign currency exchange, has ensured the unregulated and highly volatile black market is the only option left to ordinary people.
"Everyone has to work with the black market, so it's not even really a black market anymore," said Ayat Mneina, a Libyan activist who spoke about Libya's dire economic situation at the World Bank Forum last month in Peru. "It's another form of terrorism, I don't know what else to call it."
The official exchange rate is 1.40 Libyan dinars to the dollar but the real, or black market, rate is around 4 dinars to the dollar, prompting the Grand Mufti Sadiq Al-Ghariani, Libya's highest spiritual leader, to brand currency dealers "criminals."
For Amin Mneina, it means his hopes of studying transport engineering in Canada are dashed. "It feels like a rip off. I've been slaving for three years and now they're going to take half my money for the black market," he told International Business Times.
Libya's black market currency exchange existed before the 2011 uprising but the difference between their rates and the Central Bank of Libya was never more than a few cents. But the Central Bank was forced to tighten its purse strings when "the security situation began to deteriorate and individuals began exploiting banks to get foreign currency," said Adam, a Libyan activist in Tripoli who asked for his last name not be published, citing a threat to his security.
The value of the Libyan Dinar has been in freefall for most of last year as the bitter civil war continues to run on, paving the way for increasing numbers of militants, among them the Islamic State group, to make their way into the country.
Subsequently, Libya's main export, oil, has dropped to only 15 percent of Libya's total capabilities. Libya has the largest oil reserves in Africa and is home to drilling operations by major European oil companies: Austrian-owned VAOS Oil Service, Italian oil company ENI and France's Total have installations in the country. Before the 2011 revolution, the country produced 1.6 million barrels of crude oil per day. As of last week, production had dropped to 400,000 barrels.
The sharp decrease in exports means the Central Bank receives only 15 percent of the foreign currency that it used to get. Because of this major deficit, in mid-July, the institution imposed a number of restrictions on bank withdrawals and the amount of currency that can be exchanged. It also initiated a series of security checks on those authorized to exchange money.
"Libya is still very much a cash culture, especially in times of crisis; if banks put a limit on what you can withdraw, there is a very high risk [of] fraud and scams," said Claudia Gazzini, senior analyst for Libya at the International Crisis Group.
The Black Market Process
The black market in Libya is a widespread network of traders and businessmen who largely operate freely in the country and deal in both foreign currency and gold. In Benghazi, Libya's second-largest city, the most well-known black market workers operate outside the main souk (market) and exchange Libyan Dinars to U.S. dollars or Euros or transfer money to a foreign country, without going through a bank.
But the main hub for Libya's black market is in Libya's capital, in the old city of Tripoli at the gold market. Traders operating here usually set exchange rates and this "traditionally this impacts the rates set for the rest of Libya," Adam said.
The black market traders and brokers first apply for a line of credit or foreign wire transfer through the bank, using the standard bank exchange rate. The letter usually authorizes the bank's client to use the foreign currency to purchase goods abroad with the intention of selling them in Libya. But instead, they withdraw the foreign currency and bring it back to Libya, where they sell it on the black market at exorbitant exchange rates.
"This way they make a guaranteed profit. The Central Bank of Libya and government are fully aware of this, and allow them to do this because some of the members get a cut," a Libyan activist from Sebha, a city in southwestern Libya, who gave his name as Jabir, told IBT.
The Grand Mufti echoed the accusation that "bank officials today are either unable to do their jobs and control the ongoing corruption, or they are involved in it," in statement released earlier this week.
The Central Bank of Libya is a regulatory body -- and thus does not deal directly with individual foreign currency exchanges like Libya's commercial banks do. The corruption, experts and local sources said, is happening at the commercial level.
"There is no doubt that traders and perhaps staff at some banks have exploited the lax regulatory environment and [the] spread of insecurity to deploy letters of credit for other purposes including purchasing dollars at the official rate and selling it in the black market for a profit," an official at the Central Bank of Libya told IBT on condition of anonymity.
Though the Central Bank is not technically responsible for dealings with the public, the scale of corruption forced it to intervene, cracking down on commercial banks and their employees. With so many additional bureaucratic hoops to jump through, money is now moving at a much slower pace through commercial banks.
The reforms "caused a backlash against the Central Bank," the official said. Mistrust of state-run institutions is deeply embedded in the Libyan psyche and the new system has not changed that, "but the Central Bank had no choice but to slow down the depletion of its reserves."
The crackdown has made it much more difficult to obtain a credit letter, so black market workers are turning to further corruption and intimidation. Wealthy and well-connected businessmen are more likely to receive the necessary bank documentation than a local business owner. Libya's various armed groups are also involved in the process, intimidating and threatening bank managers into opening letters of credit for individuals without authorization.
"If you're an average Joe, with a small shop, trying to import shoes or clothes or anything it's very difficult to obtain US dollars or Euros [from the bank]," Gazzini, the Libyan analyst, said. "So if you want to maintain your small business you have to go to the black market."
Bare Necessities
Extortionate black market exchange rates in Libya have crushed many smaller businesses that simply can't keep up. The same goes for average Libyans, who feel the knock-on effects of the financial crisis in every area of their lives, from their healthcare to their kitchen cupboards.
Libya has almost no production industry to speak of, which means that most every-day use goods have to be imported and paid for using foreign currency. More than a third of the government's public spending, roughly 12 billion LYD (more than $8 billion), is allocated to subsidizing basic foodstuff and fuel for all Libyan citizens.
"Libya is like an imaginary world. Everything is subsidized so you really don't even need that much money to live," Mneina, the Libyan activist and economy researcher, said. "But everything is imported and subsidies will have to disappear soon because there is no real revenue left."
The central bank had largely been able to keep food items immune to black market prices, but without foreign currency in the banks, now even subsidized products have seen a price spike.
"The new currency governs the food markets as well," Mneina, the engineer in Benghazi, said. "Now you don't go crazy on unnecessary stuff like chocolate or chips."
Mneina, a keen sportsman, can no longer afford his regular workout supplements or protein shakes. Last month, the products weren't available anywhere in Benghazi and when they were restocked this week the prices were so high that "if you stocked up on a meat and chicken it would be more reasonable," Mneina said.
Families have had to downsize their grocery shopping lists, sticking to only the absolute necessities and forgoing "things like breakfast cereals or Nutella, which are considered luxury items now," said Ahmed, a resident of eastern Libya who asked that his profession and name weren't published for security reasons.
He added that commonly purchased items, like eggs, bread and baby formula have seen a roughly 10 percent price increase, whereas the price of luxury items has climbed up to 30 percent in some cases.
The same situation is plaguing families in southern Libya. Jabir said he used to buy 1kg of tomatoes a week for 1.5 LYD ($1.07) but now he can no longer do that as the price has reached 4 LYD ($2.86). He added that he had been planning on purchasing a family car, but the exchange rate has made that impossible.
The high cost of subsidized goods is a result of the climbing exchange rate, but also a product of widespread corruption and smuggling happening in Libya. Last month, the Central Bank announced a plan to cut back on this problem by removing government subsidies on food, fuel and medicine, according to the Libya Herald. The plan will take about a year to be fully implemented.
Until that happens, products purchased with government subsidies are still being smuggled out of the country and sold elsewhere, so most Libyans don't even have access to them, according to Gazzini.
"The state is actually funding smuggling," she said. "When you import double what you need you must know the excess is going to be smuggled."
One Libyan-American activist described the discrepancy between the state's expenditures and Libyans' daily life to be "like war refugees pitching their tent on a mountain of gold they can't touch."
Medical Treatment Abroad
Libyans are not only suffering from price hikes in household items. Vital medicines are increasingly hard to come by as high exchange rates leave pharmacies and hospitals unable to purchase urgent medical supplies.
Aid groups such as Doctors Without Borders (MSF) are active in the country, but violence and unrest prevent them from providing assistance to certain areas. Without access to adequate healthcare, Libyans who are in dire need must travel abroad for medical treatment.
Two weeks ago Ahmed's father was diagnosed with leukemia but the required chemotherapy treatment is only sporadically available in Benghazi or neighboring cities. Ahmed's father is looking to go to Egypt where he will receive proper medical care. His father will have to live in Egypt for the duration of the treatment, approximately six months, at a cost of roughly $2,000 a month.
"It's like moving to another country but with no money or job there," Ahmed said.
But purchasing the foreign currency at the current rates will make it impossible to support Ahmed's father and the rest of the family back home. Many of Ahmed's relatives have government and teaching jobs and aren't being paid regularly. Ahmed hasn't been paid since February.
"With no salary in hand and this high exchange rate it would be difficult to take him for treatment and support our families at the same time," Ahmad said.
But the exchange rate shows no signs of bouncing back -- Libya's economic situation is dire and experts say that it will remain that way until financial institutions and rival oil companies can set aside their political differences and consolidate their efforts on reviving Libya's economy.
Until then, Amin will have to put his plans for Canada on hold and Ahmed and his family are left desperately saving, forced to "watch their loved ones dying knowing they can't do anything about it."
© Copyright IBTimes 2023. All rights reserved.