Life On Lesbos: Conditions In The Island's Refugee Camps Are Improving But Not Fast Enough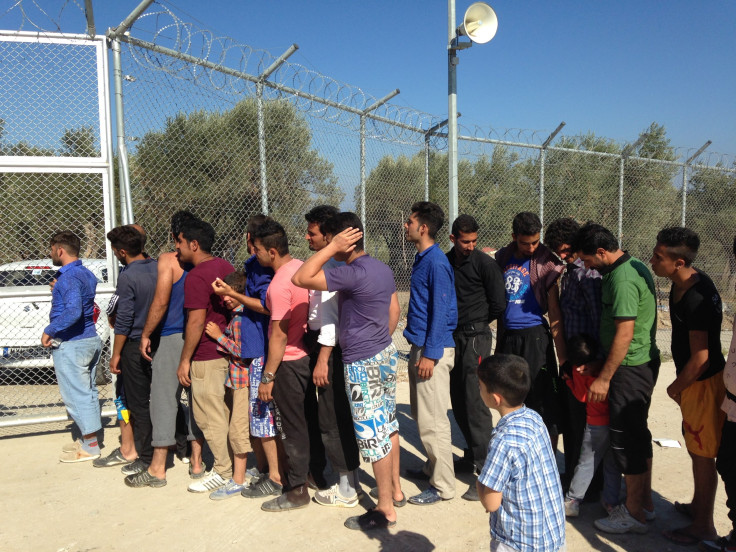 LESBOS, Greece -- Ahmed Ogeel is the luckiest of unlucky men. He left Egypt a week before that country's Jan. 25, 2011, revolution for his native Syria. Six weeks later, the marine engineering student returned to Egypt to take an exam. Three days after flying back to Alexandria, Egypt, the first major Syrian uprising took place – followed by the regime's brutal crackdown. He never returned home.
Ogeel is one of 4 million Syrians living outside Syria – pushed out by a civil war that has claimed the lives of more than 200,000 people. He now lives on the Greek island of Lesbos, which has received the highest number of refugee arrivals in Greece: So far this year more than 100,000 have arrived on this island. Unlike the majority of refugees, for whom Lesbos is little more than a transit point on the way to northern Europe, Ogeel has made Lesbos his home.
He has been more fortunate than most Syrians fleeing war, he tells International Business Times. His half-Syrian, half-French wife grew up on the Greek island, spending her summer vacations in the Syrian port city Latakia, where she first met Ogeel. The couple lived briefly in Istanbul and Paris but settled with their two-year-old son in Lesbos' capital Mytilene, where many of their friends live. Ogeel acknowledges that most refugees don't have the same luxury of choice. "I was lucky. My wife and I had the option of settling in other [European] countries and getting there legally because my wife has French citizenship."
Ogeel works as a translator for the aid organization International Rescue Committee (IRC) in Kara Tepe, a transit camp for Syrian refugees outside Mytilene. Conditions in the camp have improved in the last couple of weeks, he says, but it is difficult to keep up with growing demand. The camp was designed for 500 people – it now holds more than 5,000.
Tyler Jump, IRC's emergency communications officer, says the camp's infrastructure has been overwhelmed with the flood of recent arrivals. Three weeks ago some 25,000 refugees on the island were waiting to receive their registration papers so they could buy ferry tickets to the mainland. Tempers flared as angry, dispirited refugees clashed with riot police, throwing stones and burning down the camp's squalid and unsanitary bathroom facilities. Since then the registration process has speeded up – Syrian refugees can expect wait times as little as 24 hours (non-Syrians wait longer) -- and the IRC has brought in shower and water points.
But, with thousands more refugees arriving every day, Jump points out the camp's limitations: "There's no camp manager. Everything you see here is the result of short-term emergency interventions."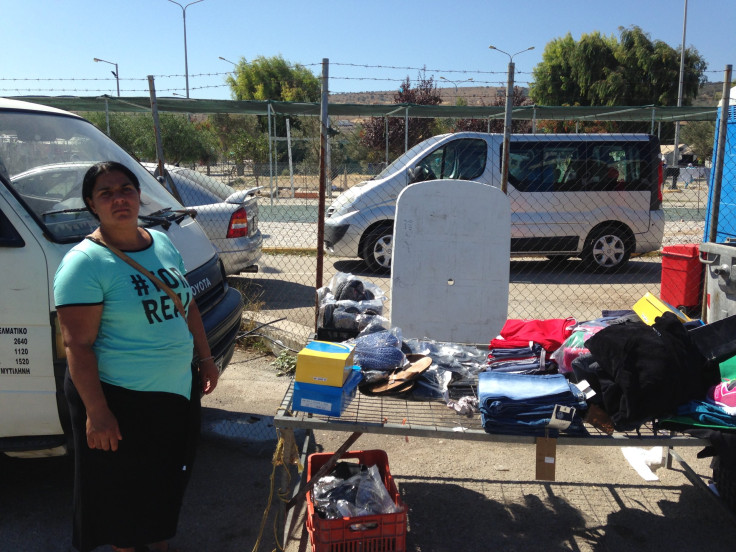 It is a barometer of the severity of the humanitarian crisis that the IRC is involved at all. The U.S.-based NGO is more commonly deployed in impoverished developing nations than a European Union member state. "Normally, we work in South Sudan and the DRC [Democratic Republic of Congo] so our decision to operate in Europe shows how serious the situation is," Jump says.
"I've been working for the IRC for five years and I never thought I'd be working in a refugee camp in Europe," Jump's colleague informs IBT.
The needs of the refugees here differ little from those of refugees in Sudan and Congo, even if these arrivals are accustomed to more advanced technology. Old men lie prone on improvised cardboard beds; women rock colicky babies on their hips; boys squabble over power outlets to charge smartphones, their only connection to lives and families back home.
Sounds of normal life puncture the malaise that cloaks the camp: Children shriek as they're scrubbed clean by unyielding mothers, and families chatter rambunctiously as they share baguettes and soft drinks, sitting cross-legged outside open tents. But grief is never far behind.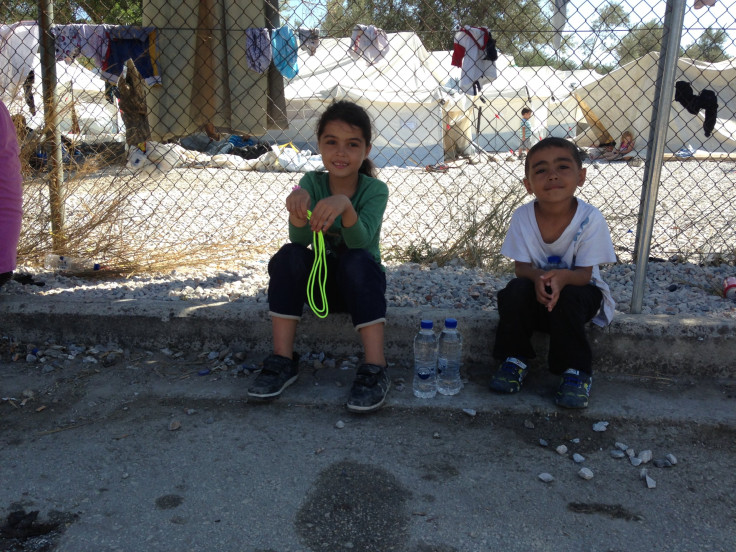 Kara Tepe is a repository for human suffering. When people arrive in the camp, Ogeel says, they feel a mix of emotions. "[Refugees] are happy to have arrived in Europe, but they have great sadness and guilt – guilt for those left behind, those killed." Ogeel remembers an 85-year-old Syrian woman who had never left Damascus. Her journey to Greece was the first time she had crossed the sea.
On another occasion, he met a mother from Yarmouk, Syria, a Palestinian-majority camp on the outskirts of Damascus, whose two young children, on one of the hottest days of the year, walked barefoot in their underwear. The ground temperature was 113 degrees Fahrenheit, Ogeel says, and the woman begged for shoes for her children. But her 7-year-old son refused. "Don't bring me shoes; bring me my father," he demanded.
His father, he told Ogeel, was in Syria, and the boy was impatient for him to arrive. Ogeel told the boy he would give him shoes and make efforts to search for his father. His mother took Ogeel to one side and told him that her husband had been kidnapped and later killed by regime forces. She had not been able to tell her son the truth.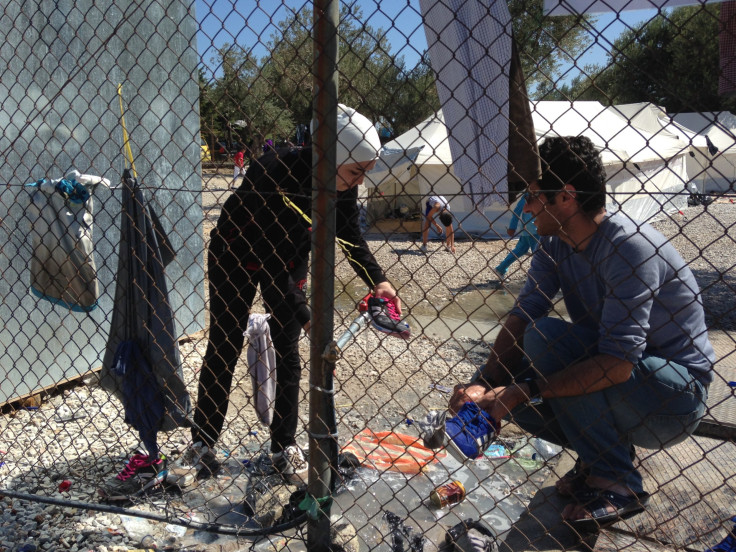 The camp seeks to provide people's basic needs – food, water, shelter, warmth – and doesn't always succeed at this, but it cannot begin to repair the damage wrought by four years of bloody war.
It is an injustice, Jump believes, that refugees, having escaped such horror, are forced to endure further privations on the journey to Europe. "If there were safe and legal routes for people to leave [Syria], they would do it. But they don't have any other choice."
With winter approaching, further emergency interventions are likely, as refugees – especially those with young children and infants -- struggle to adapt to the cold nights.
But the main problem, Jump says, is not the camp's inadequate facilities but the lack of information available to refugees. "People want information more than food. If they have money they can buy food, but they can't find out when they will be registered or when the next space on the ferry will be," he tells IBT.
Ihab Al-Wadi is a man on a fact-finding mission. The 25-year-old civil engineer from Damascus is approaching his European odyssey as a particularly complex puzzle. He is dressed like an enthusiastic expedition leader in the Himalayas, chiding his small band of family followers for failing to keep up.
For Al-Wadi the lack of information in Kara Tepe is another challenge to overcome. "It's a really hard journey. We knew that before we got here. And now there are so many people [on Lesbos] it's hard to find out what's happening." But Al-Wadi is undeterred. He came prepared with waterproofs, warm clothes and walking shoes. If he wasn't here, he says, he would have to serve in the Syrian government's army, facing likely death or be forced to kill his own people.
He marches off to join the growing line of people waiting to register.
Al-Wadi's parting words reflect the inhabitants' outlook: "Whatever we face, we have to make it. We just have to."
FOR FREE to continue reading
✔️ Unlock the full content of International Business Times UK for free
offer available for a limited time only
✔️ Easily manage your Newsletters subscriptions and save your favourite articles
✔️ No payment method required
Already have an account?
Log in
© Copyright IBTimes 2023. All rights reserved.