Limbaugh: Gov. Christie Has 'Man-Love' For President Obama [VIDEO]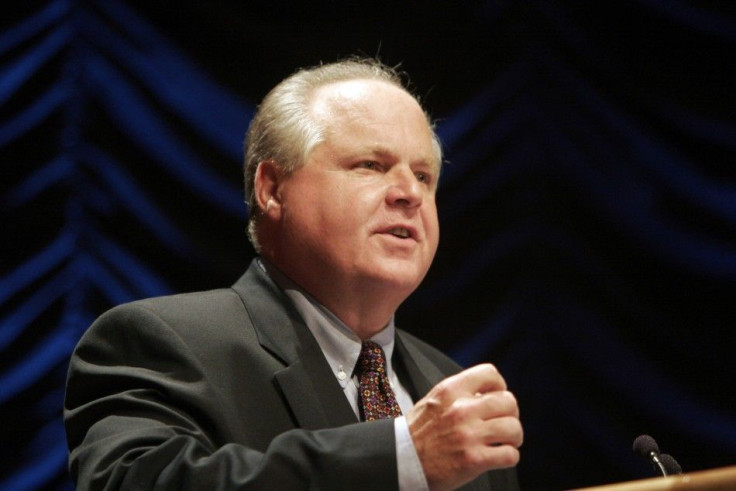 Rush Limbaugh has made some outlandish comments in the past and he did it again on his show on Wednesday. New Jersey Governor Chris Christie has been praising President Barack Obama's efforts in the wake of Hurricane Sandy and Limbaugh does not approve.
Gov. Christie is a leading republican figure and even gave the keynote speech at the 2012 Republican National Convention, although that speech was lost in the shuffle after Clint Eastwood's speech to an empty chair. However, he is also the governor for New Jersey, the state most devastated by Hurricane Sandy. In the wake of the storm, millions were without power, thousands were without homes, billions of dollars in damages and Atlantic City underwater are just some of the things Gov Christie had to worry about.
But for the popular Republican radio host, political lines are still drawn and Gov. Christie's praise for President Obama was unacceptable. On his Wednesday program, Limbaugh attacks Gov. Christie and President for touring the Jersey shore, an area particularly hard hit by Hurricane Sandy, and looking at properties of the "1 percent." Limbaugh constantly uses the phrase "Greek column" to refer to Gov. Christie's relationship with President Obama.
The show was aired on Wednesday, Limbaugh had said New York City Mayor Michael Bloomberg endorsed Republican candidate Mitt Romney. The announcement by Bloomberg of his support of President Obama happened on Thursday. Limbaugh also makes the claim that Mayor Bloomberg and New York Governor Andrew Cuomo have not asked President Obama for support, or a photo op, either.
President Obama had stopped campaigning in order to go to New Jersey and participate with relief efforts alongside Gov. Christie. The promises made by President Obama, including speedy assistance in providing funds and emergency personnel to New Jersey, along with the government's fast response to the crisis in New Jersey have led to Gov. Christie praising President Obama, much to the ire of Limbaugh.
In the most inflammatory statement, Limbaugh closes his segment with a veiled observance of a possible homosexual undertones to Gov. Christie's praise of President Obama, reports The Raw Story. In the segment, Limbaugh says, "Let's just put it this way: Is it wrong for one man to love another man? That man-love out there is isolated in the state of New Jersey."
You can listen to Rush Limbaugh's segment below.
© Copyright IBTimes 2023. All rights reserved.