Little Big Man: Why Is NBA Legend Muggsy Bogues In India?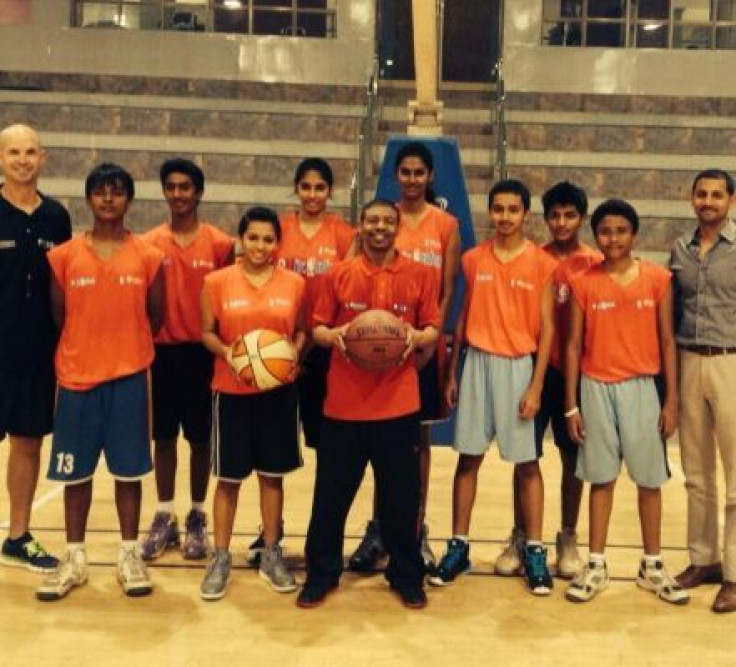 Standing only 5-foot-3, Tyrone Curtis "Muggsy" Bogues was the shortest player ever in the National Basketball Association. But the scrappy point guard overcame his lack of stature and enjoyed an impressive 14-year career with four clubs, mostly with the Charlotte Hornets. Now, more than a dozen years after he retired, Bogues is seeking to inspire other youths who face long and perhaps insurmountable odds of ever reaching the NBA -- kids in India.
Bogues flew to India on behalf of the Reliance Industries Ltd.'s (NSE: RELIANCE) Reliance Foundation to hold clinics for young aspiring basketball players on the sub-continent. "This is my second time here in India," Bogues told the Times of India newspaper. "On behalf of the NBA and the Reliance Foundation, I'm here to teach kids the game of basketball in schools and hopefully get them interested in the game at a young age. The most important message I look to share is how important it is for youth to be active and healthy."
While conducting a basketball clinic at Sacred Heart CMI School on Thursday in Kochi, a coastal city in the southern Indian province of Kerala, Bogues said he thinks his short height was actually an asset. "You have to look at it [the lack of size] as an advantage," he told the children, according to the Indian Express. "It is your self-motivation and self-belief that will take you towards success. No one knows your potential. No one can tell how confident you are. No one knows how big your heart is."
Bogues, believed to be the first NBA player ever to set foot in Kerala, also declared: "When I started playing basketball, there were people who said 'You cannot do something.' But I just wanted to play basketball and my self-belief helped me succeed." Bogues added that smaller players like him have to rely more on fundamentals than sheer physical skills. "The position that I played in, point guard, was tough. It was about distribution and setting the balance and tempo of the game," he said.
Bogues thrilled the kids with an exhibition of various basketball skills, including ball-handling, shooting and defending techniques. Having arrived from Mumbai, where he ran a similar clinic, Bogues is optimistic that an Indian player will soon join the NBA and/or WNBA rosters. "You got one [Indian] player who came close to making it in the WNBA tryout [Geethu Anna Jose]," he told The Hindu newspaper. "And you've got another boy who is shaping up very well… The sky is the limit for these [Indian] players."
During an interview with India's DNA news agency, Bogues, now 49 years old, discussed the troubled world of his grim youth in a Baltimore ghetto. "I have … seen a man being beaten to death with a baseball bat," he said. "My father went to prison when I was 12. I was the youngest of two brothers and one sister. My mother did a lot to bring us up. These situations in life make you mature, you know whom not to follow, unfortunately my pops [father] was one of them."
But he cautioned that many of his peers endured similar travails. "A lot of us did not have our fathers, that was normal for us. Such was the environment. It was a struggle against the whites as well as financial challenges. In the 1960s and '70s, it was tough to hold a family together. Lack of money got many people involved in illegal activities."
Bogues discussed how he focused on sports in order to avoid all the dangers and violence of his neighborhood. "I played all sports when I was young. I was into wrestling, basketball, baseball, football and I ran track. But wrestling was my main sport because there was no criterion height-wise," he said. "I was wrestling all the way to high school but it kind of came in the same season as basketball so I had to pick and choose one and I decided to go all the way with basketball."
His sister, who at 5-foot-1 was even shorter than him, inspired him. "When I saw her play basketball, it kind of made me think like, 'I somehow got to do it too,'" he told the paper. "Each level I played, I did very well. At the high school level, we were the No. 1 school in the nation. At Dunbar [High School], we had four guys who were able to go and play in the NBA…myself, Reggie Lewis, David Wingate and Reggie Williams." Bogues built a career on relentless, aggressive, pesky defense, impressing superstars like Magic Johnson, Michael Jordan and Patrick Ewing.
Now he thinks that India, a brand new market for the NBA, needs better coaching and training in order to develop better players. "What they [Indian players] need is the correct information about the process and professional training. We are trying to infiltrate Asia and bring good coaches," he said.
The Reliance Foundation has formed a partnership with the NBA to launch a "comprehensive school-based youth basketball strategy for India," called the Reliance Foundation Jr. NBA program. The program wants to teach basketball to more than 100,000 youths and train 300 coaches and physical education instructors. "The long-term aim of the program is to implement coaching to over a million youngsters and train 2,000 coaches in the same sport," Reliance said. "NBA Commissioner David Stern has been supportive of [our] efforts to promote basketball in India."
The NBA has clearly been increasing its attention on the sub-continent. Two major events from the past three years have helped to accelerate the NBA's efforts in establishing a footprint on the sub-continent: the founding of a league office in the financial capital city of Mumbai in 2011, followed in 2013 by the historic purchase of the Sacramento Kings basketball club by a group led by Vivek Ranadive, a Silicon Valley-based software/tech tycoon and founder of Tibco Software Inc. (Nasdaq: TIBX), who became the first Indian-born majority owner of an NBA franchise.
Ranadive has committed to building up the Kings as a "global brand" and wants to extend the team's reach 8,000 miles away to his native India by staging pre-season exhibition games there, perhaps as soon as next year. (The NBA has already held several pre-season games in Japan, China, Taiwan and the Philippines, but never in India). "In India, there's [more than] a billion people," Ranadive told NBA.com. "When they have a cricket match, there's 600 million people watching [on TV and online]. If we got a small fraction of that, that would still be a very big number."
© Copyright IBTimes 2023. All rights reserved.