London Olympics Drug Testing Aims To Cast Widest Net Of Any Games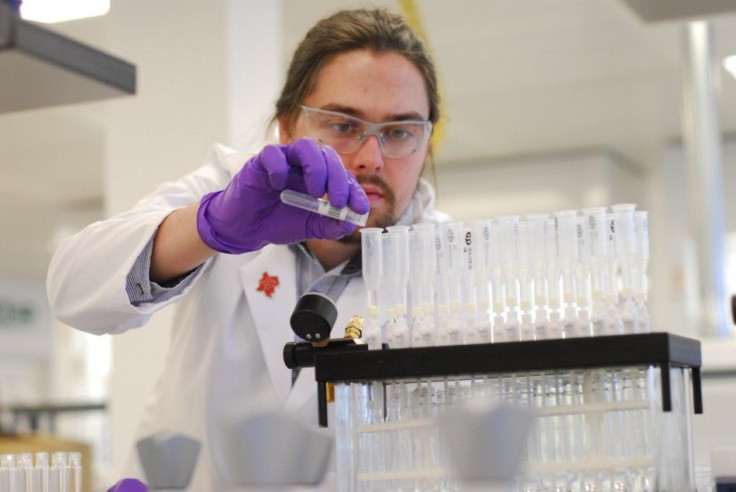 What's said to be the largest and most sophisticated drug screening regime of any Olympic Games has caught three athletes suspected of using banned substances in the first weekend of competition.
On Sunday, Uzbek gymnast Luiza Galiulina was provisionally suspended from competition at the London Olympics after pre-games screening found traces of the banned medication furosemide in her urine.
Furosemide, sold commercially as Lasix, is a diuretic often prescribed to treat edema and congestive heart failure, and is given to some racehorses to stem nosebleeds during races. But furosemide is on the World Anti-Doping Agency's blacklist, since it can be used to mask the presence of other drugs.
At an International Olympic Committee hearing Saturday night, Galiulina claimed she did not know how the substance entered her system and that she had taken medicine for a heart condition as well as various products to help her sleep, according the IOC. If her backup urine sample tests positive for furomeside, Galiulina is likely out of the Games.
Aside from Galiulina, the other athletes that have come under suspicion thus far are St. Kitts and Nevis sprinter Tameka Williams and Albanian weightlifter Hysen Pulaku. Williams withdrew voluntarily on Sunday after telling officials she had been using an unknown banned drug, while Pulaku was ejected on Saturday after two positive tests for the banned steroid stanozolol.
"It's always a sad day when a cheating athlete is caught. We hope there will be no more but the message is very clear: If you're doping we're going to catch you," International Olympic Committee spokesman Mark Adams told the Associated Press.
More than 5,000 blood and urine samples will be tested for banned substances at this year's Olympics, more than any previous games. The testing takes place about 20 miles away from the competition sites, at the laboratories of GlaxoSmithKline in the town of Harlow as part of a collaboration between GSK and the Drug Control Center at King's College London.
"Excellent science can play a key role in ensuring the Games are conducted to the highest ethical standards and that athletes can lead healthier lives," GSK CEO Andrew Witty said in a statement.
This year's Olympics features a new, more sensitive test for human growth hormone, which is one of the hardest banned substances to detect as it is a naturally occurring substance in the human body. While HGH has not been shown that it can improve athletic performance, many athletes believe it can reduce body fat, promote muscle mass and protect against injuries by strengthening connective tissues within the muscles.
Some athletes are picked at random for testing, but all of those that medal in competition will have to submit to the needle or cup.
Drug testers and officials are coy about revealing just what sort of procedures are performed to detect illicit substances, but the BBC got a few details on how urine samples are tested from technicians at the screening center in Harlow. After urine samples are delivered to the lab, testers look at the volume and color - some substances taken to mask the presence of other drugs can turn urine blue, and checking the color also helps the lab workers make sure that the sample is actually urine, and not some sort of substitute.
The urine sample is then run through a machine that separates it into components and looks for signs of banned drugs.
At its quickest, the center can turn a sample around in 24 hours and look for more about 240 banned substances.
"This is about the integrity of London's Games," Olympics minister Hugh Robinson told The Telegraph in January. "Anybody who watches in person or on television wants to know that what they are seeing in front of them is a true and fair contest."
© Copyright IBTimes 2023. All rights reserved.