A Look At Largest Bank Failures In US Since 2001 - IBT Graphics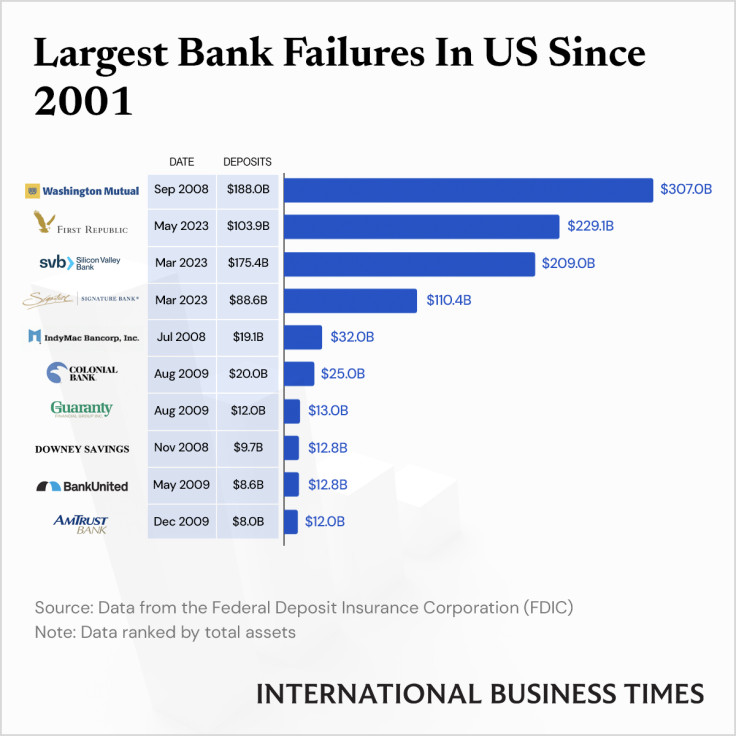 More than 550 banks have collapsed in the U.S. since 2001. The Financial Crisis of 2007-2008 and the Great Recession saw the majority of bank failures, with the collapse of around 325 banks.
This year, the Silicon Valley Bank (SVB) crumbled within weeks, creating a panic in the banking industry. The SVB was overtaken by the California Department of Financial Protection and Innovation and placed on March 10, and later was acquired by First Citizens Bank. Two other banking institutions crumbled in the aftermath of the SVB collapse, including Signature Bank and First Republic Bank.
However, the SVB collapse is not the biggest banking failure in U.S. history. Washington Mutual Bank, the largest savings & loan association in the U.S., suffered the biggest downfall in the country's banking history in September 2018 ($307 billion in total assets), according to data from the Federal Deposit Insurance Corporation (FDIC).
Meanwhile, the country's banking regulators, including the Federal Reserve, U.S. Treasury, and the FDIC, are ensuring all measures to prevent any future fallout.
© Copyright IBTimes 2023. All rights reserved.