Lopez Obrador Refuses To Concede In Mexico's Presidential Elections, Again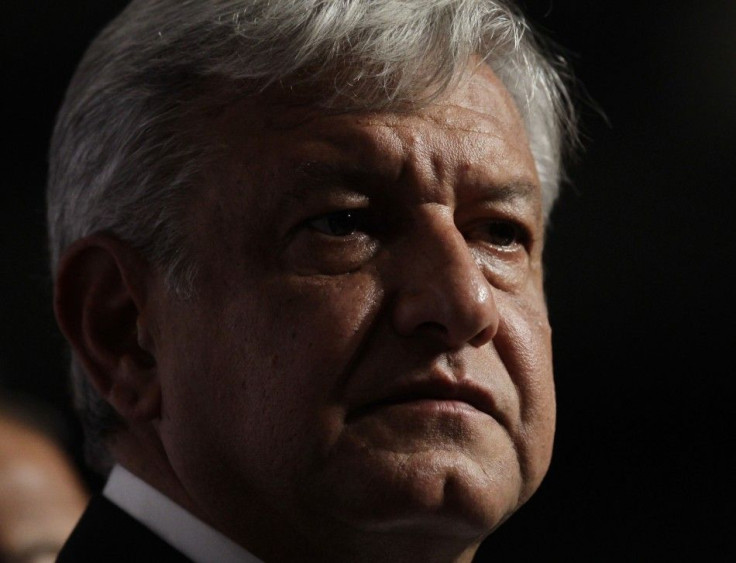 After turning up second in Mexico's presidential elections, leftist candidate Andres Manuel Lopez Obrador has questioned the legitimacy of the results and refused to concede, following a similar scenario in 2006, when he lost to current President Felipe Calderon by little more than half a percentage point.
The initial count, released Sunday with 99 percent of the votes tallied, showed Lopez Obrador of the Democratic Revolution Party (PRD) trailing presumed winner Enrique Peña Nieto of the center-left Institutional Revolutionary Party (PRI) by slightly over six percentage points.
I cannot accept any results until I have complete certainty that the citizens' vote was respected, and the election was not falsified, Lopez Obrador, a former Mexico City mayor, told a news conference Monday.
Lopez Obrador denounced the electoral process, alleging that pre-election polls were skewed in favor of Peña Nieto and showed the PRI candidate leading by double digits, giving him an unfair advantage in public perception of his popularity.
Given that Mexican electoral law prevents publications of polls during the week before an election, pollsters said the latest results reflected voters' inclinations at the time and that they could not account for those who changed their minds at the last minute.
There is definitely an effect toward the end that we are not able to measure because the last survey is done the weekend before the election, Roy Campos, president of the polling firm Mitofsky, told the Associated Press, adding that at least one in nine voters must have changed their minds in favor of Lopez Obrador during that period.
Lopez Obrador also criticized media coverage of the election, which he said was biased in favor of Peña Nieto.
The media sponsored Peña Nieto, they manipulated, they deceived, Lopez Obrador told reporters Monday evening. This was a really dirty election.
The PRD candidate said he would wait for the final results to come in Wednesday before deciding how to proceed, though he will likely challenge the results if they uphold Peña Nieto's victory.
In the 2006 elections, Calderon claimed the presidency by a razor-thin margin over Lopez Obrador, who denounced the results as fraudulent and called for public protests which materialized in two months of mass demonstrations by thousands of supporters in Mexico City.
Lopez Obrador demanded a complete recount, but the election committee only agreed to a partial one, and Calderon's victory was upheld. Lopez Obrador refused to accept it, declaring himself the legitimate president of Mexico and forming a largely symbolic opposition government to criticize Calderon's administration.
Federico Estevez, a political science professor at the Autonomous Institute of Technology of Mexico in Mexico City, told the Bloomberg news agency that Lopez Obrador will not be able to run the kind of post-electoral dispute that he ran in 2006.
It's obvious he lost, he said. It wasn't so obvious last time. That doesn't mean there wasn't skulduggery in the election.
© Copyright IBTimes 2023. All rights reserved.