Loretta Lynch Confirmation Vote: Obama Calls On Senate To End 134-Day Delay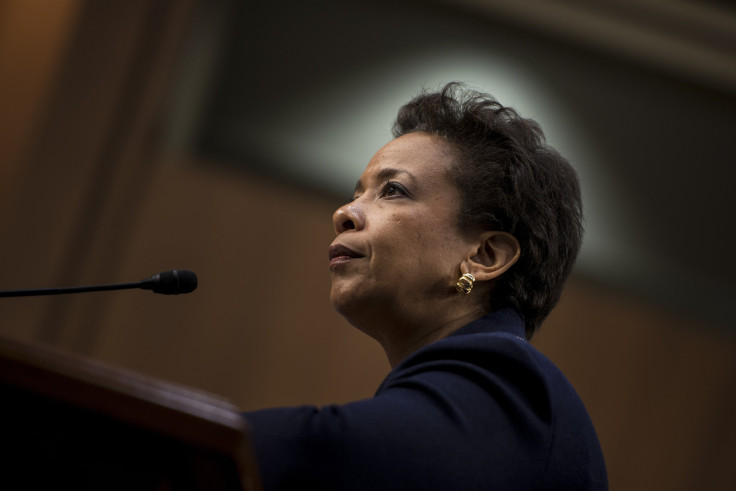 President Barack Obama implored Congress to confirm Loretta Lynch, his nominee for attorney general, saying in his weekly address Saturday that her nearly five-month wait for a Senate vote is "purely about politics." The president also accused Republicans of reneging on their promise to govern effectively.
Lynch, the U.S. Attorney for the Eastern District of New York, was tapped by Obama to succeed Attorney General Eric Holder in November. The 134 days Lynch has had to wait so far for a confirmation vote is the longest of any attorney general in recent history and longer than the waits of the previous seven attorneys general combined.
Obama attacked Republicans for holding out on the vote. The GOP first blamed the holdback on their anger over the president's executive actions on immigration. Senate Majority Leader Mitch McConnell, R-Ky., then said the body wouldn't hold a confirmation vote until it was able to pass an unrelated human trafficking bill that was unpalatable to Democrats over an abortion amendment, according to MSNBC.
"No one can claim she's unqualified. No one's saying she can't do the job," Obama said of Lynch. "Senators from both parties say they support her. This is purely about politics."
Partisan fighting over Lynch's nomination grew even more contentious after U.S. Sen. Dick Durbin, D-Ill., used racial imagery to describe the delay. Lynch is African-American.
"The fact is there is no substantive reason to stop this nomination. But the Republican majority leader announced over the weekend that he was going to hold this nomination of Loretta Lynch until the bill which is pending before the Senate passes, whenever that may be," Durbin said Wednesday on the Senate floor. "And so, Loretta Lynch, the first African-American woman nominated to be attorney general, is asked to sit in the back of the bus when it comes to the Senate calendar. That is unfair. It is unjust."
U.S. Sen. John McCain, R-Ariz., demanded Durbin apologize for the statement. "It was offensive and unnecessary. And I think he owes this body, Ms. Lynch and all Americans an apology," he said on the Senate floor on Thursday, according to Politico.
Obama called on Senate Republicans to bring Lynch's nomination to the floor if they want to stand by their promise not to be a party of obstruction.
"Republicans promised that Congress would function smoothly with them in charge. Here's a small chance for them to prove it," the president said. "Congress should stop playing politics with law enforcement and national security. They should support good people in both parties who want to reform our criminal justice system. And that means they should end the longest confirmation process for an attorney general in three decades, and give Loretta Lynch a vote. "
© Copyright IBTimes 2023. All rights reserved.