Los Angeles Lakers Pass LA Clippers As NBA Finals 2020 Favorites At Online Sportsbook
The Los Angeles Clippers began the 2019-2020 NBA season as the consensus favorites to win the title. That's since changed with L.A.'s other team playing at a historic pace through the first two months.
The Los Angeles Lakers now have the best 2020 NBA Finals odds at one online sportsbook. Bovada lists the Lakers at +275 to win the championship. They are just ahead of the Clippers, who have +300 odds.
The Milwaukee Bucks are third in the NBA and favorites in the East with +400 championship odds. Milwaukee is tied for the league's best record with Giannis Antetokounmpo potentially on his way to winning a second straight MVP award.
The Lakers are tied with the Bucks in the race for the NBA's best record at 24-4, putting them both on pace to win 70 games. The two teams will go head-to-head Thursday night.
Before losing to the Indiana Pacers Tuesday night as Davis sat with an ankle injury, the Lakers had won 14 consecutive road games.
The Lakers have two MVP candidates with LeBron James and Anthony Davis performing like one of the best duos in NBA history.
Davis leads the Lakers in points (27.4), rebounds (9.3), steals (1.5) and blocks (2.6) per game. He might be the favorite to win the Defensive Player of the Year award. James leads the NBA with 10.6 assists per game.
The Clippers are the West's No.2 seed, trailing the Lakers by 3.5 games in the standings. Paul George has played 18 games after missing the start of the season because of offseason shoulder surgery. The Clippers are 17-4 in games played by Kawhi Leonard.
The reigning NBA Finals MVP is averaging 25.5 points, 7.8 rebounds and 5.0 assists per game.
DraftKings Sportsbook gives both the Clippers and Lakers +300 NBA Finals odds. The Clippers remain the favorites at FanDuel Sportsbook with +320 odds, putting them slightly ahead of the Lakers and their +350 odds.
The Clippers beat the Lakers on Opening Night without George. The rivals will meet again on Christmas Day.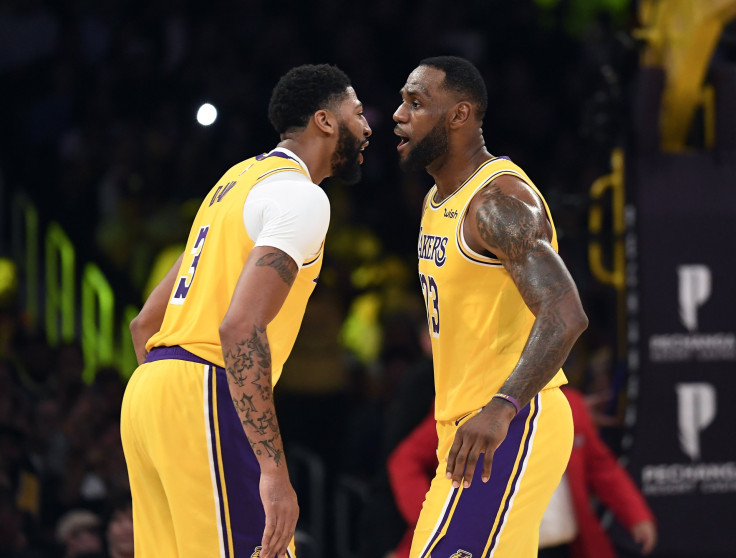 © Copyright IBTimes 2023. All rights reserved.