Los Angeles Lakers Players On NBA Return: Where LeBron James, Dwight Howard, Avery Bradley, Others Stand
As the NBA prepares to restart the 2019-2020 season, a group of players is questioning whether the league should go forward with its plan in Orlando, Florida. Kyrie Irving has seemingly led the way in opposing going to Disney "bubble," but several Los Angeles Lakers reportedly have mixed feelings about playing games during the coronavirus pandemic and while protests against racism and police brutality continue across the country.
According to ESPN, Lakers guard Avery Bradley, along with Irving, has taken an "expanded role" in organizing recent calls of players to express their concerns about finishing the season. The Athletic reported that Bradley was vocal on a call Friday that included at least 80 players, who discussed sitting out the season in support of social justice reform efforts.
"Play chess, not checkers," Bradley said, according to The Athletic's Shams Charania.
Lakers center Dwight Howard released a statement to CNN Saturday through his agent, saying he agreed with Irving's stance that the league shouldn't start up again in July.
"Basketball, or entertainment period, isn't needed at this moment, and will only be a distraction," the statement read. "Sure it might not distract us the players, but we have resources at hand [the] majority of our community don't have. And the smallest distraction for them, can start a trickle-down effect that may never stop.
"Especially with the way the climate is now. I would love nothing more than to win my very first NBA championship. But the unity of my people would be an even better championship, that's just too beautiful to pass up."
Danny Green, the Lakers' union representative, told USA Today Friday that talks with the league and the NBPA are up in the air. The 32-year-old acknowledged that plenty of details regarding the protocols in Orlando need to be worked out, but he said most players were in favor of finishing the season.
"I think most guys wanted the season to come back," Green told USA Today's Mark Medina. "I didn't think guys were against the season coming back or wanting it to be canceled. We're all for it and didn't want to lose out on the season. They didn't want to lose out on winning a championship. They didn't want to lose out on maximizing their dollar. If we lost the season, we would've lost a good portion of our checks."
The most important Laker has made it clear where he stands on the matter. With Los Angeles owning the best record in the Western Conference, LeBron James wants to compete for his fourth ring.
When it was reported in late April that there was a growing sentiment in the league to cancel the season, James was quick to deny the report and say the Lakers were ready to play when it's safe.
Kyle Kuzma and Jared Dudley have also weighed in on the league's return on social media.
The expectation is that the NBA will still try to finish the season in Orlando, though a group of players might choose to stay home.
"My sense is, we're going to be able to work through most of those issues during the next few weeks, but as I've said, we also have an arrangement with the player's association where if a player chooses not to come, it's not a breach of his contract. We accept that," NBA commissioner Adam Silver told ESPN Monday.
The Lakers have a 5.5-game lead atop the conference and are almost certain to secure the No.1 seed in the West playoffs. James is a top-two MVP candidate and Anthony Davis is a top Defensive Player of the Year candidate.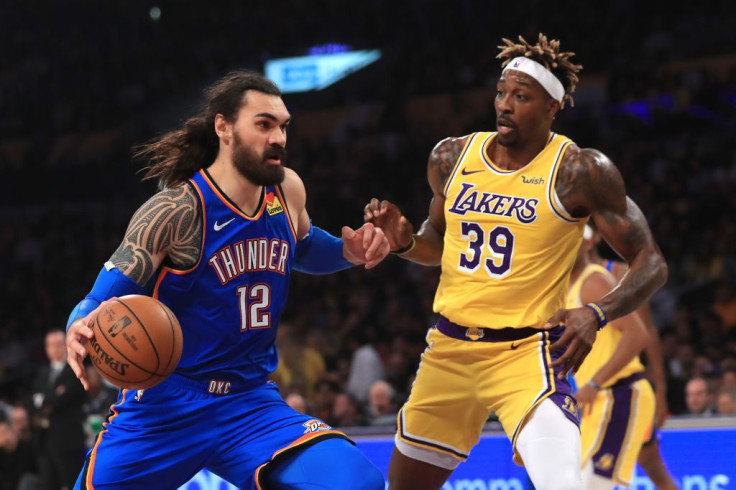 © Copyright IBTimes 2023. All rights reserved.